Kevin Durant Compares Kings Sharpshooter to Stephen Curry, Klay Thompson
The Sacramento Kings have been one of the NBA's most pleasant surprises to start the 2022-23 season, and the league's top players are taking notice. Brooklyn Nets star Kevin Durant praised the teams on the latest episode of "The ETCs" podcast, comparing one of Sacramento's shooters to his former Golden State Warriors teammates.
"Kevin Huerter, right now, he's playing like Klay (Thompson), Steph (Curry)," Durant said. "The way he's coming off the handoffs and shooting the basketball right now. If you're not a basketball fan and locked in on the league, you gotta watch how Kevin Huerter is shooting this ball right now."
Durant's comments quickly gained traction on social media after he said Sacramento's guard was playing like two of the best shooters in NBA history. The statement might've been intentionally hyperbolic, but there's no denying that Huerter has shot the ball better than almost anyone through 15 games.
In his first season with the Kings, Huerter is averaging career-highs of 16.6 points per game on 50% field-goal shooting and 49.5% shooting from 3-point range. A 37.9% 3-point shooter in four seasons with the Atlanta Hawks, Huerter is attempting 7.4 shots per game from behind the arc.
There are 78 players averaging at least 5.0 attempts from 3-point range per game, and none of them are shooting at a better clip than Huerter. With a 66.0% effective field-goal percentage, Huerter ranks third among all players who average at least 10.0 points per game.
By comparison, Curry is shooting 52.9% from the field and 44.7% from 3-point range. The Warriors star is averaging 32.3 points per game as the focal point of Golden State's offense.
Huerter is Sacramento's third-leading scorer. De'Aaron Fox is averaging 25.4 points on just 17.3 field-goal attempts per game. Domantas Sabonis is putting up 17.5 points on 10.4 points per contest, in addition to averages of 10.9 rebounds and 6.0 assists per game.
All of that production adds up to give the Kings the league's most efficient offense. Sacramento is scoring 118.6 points per 100 possessions.
The Kings have a 9-6 record, making them the No. 5 seed in the Western Conference. Sacramento missed the play-in tournament last year.
The Kings have won six straight games, averaging 131.5 points per contest. Sacramento blew out Brooklyn 153-121 during the winning streak, and Huerter made five of his seven 3-pointers in the victory.
Sacramento's 16-season playoff drought is the longest active drought in major American professional team sports.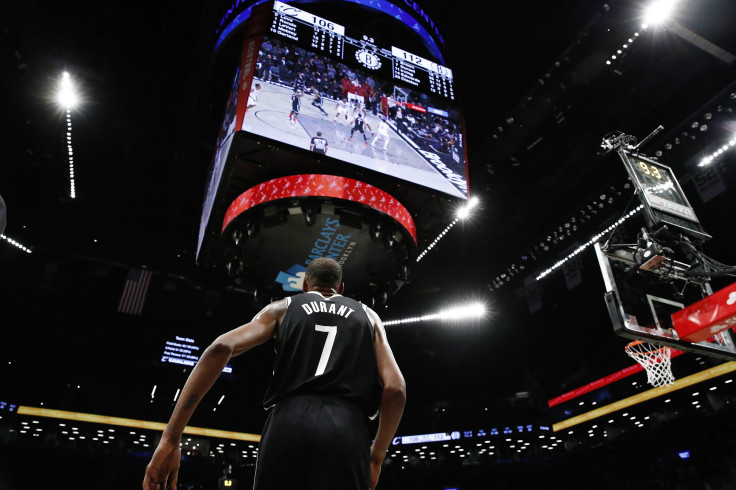 © Copyright IBTimes 2023. All rights reserved.