Kevin Durant Injury Return: How Many Games Will OKC Thunder Star Miss?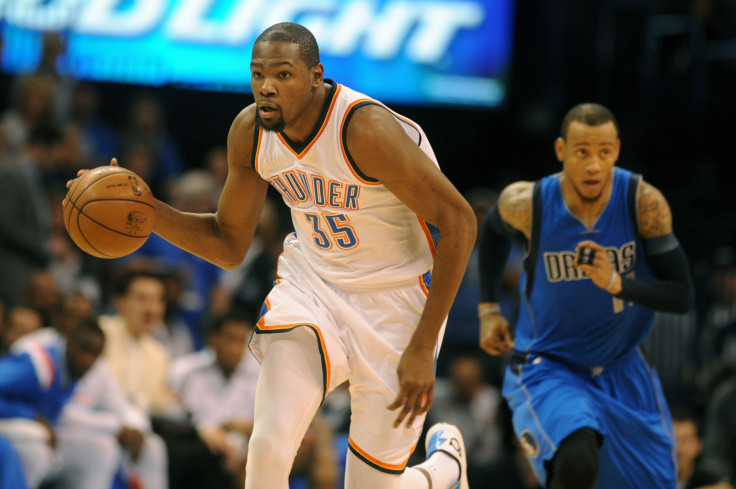 It's been a frustrating season for Kevin Durant, who missed the first 17 games with a broken right foot, as well as 12 additional contests. The forward's latest surgery will keep him off the court for an extended period of time, possibly putting the Oklahoma City Thunder's playoff hopes in jeopardy.
Durant has undergone a procedure that is supposed to lessen the pain that he's feeling in his foot that was operated on, prior to the start of the year. General manager Sam Presti says Durant isn't suffering from a new injury, and his most recent issue is "just a matter of discomfort." Still, the news isn't exactly good regarding the Thunder's top player.
Presti expects Durant to be back on the court in the regular season, but he hasn't given a timetable for the All-Star's return. Oklahoma City has 26 games remaining on their schedule, ending the 2014-2015 season on April 15.
"Most important to note here is the initial injury is progressing as anticipated and now what we're waiting to see is how the soreness is able to be accommodated," Presti said. "We do anticipate him being able to play during the regular season and then move forward."
Since undergoing surgery in October, Durant has missed multiple stints of consecutive games. After returning for nine contests in December, Durant sat out for six more games with an ankle injury. He also missed back-to-back games at the end of January and the beginning of February, before shutting it down to get his most recent surgery.
In each of the previous three seasons, the Thunder finished first in the Northwest Division, winning at least .712 percent of their games and placing no worse than second in the Western Conference. Having been without Durant for more than half of their games, Oklahoma City finds themselves in possession of the No.8 seed. They are two games ahead of the Phoenix Suns and 2.5 games in front of the New Orleans Pelicans for the last postseason spot in the conference.
If Oklahoma City continues to play the way they have without Durant, they could be watching the playoffs from home. The Thunder have gone just 11-16 without last year's MVP, and they could be without him for a sizeable portion of their run towards the playoffs.
Russell Westbrook missed 14 of the games in which Durant was sidelined, and the Thunder were only able to pull out four victories during that stretch. If Westbrook can stay on the court, there's a good chance Oklahoma City will be able to withstand Durant's injury and make the playoffs.
The Thunder have won seven games in a row, including two that Durant has missed. Westbrook has helped carry Oklahoma City in February, averaging 30.6 points, 10.1 assists and 7.9 rebounds per game on 49.4 percent shooting.
While it's unknown how many games Durant will miss, Oklahoma City does have a somewhat favorable schedule coming up. Only one of their next five games is scheduled against a playoff team. Both the Suns and the Pelicans have a more difficult remaining strength of schedule than the Thunder. Phoenix plays the second-toughest schedule in the West, while New Orleans ranks fifth. Only four teams in the West have an easier remaining schedule than Oklahoma City.
With both Durant and Westbrook healthy, the Thunder are considered one of the favorites to win the NBA Finals. Durant is averaging 25.4 points, 6.6 rebounds and 4.1 assists on 51 percent shooting this year.
© Copyright IBTimes 2023. All rights reserved.