Keystone XL Pipeline Delayed Yet Again, Costing TransCanada Millions; When Will Keystone XL Be Operational?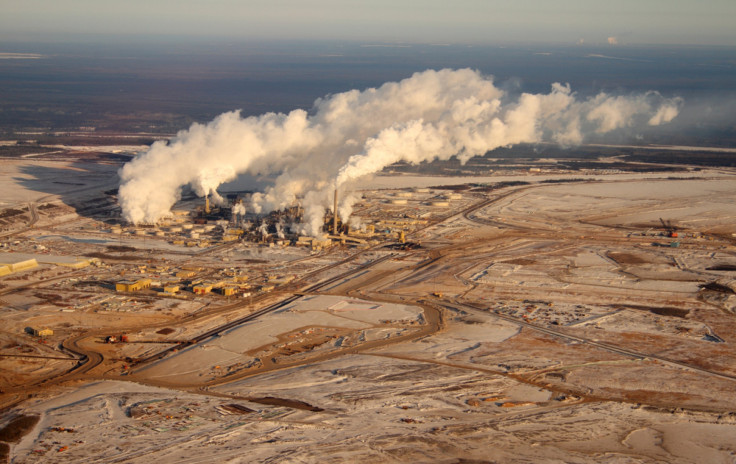 TransCanada Corp. (NYSE:TRP) on Thursday again delayed its projected start date for building the Keystone XL pipeline, marking a total delay of five years in getting the line approved in the U.S., Russ Girling, the head of the energy giant, told Bloomberg this week.
The proposed pipeline would carry crude oil from northern Canada's oil-sands region to the U.S. for refining.
"There's no way we can get it done faster than two years," Girling, CEO of TransCanada, told Bloomberg News in an interview Tuesday. The delay pushes the completion of the pipeline to 2016, and that's only if it gets approval early next year.
Girling previously estimated that the project would be completed by mid-2015 and is waiting for a presidential permit from Barack Obama, because the pipeline crosses the U.S.-Canadian border.
Currently President Obama has delegated to the State Department to determine whether the project is in the U.S. national interest. A recent investigation by the inspector general of the State Department, as well as the government shutdown, have delayed any decisions being taken. It is expected that Obama will announce a decision after February, though Girling is hoping it will be sooner.
The $5.4 billion project is intended to transport two types of crude oil from Alberta, North Dakota and Montana through the nation's pipeline hub in Cushing, Okla. Many refineries in the U.S. Midwest and in Canada are at capacity, so oil producers are looking to refineries in the South for production.
Opponents say extracting crude oil from Alberta, known as tar sands, is extremely energy-intensive because it requires breaking down a semi-solid form of petroleum so it can flow through a pipeline, something that is not necessary for normal crude oil.
Proponents, on the other hand, say the benefits of the pipeline outweigh the environmental risks by reducing America's dependence on oil from hostile, unstable countries in the Middle East and elsewhere.
Complicating Obama's decision even further is the president's ambitious goal of reducing U.S. greenhouse gas emissions by 17 percent from 2005 levels by 2020. "The net effects of the pipeline's impact on our climate will be absolutely critical to determining whether this project is allowed to go forward," Obama said in his much-anticipated climate change speech in June.
Regardless of this difficult decision, Canadian Prime Minister Stephen Harper thinks "all the facts are overwhelmingly on the side of approval of this," adding, "There is a process in the United States."
In the meantime, TransCanada is preparing the groundwork for the pipeline to begin construction despite lacking the presidential green light. The company has already incurred costs of at least $1 billion for storing and maintaining pipeline materials.
"We've already invested almost $2 billion in equipment for our Gulf Coast pipeline and Keystone XL -- and that money has been invested in companies in the U.S. (some in Canada), and thousands of workers have benefited from this investment already," Shawn Howard, a spokesman for TransCanada, said.
The remaining pipes are sitting in a storage facility in Little Rock, Ark., whose space is equivalent to 80 acres. The Canadian company will likely have to sell more than 600,000 tons of pipe at a discount if the project is not approved.
"In the past, the normal regulatory review process for a project like this was between 18 and 24 months," said Davis Sheremata, another TransCanada spokesman. "As a result, we often needed to commit to the production of materials to make sure that things were available in a timely fashion."
The pipelines, valves and pump stations were ordered years ago because TransCanada had anticipated a normal permit process, which has now stretched to record length.
Approximately half of the pipe has been used for the second portion of the project, the Keystone Gulf Coast pipeline, bringing more than 700,000 barrels of oil a day from the Cushing hub to Texas Gulf Coast refineries.
"We've indicated we'll look at taking a different approach in the future for ordering and manufacturing equipment," Howard said, "especially if the regulatory process can become so influenced by outside factors that do not provide an element of certainty as to when a decision could be made either for or against a particular project."
Some experts say the delays are not a good sign for TransCanada and other proponents.
"I'm fairly shocked that the pipeline hasn't been approved yet," Christopher Knittel, professor of energy economics at the Sloan School of Management at Massachusetts Institute of Technology, told International Business Times. "I think the longer we go ... the greater the chances it will never be approved."
Another supporter similarly frustrated with the delay is Obama's predecessor, George W. Bush. At an oil industry event last week, Bush said the decision is a "no-brainer," adding that the U.S. should "build the damn thing."
While the debate continues, check out some major projects that Oil Sands Fact Check found that were completed in five years or less.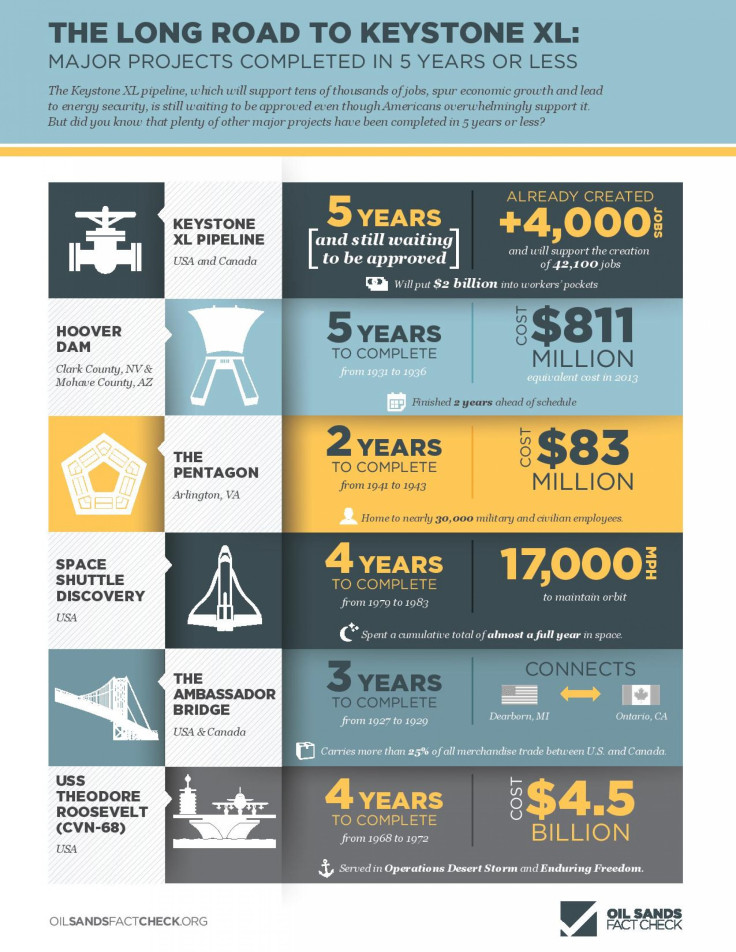 © Copyright IBTimes 2023. All rights reserved.
FOLLOW MORE IBT NEWS ON THE BELOW CHANNELS