'The Killing' Season 4 Spoilers: Linden and Holder Have A New Case In The Netflix Premiere, 'Blood In The Water' [RECAP]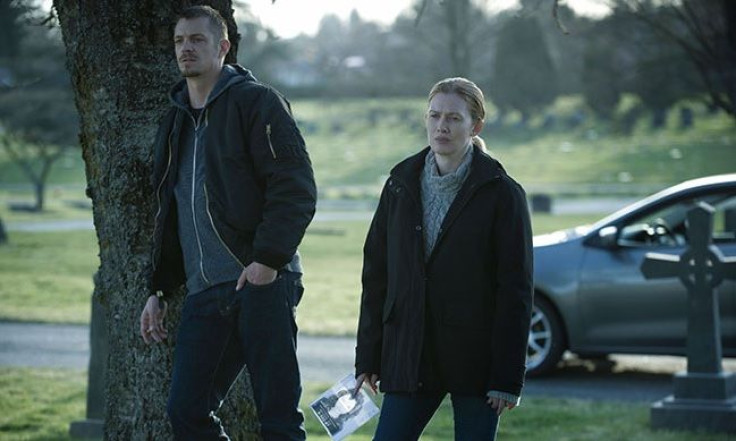 "The Killing" is back with more rain, more clouds and, of course, more murder. All six episodes of the fourth and final season of the crime drama premiered on Netflix Friday. Linden (Mireille Enos) and Holder (Joel Kinnaman) are back for one more case, after a near-cancellation brought the show from AMC, where it premiered in 2011, to Netflix.
The network isn't the only thing new about the final season of "The Killing." In the premiere episode, "Blood in the Water," Linden and Holder are faced with a situation they have never seen before – they are the killers.
In the Season 3 finale, Linden shot James Skinner, her ex-partner, after discovering he was responsible for a series of murders of teen runaways. When Season 4 picks up, Linden and Holder are dealing with the aftermath of covering up that murder, going to the same lengths to conceal evidence as they have to uncover it in the first three seasons. Linden is not coping well with the traumatic role reversal, having a near-meltdown after picking up birth control (before her discovery of Skinner's guilt the two had become romantically entangled) from a patronizing pharmacist.
Linden and Holder don't have much time to take a breath, though, as they are soon on another case. The two are assigned to the gruesome murder of the Stansbury family, presumably shot by the 17-year old son, Kyle, before turning the gun on himself. Linden and Holder must wait for him to be cleared by the doctors before they can get his side of the story.
Meanwhile, the detectives must deal with Colonel Rayne, the suspicious head of the all-boys military school who vehemently denies Kyle is capable of the crime (and oddly is the legal guardian of Kyle now that his parents are dead).
The case does not get any simpler after ballistics reveal the gun with Kyle's fingerprints was not the only gun used in the killing and Kyle wakes up with no memory of the incident.
Linden and Holder's personal lives are just as complicated as Holder finds out he's expecting a baby (proposing to his teary girlfriend) and Linden continues to wrestle with the consequences of her actions, shutting her door on Skinner's daughter when she shows up frantically searching for him. But she may be headed for trouble as she finds one of her gun's shell casings missing.
One thing is clear, even if the Seattle sky is not. This season of "The Killing" promises to be just as bleak as the first three.
What did you think of the "The Killing" premiere? Tweet your thoughts to @Ja9GarofaloTV.
© Copyright IBTimes 2023. All rights reserved.