Kim Jong-il's Tomb: 'All The Dramatic Doom And Gloom You Can Imagine'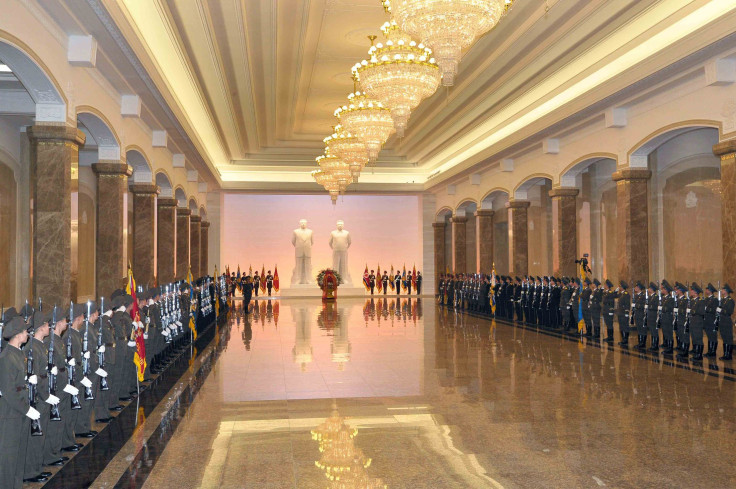 Just like Lenin, Mao and Ho Chi Minh before him, the late North Korean dictator Kim Jong-il has joined the exclusive club of pickled dictators on display for all eternity.
North Korean officials unveiled Kim Jong-il's embalmed body to a select audience in December at Pyongyang's renovated Kumsusan Palace of the Sun, which also houses his father and state founder, the late President Kim il-Sung.
Built in 1976 as the Kumsusan Assembly Hall, the palace served as Kim il-Sung's official residence until his death in 1994, when his son converted it into the world's largest mausoleum dedicated to a Communist leader. The cost of the conversion is believed to have exceeded $100 million, a hefty sum for a nation's whose people have suffered from frequent famines over the past decades.
The palace shut down following Kim Jong-il's 2011 death, but reopened to top officials on Dec. 17, 2012. The government confirmed two weeks ago that Kim Jong-il's preserved remains would be on permanent display, and on the 70th anniversary of Kim Jong-il's birth last Wednesday, the building officially reopened to the public with a military parade and fireworks.
Richie Fenner, the British founder of Beijing-based Young Pioneer Tours, led the first group of Western tourists into the palace on Thursday. Though he's been inside several times before to see the body of Kim il-Sung, it was the first time he or any Western tour group was granted permission to see Kim Jong-il in his glass-enclosed sarcophagus.
"They presented the body in the mausoleum similar to his father's, but they also gave a snippet of his life," Fenner said from his Beijing office Tuesday after returning from North Korea. "So they had the train carriage where he passed away, the car he was using at the time and a map with destinations he traveled to in terms of diplomacy."
Fenner, who said the dictator came out of the embalming process well, recalled a second room with the leader's awards and medals, as well as other personal artifacts like his platform shoes.
Of course, he didn't leave with any photos.
"They're very restrictive about what you can take in," he said. "You leave all of your belongings at the cloakroom, go through an X-ray scanner and also a blower that blows dust off. Then, they clean your shoes."
Once inside the sacred palace, all visitors are required to bow at the feet and arms of both former leaders to show their respect.
Young Pioneer Tours, which fashions itself as "the budget North Korea tour operator," will now include trips to Kumsusan Palace of the Sun on each of its 25 tours to the reclusive nation in 2013.
Though Fenner and his group were the first tourists inside, Google's Eric Schmidt and former New Mexico Gov. Bill Richardson led a nine-person delegation that toured the facility during their much-publicized (and criticized) trip to North Korea earlier this month.
Schmidt's daughter Sophie, who accompanied him, recounted her journey to the "very, very strange" country in a blog post published this past weekend.
"Nothing I'd read or heard beforehand really prepared me for what we saw," she wrote. "Our trip was a mixture of highly staged encounters, tightly orchestrated viewings and what seemed like genuine human moments. We had zero interactions with non-state-approved North Koreans and were never far from our two minders (two, so one can mind the other)."
Of the mausoleum, she said she could "barely describe how strange an experience it was."
"We entered a series of tunnels with those moving walkways you find in airports, which we slowly rode for probably 20-30 minutes. The walls were lined with portraits of Kim Jong-il and Kim il-Sung looking at things … The mausoleum part had all the dramatic doom and gloom you can imagine: red-lit marble halls, severe-looking guards, sweeping, lamenting orchestral music. The soldiers would line up in threes at each side of the bodies, and bow deeply. Stone-faced."
In closing, Schmidt said she was delighted to learn that her and the late dictator shared a taste in laptops: the 15-inch MacBook Pro.
© Copyright IBTimes 2022. All rights reserved.
FOLLOW MORE IBT NEWS ON THE BELOW CHANNELS