Kim Kardashian Ex-Publicist: Kim Knew About Sex Tape, I Made out With Cuba Gooding Jr., and Much More!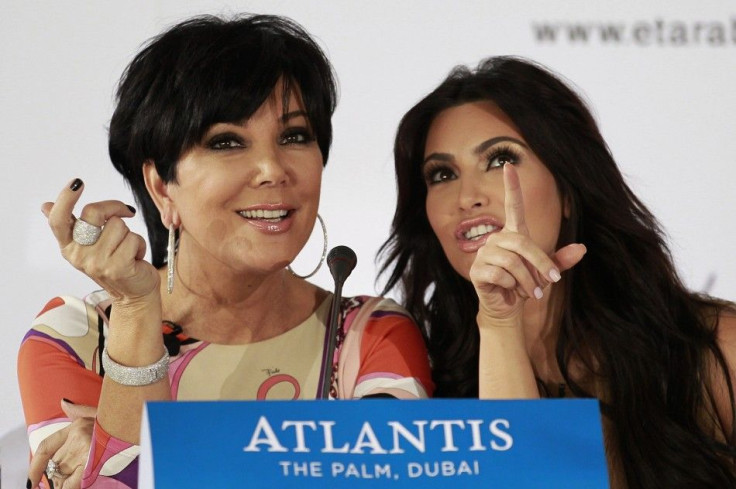 Kim Kardashian's ex-publicist Jonathan Jaxson has made some inflammatory statements about his former client and her pending divorce.
(In unrelated news, he also claims to have made out with Cuba Gooding, Jr. More on that later.)
Jaxson, who said he worked with Kardashian in 2007, 2008, and part of 2009 has gone on a mini-media blitz to address speculation about the validity of Kim's marriage to Kris Humphries and to promote his book Don't You Know Who I am Yet, for which he has not yet secured a publisher.
Jaxson told Good Day LA that while he believes Kim and Kris may have legitimately been in love, the wedding would not have happened if not for the contracts with E! and a number of endorsement agreements with vendors.
It was obvious that it was staged, there was contracts already in place for E! to film it. When challenged about his use of the word staged, Jaxson conceded that maybe it was not the most accurate word to describe what happened but later said, For me it was fake, because Kim said previously that...she knew she didn't want to get married, weeks prior to the wedding itself.
Jaxson's book will not talk about Kardashian exclusively, but we can probably expect her to fill many of the pages, as Kim was his highest profile client. (Jaxson has also worked with cast members from The Real Housewives of Atlanta).
I've...been very candid about the working relationships with me and several celebrities that I've worked with behind the scenes, he said on Elvis Duran and the Morning Show earlier this week. While working with Kim, Jaxson claimed to have staged several of the moments that the world has seen of her, such as the ring that we alleged she was engaged to Reggie bush back in 2007.
As the story goes, Kim and Jaxson hatched a plan to have Kim seen walking out of a jewelry store with a bag, and with a (previously owned) diamond ring on her right hand - which they thought would promote additional intrigue. As Jaxson tells it, the hoax was largely Kim's idea, and he arranged for photographers to be waiting outside of the jewelry store.
So what you're saying is you guys faked the Reggie Bush proposal, Duran asked Jaxson.
One hundred percent, Jaxson said. It was calculated to a tee.
When asked if Reggie was aware of the publicity stunt, Jaxson said absolutely not.
That was the cause of the downfall of their relationship...he was totally unaware of these types of antics, Jaxson said, and when he finally got wind of it from through some other people he chose not to be in the relationship because he just couldn't handle it anymore.
Things got a bit murkier when Jaxson described his early days working with Kim. He said he approached her on MySpace while she was still best-known as Paris Hilton's sidekick. Jaxson, who was currently working with Diana Ross's daughter at the time, purportedly convinced Kim to come to New York for Fashion Week, on his promise to turn you into the star that you should be, out of Paris Hilton's spotlight.
Jaxson said that Kris Jenner gave him a confidentiality agreement to sign, but that he refused to sign it.
(Jaxson has not yet responded to our request for further clarification of his contractual agreements with the Kardashians. )
Jaxson also said Kardashian's notorious sex tape surfaced the day I started working with her, but indicated he had nothing to do with it. After reading a story about the sex tape in the New York Post, Jaxson said he called Kim right away.
Oh my god, just tell them we're going to sue, we're going to do something, Kardashian reportedly said.
You're saying the release of the sex tape was not a planned thing? That was something that was done against her wishes? Duran asked Jaxson.
Well, it was believed to be that, Jaxson said after hesitating a moment, but again, that was the day I started working with her, and she was very emotional for one second. I literally met her when she was getting her makeup done at MAC for Fashion Week, and she was totally okay.
She wasn't devastated by any means, he continued. She was totally non-emotive...She knew that it was going to come out, she knew that was the right step to make, she learned from Paris Hilton...She knew what she was doing and she knew how to become famous.
Jaxson also said the Kris Jenner did not have a strong reaction.
No sex tape can be released without one's accord...You have to have an agreement, and there has to be money involved.
In addition to Jaxson's confession that he never signed a confidentiality agreement, he also admitted that he never met Kim's stepdad Bruce Jenner.
When asked what Kim did to him to make him want to spill her secrets, Jaxson replied She didn't pay me, but did not elaborate further.
Jaxson said the book will also describe a homosexual encounter with Cuba Gooding, Jr. The former publicist claimed to have made out with the Oscar-winning actor at Bungalow 8, a club in New York City. Jason said Gooding was drunk, and insisted that he didn't know he was married.
Jaxson has said on his Web site and during interviews that he was seeking an agent and publisher for his book. He tweeted on Friday that it would be coming out online in January.
Here's the full interview on Good Day LA...

FOR FREE to continue reading
✔️ Unlock the full content of International Business Times UK for free
offer available for a limited time only
✔️ Easily manage your Newsletters subscriptions and save your favourite articles
✔️ No payment method required
Already have an account? Log in
© Copyright IBTimes 2023. All rights reserved.