King Charles III Went Viral After 'Furiously' Gesturing Aides To Clear Desk
King Charles III was officially proclaimed as the UK's new reigning monarch on Saturday.
KEY POINTS
King Charles III signed the Accession Proclamation on Saturday, marking his official ascension to the throne
The new monarch was captured on camera pointing at things and demanding the immediate removal of a pen box and inkwell
The king also delivered a heartfelt tribute to the late Queen Elizabeth
King Charles III already had a viral moment prior to him being formally proclaimed as the new monarch of the United Kingdom Saturday.
Just a few moments before signing the Accession Proclamation to mark his official ascension to the throne of the British Commonwealth, King Charles III was forced to gesticulate urgently to his aides to clear the desk where he was to sign the paperwork.
The objects of concern were a pen box and an inkwell, both of which were apparently gifts from his sons, Prince William and Prince Harry. King Charles III was captured on camera pointing and demanding their immediate removal.
Netizens were quick to point out "furious" King Charles III gesturing his aides to clear his desk. One Twitter user said, "The servant must clear my desk for me. I can't be expected to move things."
Another netizen wrote, "First day on the job, and already he's fed up. LOL." A third netizen penned on Twitter, "Charles' brief fury at the pay try is definitely the highlight of this for me."
House of Commons leader and Lord President of the Council Penny Mordaunt invited King Charles III to sign two proclamations during the ceremony that took place at St James' Palace in Westminster, London. One of the documents officially declared the date of Queen Elizabeth's demise as a bank holiday.
On his first full day of duties, King Charles III met Prime Minister Liz Truss and delivered a speech paying tribute to the late Queen Elizabeth and his family. The husband of Queen Consort Camilla addressed the nation Friday as it mourned the passing of the longest-reigning monarch in Britain's history.
Cheering crowds gathered outside Buckingham Palace greeted King Charles III as he arrived from Balmoral Castle in Scotland. Some royal watchers even sang, "God save the king."
In his speech, King Charles III paid homage to Queen Elizabeth, whom he referred to as "darling mama," and announced Prince William would take on his former title as the Prince of Wales.
King Charles III also expressed his love for Prince Harry and Meghan Markle "as they continued to build their lives overseas." Bells also tolled around Britain, and 96 gun salutes took place in London – one for each year of Queen Elizabeth's long life.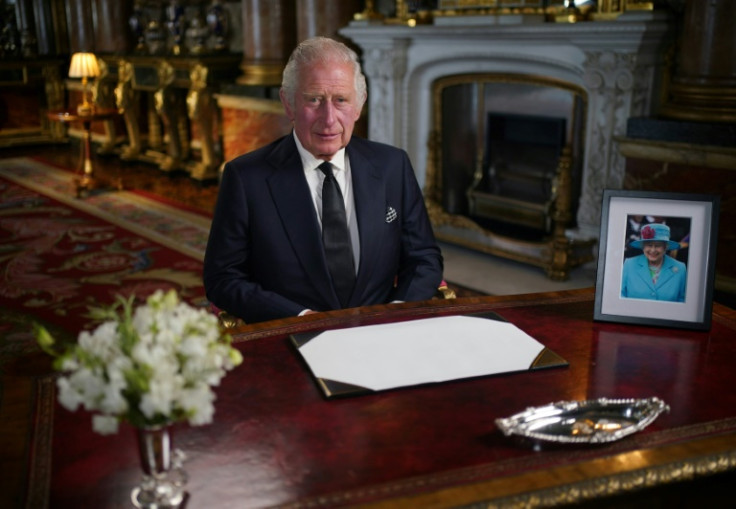 © Copyright IBTimes 2023. All rights reserved.
FOLLOW MORE IBT NEWS ON THE BELOW CHANNELS