'Kissing Booth' Prequel Podcast Announced: Sequel Movie Cast Involved, Premiere Date News
Get ready to hear all about what's going on in Elle's (Joey King) life when Spotify's new scripted "The Kissing Booth" prequel podcast premieres in 2020.
It's been over a year since Netflix's teen rom-com, which was based on Beth Reekles' Wattpad-story-turned-novel of the same name, came out, revitalizing everyone's love for star King and igniting viewers' love for Jacob Elordi (Noah) and Joel Courtney (Lee) along with it.
Well, 2020 is going to be the year that all of this love multiplies because so much new "Kissing Booth" content is on the way!
Reekles' sequel novel, "The Kissing Booth 2: Going the Distance," releases in January and is currently up for preorder, a new Netflix movie based on this book is set to debut in 2020 and, now, a Spotify podcast is on the way with the original cast lending their voices for it.
"Kissing Booth - Elle's Diary" is a prequel scripted audio series set to be written by the franchise film writers and produced by Komixx Productions. Fans can expect to hear King, Courtney and Elordi on the program.
A premiere date and a full synopsis have not yet been announced.
While "The Kissing Booth" fans wait for more details to be revealed about the upcoming prequel podcast, here are the latest details on the sequel book and movie.
Vince Marcello once again directed and wrote the film, but Jay S Arnold joined him for the second flick as a co-writer. Plus, the main cast is back, along with a couple of new stars — Maisie Richardson-Sellers ("DC's Legends of Tomorrow") and Taylor Perez ("Scandal").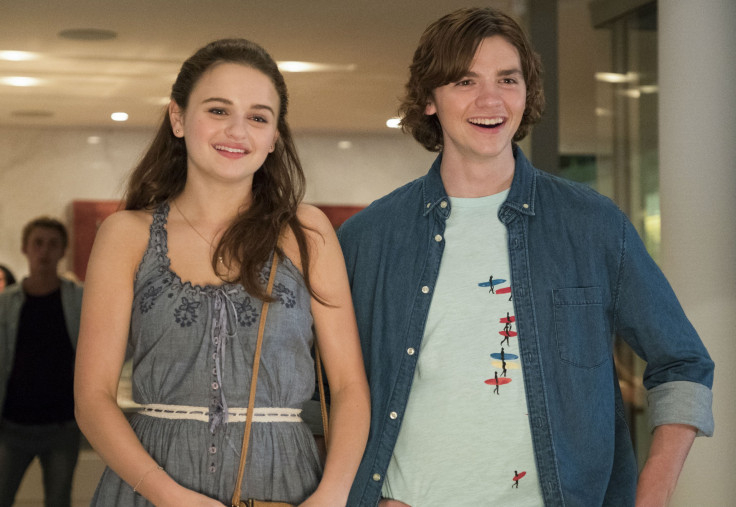 Netflix hasn't shared a premiere date yet, but a movie synopsis is available.
"Elle Evans just had the most romantic summer of her life with her reformed bad-boy boyfriend Noah Flynn. But now Noah is off to Harvard, and Elle heads back to high school for her senior year," the synopsis shares. "She'll have to juggle a long-distance relationship, getting into her dream college with her best friend Lee, and the complications brought on by a close friendship with a handsome, charismatic new classmate named Marco (Perez). When Noah grows close to a seemingly-perfect college girl (Richardson-Sellers), Elle will have to decide how much she trusts him and to whom her heart truly belongs."
To get a glimpse of the story at a slightly different angle, here's the synopsis for Reekles' book:
"Elle Evans seems to have finally tamed hotter-than-hot bad boy Noah Flynn, but now they're facing a new challenge. Noah's 3,000 miles away at Harvard, which means they're officially a long-distance couple - and it's tough. After all, there's only so much texts and calls can do- and when Elle sees a post which suggests Noah's getting friendly with someone else, she's devastated. On top of that, it's hard to ignore new boy Levi. He's gentle, sweet, cute - and definitely interested in Elle. With her heart on the line, what's a girl to do?"
After the book news was shared, Reekles told IBT, "I've always been happy with how the first one ended, but it was hard for me to let go of the characters. I've had the sequel in the works for a while actually, but it's just taken some time! I'm so excited to share more of Elle, Lee and Noah with everyone soon."
Find out what's next for the characters when the "Kissing Booth" sequel book and Netflix movie come out in 2020, and hear about past important moments from their lives when Spotify's prequel podcast, "Kissing Booth - Elle's Diary," arrives next year, as well.
© Copyright IBTimes 2023. All rights reserved.