'The Knick' Season 1 Spoilers: 16 Things You Need To Know Before The Cinemax Premiere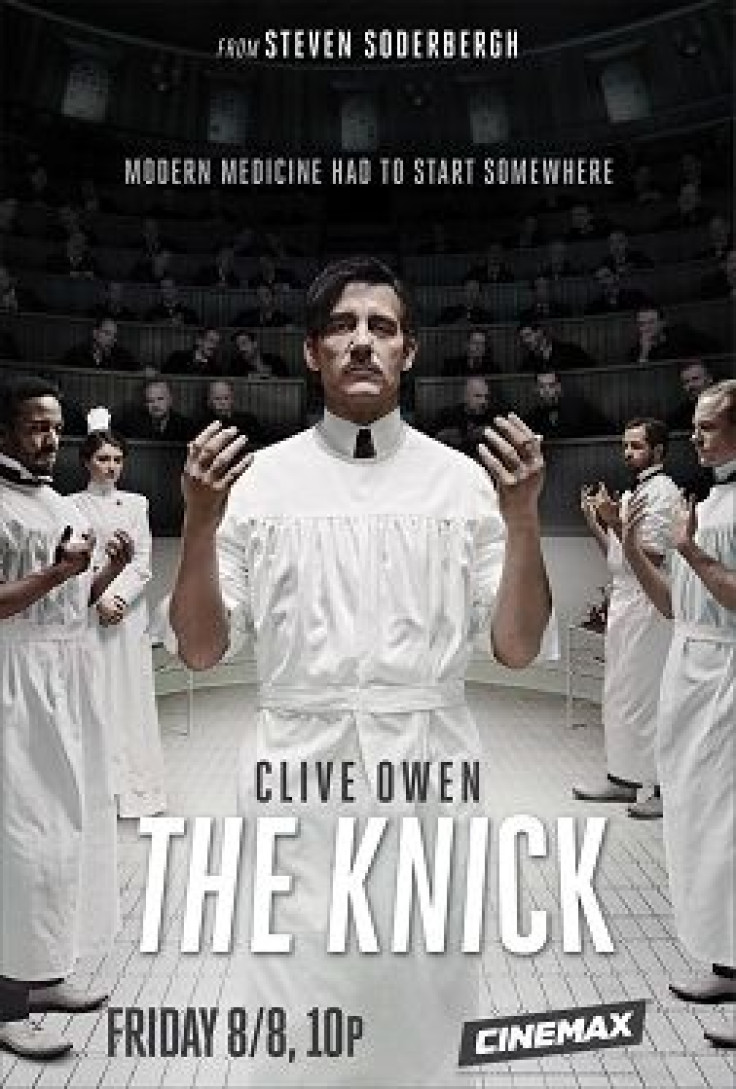 You may want to rethink your Friday night plans because tonight (Aug. 8) is when the new Cinemax drama, "The Knick," airs its Season 1 premiere. And according to reports, this is one series debut you do not want to miss.
To help viewers prepare for TV's newest, eerie medical drama, we've wrangled up 16 things fans should know before diving head first into the blood-soaked drama directed by Steven Soderbergh.
1. "The Knick" will premiere Friday, Aug. 8, from 10 p.m. – 11 p.m. EDT exclusively on Cinemax.
2. Casting List/Characters includes: Owen (Dr. John Thackery), Andre Holland (Dr. Algernon Edwards), Jeremy Bobb (Herman Barrow), Juliet Rylance (Cornelia Roberston), Eve Hewson (Lucy Elkins), Michael Angarano (Dr. Bertram "Bertie" Chickering, Jr), Chris Sullivan (Tom Cleary), Cara Sullivan (Sister Harriet), Eric John (Dr. Everett Gallinger), David Fierro (Jacob Speight), Matt Frewer (Dr. J.M. Christiansen).
3. Production for "The Knick" began in Sept. 2013 and was recreated in and around Brooklyn and downtown Manhattan by production designer Howard Cummings.
4. The Cinemax series will take place in 1900 and tell the gruesome story of the medical advances made by the staff of Knickerbocker hospital, a fictional downtown New York facility, run by Dr. John Thackery.
5. The first promo of "The Knick" proved just how haunting the new series is going to be:
6. The synopsis for episode 1, appropriately titled "Method and Madness," centers on John W. Thackery, a brilliant yet tortured doctor working at the Knickerbocker Hospital in New York as chief surgeon.

Thackery received the title after his mentor, J.M. Christiansen "departed unexpectedly." Although Thackery wants his own protégé, Everett, to take on the role of assistant chief, Cornelia, daughter of the hospital's major benefactor, insists that the new chief surgeon hire Algernon, a "talented black doctor who trained in London and Paris."
7. Watch "Visceral," the second promo released by Cinemax for Season 1 of "The Knick":
8. Algernon, a Harvard graduate, will spend his time at the Knick fighting for respect within the "all-white-populated hospital in addition to the racially charged city of New York."

9. Watch Dr. John Thackery and Dr. Algernon Edwards' first interaction with one another in this sneak peek video:
9. The premiere synopsis suggests that a "daring surgical procedure" will take place in episode 1. This is where Algernon's "desires to remain" will prevail as he flourishes during the surgery, taken place in the operating theater.
10. Take a glimpse at the gore throughout Season 1 of "The Knick":
11. In the trailer we witnessed riots, a funeral, an amputated leg, an explosion that occured in what looked like the stomach of a patient, organs being thrown into a bowl and a C section, which we learned ended in disaster.
According to the New York Times, viewers will watch as a surgeon makes his 12th attempt at performing a Cesarean Section on a woman with a hemorrhage in her womb. However, the surgery will result in the death of both the mother and the child.
12. Watch Dr. John Thackery make a speech in episode 1. The promo video is titled "The Eulogy":
13. Episode 2, "Mr. Paris Shoes," will air Friday, Aug. 15, at 10 p.m. EDT. The synopsis teased Thackery will ask the Knick's "crooked superintendent," Herman Barrow, to bring more cadavers into Knickerbocker to be tested by "novel surgical procedures" as the death toll rises thanks to a typhoid-fever outbreak.
14. Episode 3, "The Busy Flea," will air Friday, Aug. 22, at 10 p.m. EDT. The summary reveals Thackery will contemplate the decision of whether or not to perform surgery on a former flame. Viewers can also anticipate to see a gruesome experiment on pigs, Edwards taking his frustrations out at a local bar and a possible solution to the typhoid-fever outbreak to be found.
15. Watch the new promo for "The Knick" titled "Physical World":
16. On July 10, Cinemax renewed "The Knick" for a 10-episode Season 2.
Will you be watching "The Knick"? What are you looking forward to the most in the new Cinemax series?
© Copyright IBTimes 2023. All rights reserved.