Kylie Jenner-Tyga Update: 'Stimulated' Rapper Fears Losing 'KUWTK' Star After Annalu Cardoso Scandal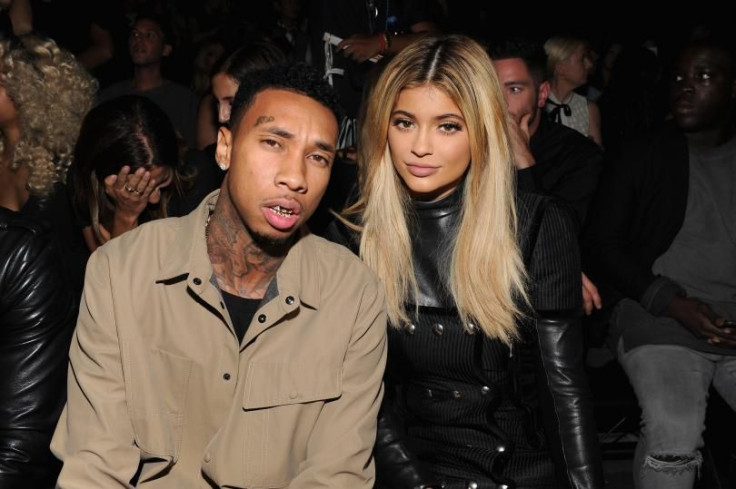 Tyga reportedly fears that he might lose his girlfriend Kylie Jenner as their relationship has been rocked by the rapper's recent cheating scandal. Last week, Brazilian model Annalu Cardoso claimed that she had a relationship with Tyga while he was dating Jenner.
Since rumors of Tyga's alleged cheating made the rounds, reports also surfaced that Jenner is distancing herself from her rapper boyfriend. Jenner reportedly expressed her support for Tyga when 14-year-old model Molly O'Malia claimed earlier this month that the "Stimulated" rapper sent her "uncomfortable" messages through Instagram.
"Tyga loves Kylie so much. He's watching his every move so much these days that it's causing him anxiety. He's always been nervous and anxious around her but now it's gotten even worse," a source told Hollywood Life. Tyga is reportedly realizing that he might lose Jenner following the scandal.
"His appetite is even suffering — he's lost about 10 pounds if not more in the past month dealing with drama and trying to be ever so perfect in this relationship," the source reportedly said, adding: "He wants to be Kylie's everything! Her King. Her prince. Her provider and protector. He's not just trying to impress her – he now realizes he's got to impress Kim, Kourt, Khloe, Kris and the hardest one of all – Kendall. Dude is stressed out but he loves Kylie that much."
According to reports, Tyga and Jenner have not spoken to each other since the scandal broke. Tyga has been previously accused of cheating on Jenner with transgender model Mia Isabella.
Jenner reportedly banned Tyga from being present with her at the Golden Globes Awards Sunday night. The 18-year-old reality TV star was accompanied by her sister Kourtney Kardashian at the event.
"Kourtney was not Kylie's first choice as a date," a source told Radar Online. "Kylie was supposed to bring Tyga as her date last night, but after this last cheating rumor she told him that she needed a break to think things over.
"Kourtney has taken Kylie under her wing recently because no one in that family knows how to handle a bad news boyfriend more than Kourtney does. She will help her get through this," the source added.
Tyga's ex-girlfriend, Blac Chyna, had responded to the 26-year-old's cheating scandal saying that Jenner deserved it. "Blac feels Kylie came between she and Tyga. And now, multiple women are coming between Kylie and Tyga. Kylie deserves to be cheated on. She's a homewrecker with no remorse," an insider told Hollywood Life.
© Copyright IBTimes 2022. All rights reserved.
FOLLOW MORE IBT NEWS ON THE BELOW CHANNELS