LA Dodgers vs. New York Mets: Probable Pitching Matchups For 2015 NLDS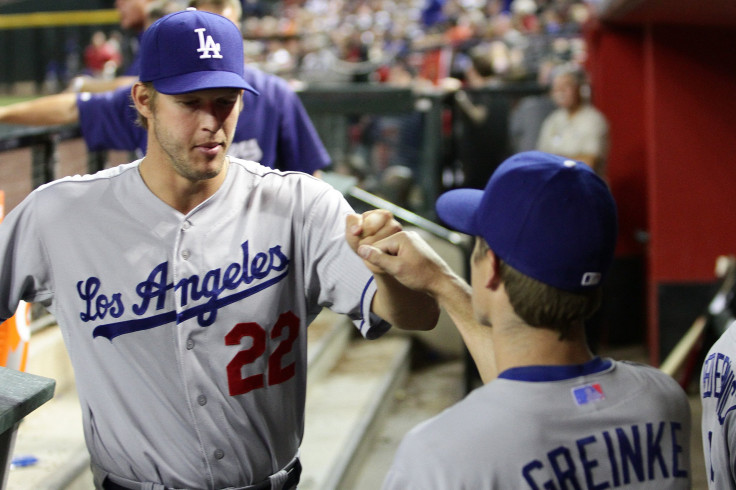 The regular season is still a few days from coming to a conclusion, but the Los Angeles Dodgers and New York Mets are guaranteed to meet in the 2015 National League Championship Series. It might be the most intriguing series of the first round, considering the two big-market teams have some of the most dynamic starting pitchers in baseball.
Clayton Kershaw and Zack Greinke are at the front of the Dodgers' rotation, giving Los Angeles possibly the best one-two punch in decades. New York took the league by storm this season with four starters at 27 years old or younger who all have the potential to be No.1 starters.
After Kershaw and Greinke, the Dodgers' rotation takes a precipitous drop. Brett Anderson is the team's clear No.3 starter with a .500 record and a 3.71 ERA, but the injury-plagued southpaw is pitching to a 4.73 ERA since the All-Star break. New York might not have a pitcher as good as the Dodgers' top two, but the Mets have three starting pitchers with a sub-3.00 ERA. Rookie Noah Syndergaard, who dazzled the National League during stretches of the season, has a 3.34 ERA and a 1.08 WHIP.
Even though the two teams have some of baseball's best pitchers, they have to answer a few important questions before the playoffs begin next week.
Does Kershaw or Greinke get the ball first?
In each of the last two seasons, Kershaw has been the Dodgers' Game 1 starter in the playoffs. But Greinke might be this year's NL Cy Young winner, and manager Don Mattingly has to consider pitching him in the postseason opener.
Greinke's 1.68 ERA leads the NL, and he's been atop the league in that category for most of the season. Kershaw ranks third in the league with a 2.16 ERA, though it's his highest mark since 2012. Greinke's WHIP (0.85) is also slightly better than that of Kershaw (0.89), and he has two more wins.
Most importantly, Greinke has a 1.93 ERA during his playoff career with the Dodgers. One of the biggest stories of last year's postseason was Kershaw's struggles. Last season's NL MVP and Cy Young winner has a 1-5 record with a 5.12 career ERA in the playoffs, and four of those losses have come in the past two years.
But Kershaw remains arguably the best pitcher in baseball, and a closer look at the numbers indicates that he might be having the best season of any starter in MLB. He ranks first in the majors in fielding independent pitching, while Greinke comes in at No.6. Kershaw's 294 strikeouts are tops in the league, and his 1.36 ERA since the All-Star break is better than his teammate's 2.07 ERA in the last two and a half months. Kershaw has started in the NLDS in Game 1 and Game 4 each of the last two years.
How Will The Mets Handle Matt Harvey's Innings Limit?
With all things being equal, Matt Harvey might be the Mets' Game 1 starter. But that honor will probably go to Jacob deGrom and his impressive 2.60 ERA. Harvey and agent Scott Boras have instituted an innings limit, following his 2013 Tommy John surgery, and New York will be limited in how they can use their star pitcher.
New York general manager Sandy Alderson has admitted that Harvey will probably be limited to one NLDS start. That would likely put him in line to start Game 3 as of now, because the Mets currently have home-field advantage and Syndergaard has had trouble on the road. If Harvey goes in Game 3, he won't have a chance to go up against either one of Los Angeles' NL Cy Young candidates.
September has been Harvey's worst month, posting a 5.01 ERA in 23.1 innings of work. He's only allowed two earned runs in his last two starts, though he hasn't pitched seven innings in a game this month because of the new restrictions that have been placed on him.
The number of starts that Harvey makes will be limited, but he'll have a chance to go deep into games. Manager Terry Collins said the "reins will be off" Harvey when he starts for the Mets in the playoffs. He was pulled before he reached 80 pitches in two of his last three starts.
Who Does Either Team Start In Game 4?
The Dodgers and Mets might not know the exact order of their rotation for the first three games, but it's clear what three pitchers will take the mound. For a possible Game 4, both teams have multiple options.
Rookie Steven Matz has been as good as any Mets' starter since being called up in June. In six starts, he's 4-0 with a 2.27 ERA, nearly striking out a batter per inning. But he's missed significant time with injuries, and he could be forced to miss the NLDS. Matz is dealing with upper-back stiffness, and it's looking like Bartolo Colon will have to be the team's No.4 starter. Colon had a hot start to the season, but he's just 14-13 with a 4.18 ERA. The 42-year-old, however, has a 3.03 ERA in September, and allowed just one run over eight innings against the Dodgers on July 23.
Alex Wood has a respectable 3.89 ERA this season, and he's the Dodgers' top choice for a No.4 starter. But there's a good chance the team forgoes that option and pitches their No.1 starter in a potential Game 4. Whether it's Kershaw or Greinke who gets the ball in Game 1, they could get a shot at either closing out the NLDS in Game 4 or keeping L.A. from being eliminated. Wood has struggled in September, pitching to a 5.08 ERA.
Projected NLDS Rotation
Game 1: Jacob deGrom vs. Clayton Kershaw
Game 2: Noah Syndergaard vs. Zack Greinke
Game 3: Matt Harvey vs. Brett Anderson
Game 4*: Bartolo Colon or Steven Matz vs. Clayton Kershaw
Game 5*: Jacob deGrom vs. Zack Greinke
*if necessary
© Copyright IBTimes 2023. All rights reserved.