LA Kings Vs. Anaheim Ducks Game 3: Live Stream Info, TV Channel, Prediction And Vegas Betting Odds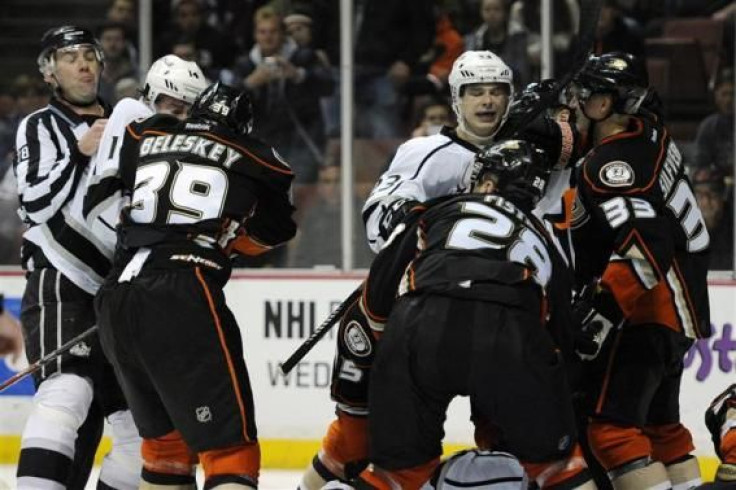 No team in the West had a better regular season than the Anaheim Ducks. Heading into Game Three of their postseason series with the Los Angeles Kings, the No.1 seed is in danger of failing to reach the conference finals.
The Ducks have lost home-ice advantage, registering losses in the first two games. After failing to get a victory in Anaheim, they must get multiple road victories, if they want their run in the 2014 Stanley Cup Playoffs two continue.
There is plenty of evidence to suggest that Anaheim will turn things around, starting with a win on Thursday night. They were a dominant offense team before the playoffs, finishing second in goals scored. Hart Trophy finalist Ryan Getzlaf's 87 points ranked second in the NHL, behind only Sidney Crosby. Corey Perry added 82 points of his own, good enough for fifth in all of hockey.
Anaheim didn't have much trouble with L.A. in five regular-season matchups, defeating them four times. While the Ducks have been a dominant home team, they shouldn't be affected by having to go on the road. They won 25 road contests this year, and the Kings don't play any better at Staples Center. Los Angeles has the exact same home and away record.
The Ducks have what it takes to get back in the series, but they have no more time to waste. Coming back from a 3-0 series deficit against the Kings would be extremely difficult. L.A. has won six straight playoff games, led by goalie Jonathan Quick. The 2012 Conn Smythe Trophy winner led the league's best defense in the regular season, and hasn't let up in the playoffs. After losing the first three games in the opening round, Quick has surrendered just eight goals in six contests.
"Quickie … his game's going up and that's exactly what we need from him because when he's hot and we're playing good defensive hockey, we're a hard team to score against," Kings defenseman Drew Doughty said, via the Los Angeles Times. "That's the way we're looking at the series. We want to keep it as close to zero as we can, if not zero every game."
The Kings came close to losing Game One, but a Marian Gaborik goal with seven seconds left sent the contest in overtime, where L.A. prevailed. Now, as the team returns home with plenty of momentum, they're expected to expand their series lead. Oddsmakers at Las Vegas casinos have listed the Kings' betting odds at -140. The underdog Ducks come in at +120.
The game is scheduled to start at 10 p.m. ET on the NBC Sports Network. Viewers can watch a free live stream online with NBC Sports Live Extra.
Prediction: Los Angeles 4, Anaheim 2
© Copyright IBTimes 2023. All rights reserved.