L.A. Lakers - Denver Nuggets: Where To Watch Free Online Stream, Prediction, Preview For Friday's Game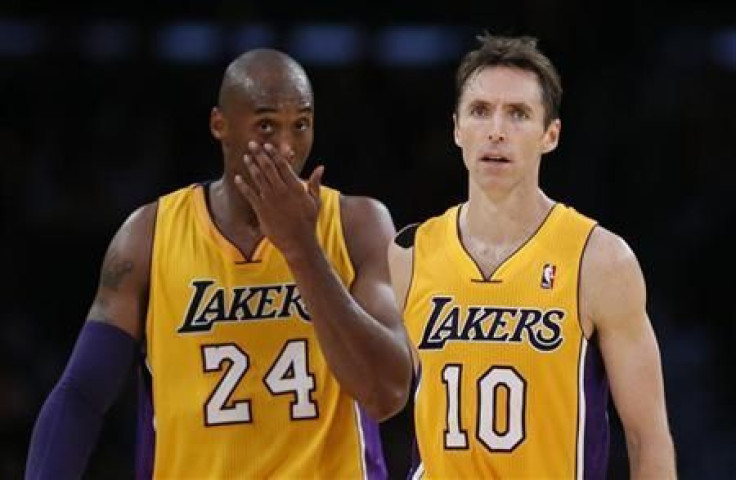 Both the Los Angeles Lakers and Denver Nuggets were expected to do big things in the 2012-2013 NBA season.
Trading for Dwight Howard and Steve Nash in the offseason catapulted L.A. past the Oklahoma City Thunder as the favorites in the West. Denver's expectations weren't as high, but they were projected by some to win as many as 60 games.
Through the first month of the season, both teams have underachieved.
Now, the two clubs are set to face each other for the first time since last year's playoffs. It was a highly contested series, as it took the Lakers seven games to eliminate the Nuggets in the first round.
Los Angeles will host Denver on Friday in the last NBA game in November. The game is scheduled to tip off at 10:30 p.m. ET on ESPN. You can watch a free live stream online at espn3.com.
Each team enters the game looking to bounce back from a tough loss.
The Lakers last played on Tuesday, when they were defeated by a losing team on their home floor. The Indiana Pacers left L.A. with a 79-77 victory. Kobe Bryant was practically the team's only source of scoring. He finished the game with 40 points, more than half of the Lakers total. He also finished the game with 10 turnovers.
Bryant has been forced to take on much of the load offensively. Los Angeles is still without a solid option at point guard. Steve Nash and Steve Blake are not close to returning from their injuries, and Darius Morris hasn't been able to run the point like they have in the past.
The lack of depth at point guard, as well as Mike D'Antoni's offensive system, has made it hard for Pau Gasol and Howard to get on track. The two big men have had difficulty scoring. Neither has reached the 20-point mark in the past four games.
The Nuggets fell back to .500 with their loss to the Golden State Warriors on Thursday night. Andre Iguodala hit a shot at the buzzer that seemed to be the game-winner, but was later ruled to have come after time expired. Denver was forced to hoist up a potential game-winner, because Iguodala missed a free throw with less than five seconds remaining that would've sent the game into overtime.
While the Lakers big men have disappointed, one member of the Nuggets frontcourt has been a pleasant surprise. Kenneth Faried is averaging 13.3 points and 11.1 points per game. Both totals are better than Gasol's numbers.
Betting Line: Los Angeles-5, 205.5
Prediction: This should be a close contest, as both teams are very familiar with each other. Ty Lawson should give Morris trouble all game long, and Iguodala might be able to fore Bryant into some bad shots. The Nuggets have a good chance to pull off the upset in L.A.
Predicted Score: Denver 105, Los Angeles 100
© Copyright IBTimes 2023. All rights reserved.