Lakers Rumors: Jimmy Butler Wants Short-Term Deal, L.A. Interested?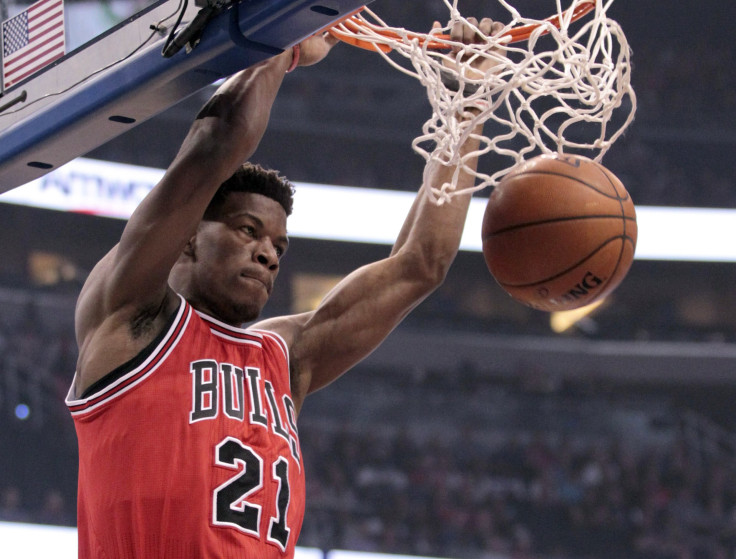 In need of help up and down the roster after the worst season in the team's history, the Los Angeles Lakers may find relief in the form of current Chicago Bull and soon-to-be restricted free agent guard Jimmy Butler.
According to Yahoo Sports, Butler's considering shorter-term deals due to the expected rise of the NBA's salary cap in the 2016-2017 season and he's leaning towards rejecting Chicago's expected offer of $90 million over five years.
The league's new $24 billion television rights deal with ESPN and Turner Broadcasting will balloon the amount teams are allowed to offer players, which has changed the scope of the free-agent market. A running theme during free agency this summer will be whether or not players decide to sign contracts now or wait for an even bigger pay day in 2016, which has been the news hovering over potential free-agent power forward Kevin Love.
The Lakers may be entering Butler's picture as he's spent lots of time in Los Angeles recently. Their considerable salary cap space, and the imminent departure of superstar shooting guard Kobe Bryant, have opened up a role as the future of the team. The Lakers have only $37 million on the books for next season, and $5.4 million for the 2016-2017 season.
Los Angeles also has a number of young up-and-coming players to build around Butler, including All-Rookie team point guard Jordan Clarkson and last year's first-round pick Julius Randle. The Lakers will further add to that stable with the No. 2 overall selection in next week's draft, which some reports stating could be Kentucky's Karl-Anthony Towns, Duke's Jahlil Okafor, or Ohio State point guard D'Angelo Russell.
Butler's coming off his most impressive season yet, earning his first All-Star berth and the NBA's Most Improved Player award with averages of 20 points, 5.8 rebounds, and 1.8 steals per game. He helped Chicago surge to the top of the Eastern Conference elite and steadied the offense while former MVP and point guard Derrick Rose worked his way back into the rotation following several major knee injuries.
The potential for injury certainly plays a role, but Butler decided to turn down Chicago's initial offer of $44 million over four years before this season and the gamble paid off.
Yahoo reports Butler views a front-loaded three-year deal worth as much as $50 million as ideal, with options included that would allow him to re-enter free agency and garner a whopping $190 million over five years under the new salary cap ceiling.
Chicago does have one clear advantage on the Lakers. The Bulls are once again expected to compete with the Cleveland Cavaliers in the less-competitive East, while L.A. could make the playoffs, but aren't considered title contenders at this juncture.
However, the Bulls also recently fired head coach Tom Thibodeau and Butler might need to be sold on new coach Fred Hoiberg, who has never coached in the NBA.
The Lakers sport former player and NBA Coach of the Year Byron Scott, a defensive-minded coach who relies heavily on his guards and could make excellent use of Butler's athleticism and strength on defense. L.A. finished second-to-last in the NBA this season allowing 105.3 points per game.
© Copyright IBTimes 2023. All rights reserved.