Lakers-Suns: Where to Watch Online Stream, Prediction, Preview of First Game since Mike D'Antoni Joined L.A.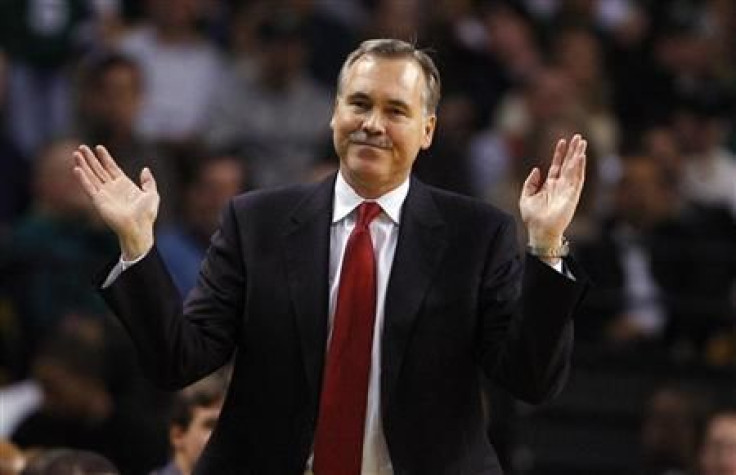 The Los Angeles Lakers are set to host the Phoenix Suns on Friday night, but it doesn't look like Mike D'Antoni will make his L.A. coaching debut against his former team.
The new Lakers coach has joined the team, leading his first practice on Thursday. However, he probably won't be on the sidelines for the divisional contest. D'Antoni is still on crutches after knee surgery.
It may be Bernie Bickerstaff's final game as the Lakers head coach. Los Angeles has played better under him than they did under Mike Brown. L.A. is 2-1 under their interim coach.
The game is set to get underway at 10:30 p.m. ET at Staple Center. You can watch a live stream online by purchasing NBA League Pass Broadband.
Phoenix has actually outplayed Los Angeles this year, despite low expectations entering the 2012-2013 season. They're a half game ahead of the Lakers in the Pacific Division at 4-5.
L.A. is coming off its first loss since Brown was fired. The lost to the Spurs 84-82, but had maybe their best defensive performance of the year.
Throughout this short, but tumultuous Lakers season, Kobe Bryant hasn't seemed to have been affected. He's continually told the media that he isn't concerned about his team, and his numbers are as good as they've been in recent years. His 26.4 points per game lead the league in scoring, and he's been extremely efficient in doing so. Bryant is shooting a career-high 55.1 percent from the field.
The Suns don't have anyone as good as Bryant, but they've won a few games with a balanced scoring attack. They have five players averaging at least 12 points per contest.
The Lakers might have trouble with the Suns point guard. Steve Blake has struggled in place of the injured Steve Nash. Goran Dragic leads Phoenix with 16.1 points and 7.2 assists per game.
Betting Line: Los Angeles-9, 201
Prediction: L.A. has played well under Bickerstaff, only losing to the Spurs. Dwight Howard still isn't the same player on defense, but he's played well on the offensive end. Look for the Lakers to win comfortably.
Predicted Score: Los Angeles 107, Phoenix 97
© Copyright IBTimes 2023. All rights reserved.