Lakers Ticket Prices Jump Over LeBron Scoring Record, Super Bowl 2023 Tickets See Sharp Spike
A few marquee sporting events this week are experiencing an increase in ticket prices. Super Bowl 2023 could end up being the most expensive NFL championship game in several years. Meanwhile, ticket prices are climbing for the Los Angeles Lakers' matchup with the Oklahoma City Thunder on Tuesday night as LeBron James approaches the all-time scoring record.
James needs 36 points against the Thunder to break Kareem Abdul-Jabbar's record for most points in NBA history. The average ticket price for Tuesday's game at Crypto.com Arena increased by nearly 400%, according to Vivid Seats. The average cost of a ticket for the Lakers' home game went from $235 to $1,150.
One day before James and the Lakers host the Thunder, the cheapest available ticket is going for $128 at Vivid Seats. Five other NBA games are on the Tuesday schedule, and they all have seats available for fewer than $35.
Based on his scoring average, James is more likely to break the scoring record Thursday night when the Lakers host the Milwaukee Bucks. The average ticket price for that game has increased by 241% from Oct. 18, going from $474 to $1,614.
The Lakers and Thunder will meet five nights before the Philadelphia Eagles take on the Kansas City Chiefs in Super Bowl LVII. According to TicketIQ, which tracks the secondary market get-in prices for each Super Bowl, the cheapest pair of tickets costs $5,707 each.
The Super Bowl get-in price had been $6,000 on Monday morning, making it the third-most expensive Super Bowl of all time. The record was set in 2015 when it cost at least $8,764 to purchase a ticket on the secondary market to see the New England Patriots beat the Seattle Seahawks.
Many believe this Super Bowl could be among the more memorable title games. The Eagles are only 1.5-point favorites over the Chiefs.
The Super Bowl will be played at Glendale Arizona's State Farm Stadium, which can seat a little north of 70,000 people.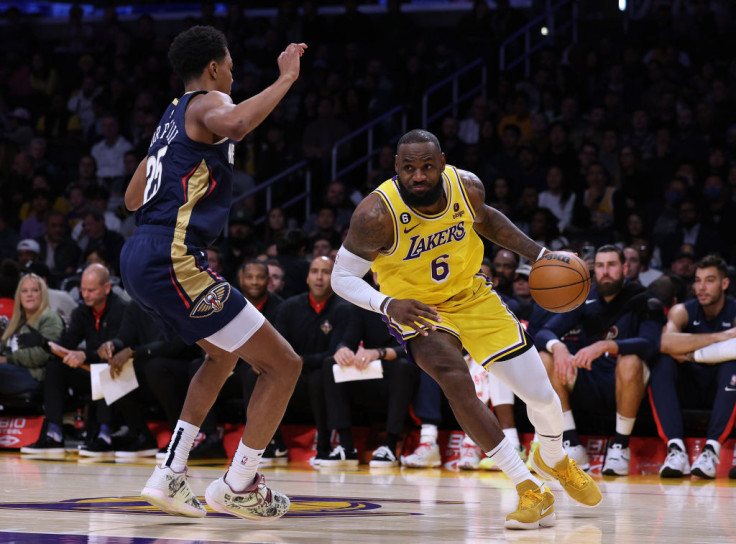 © Copyright IBTimes 2023. All rights reserved.