Lamar Odom Update: Khloé Kardashian Slammed By Odom's Cousin For Forcing Her To Sign Non-Disclosure Agreement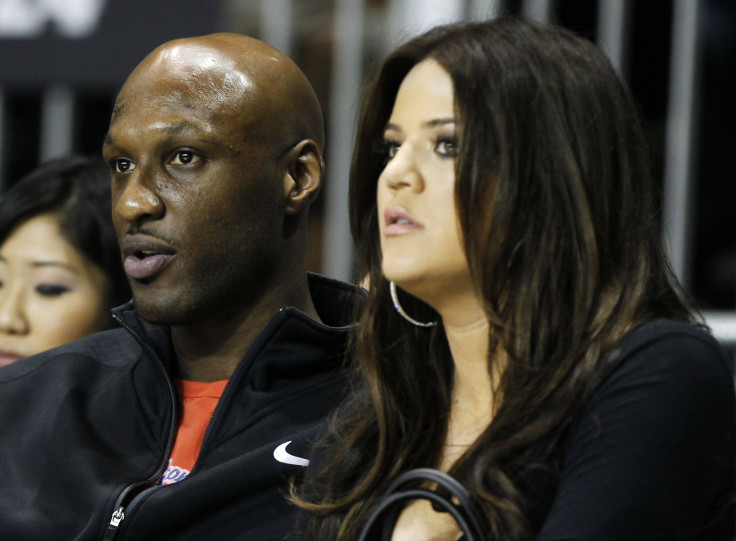 While the fight between Khloé Kardashian and her husband Lamar Odom's family rages on, Odom's cousin, Sherae Clark-Williams, has claimed that the "Keeping Up with the Kardashians" star forced her to sign a non-disclosure agreement over Kim Kardashian's two-year-old daughter, North West, at the Sunrise Hospital. Clark-Williams made her grievance with the Kardashian family public on Facebook and said, according to Radar Online, that Khloé did not "encourage" Odom to wake up.
"K.K (Khloé Kardashian) did not encourage him to awake..It was his children that got the 1st response..Now his true family is here & I'm supposed to sign a waiver not to talk about North West a child I have no interest in whatsoever," Clark-Williams said in the post, adding: "Please call Sunrise Hospital in Las Vegas & ask them is this how you treat all families going thru this."
The post from Oct. 16, three days after Odom was found unconscious, also said that when Odom woke up, he first saw his children -- Destiny, 17, and Lamar Jr., 13 -- and not Khloé, as earlier reports had claimed.
Meanwhile, Los Angeles Lakers player Metta World Peace said, during an interview to VladTV, cited by TMZ, that he and Odom's longtime friend Kobe Bryant were furious when they saw the former basketball player at the hospital. Peace, who said that the incident happened just before Lakers was set to play a preseason game, claimed that Bryant and he were heartbroken to find out about Odom's condition in Las Vegas, and were later that he had reached such a state.
"Kobe FaceTimes Lamar," Peace said, according to TMZ, adding: "Kobe tried to reach out to Lamar plenty of times before this incident happened. I was reaching out to Lamar."
"When Kobe found out Lamar was in the hospital, he was furious ... I was in tears," Peace said, adding that he too was angry at Odom's friends and the Kardashians to have let Odom be in such a position. Although he added that his anger towards the Kardashians was probably misguided.
"I was a little bit bitter towards the Kardashians without even knowing the situation," Peace said, adding that he has been sending messages to Odom but has not received a response yet. However, he wants Odom to know that Peace will always support him.
The anger against the Kardashians seems to be aggravated when it comes to Odom's other friends, who blame Khloé for not getting back together with Odom, despite getting their divorce dismissed. A report last week said that the friends have been "really mad" at Khloé for convincing Odom to dismiss their divorce and still dating Houston Rockets player James Harden. Reports had also said that she visited Harden in Houston last week, to watch a game he was playing.
"The fact that Khloé can call the shots about Lamar while she is still with James is ridiculous!" a source cited by Radar Online, last week, said, adding: "She shouldn't have anything to do with Lamar's medical or financial decisions."
"She clearly isn't concerned about Lamar if she's off with her boyfriend, who she has always been in contact with while Lamar professed his love to her. So why does she still have control over Lamar?" the source said, adding: "Everyone around him is really mad at her and they're hoping to get him to see that she shouldn't be in control of anything for him."
Odom, who is recovering well at Cedars-Sinai Medical Center in Los Angeles and may be discharged soon, was found unconscious in a brothel in Las Vegas on Oct. 13 and is believed to have overdosed on cocaine and other drugs.
© Copyright IBTimes 2023. All rights reserved.