Limbaugh Boycott Draws Blood: Cumulus Media Cites 'Drag' in 2Q Revenue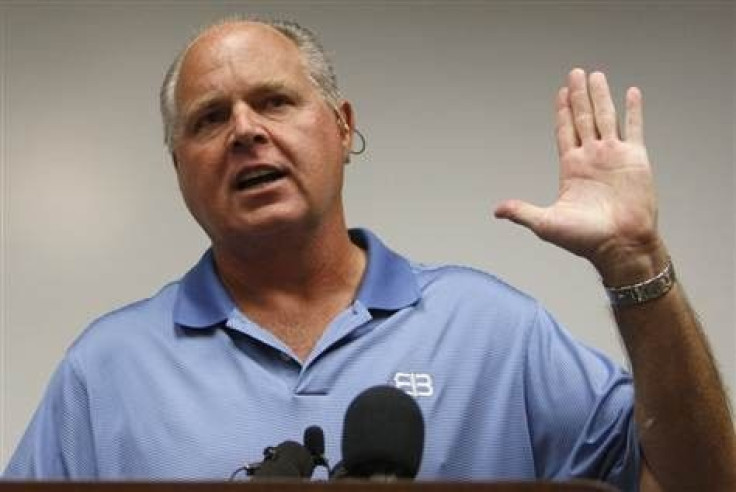 Liberal groups that have been boycotting radio broadcaster Rush Limbaugh for months have apparently drawn blood: aside from winning withdrawals of more than 100 advertisers, second-quarter revenue from 10 stations owned by Cumulus Media (Nasdaq: CMLS) declined due to the boycott, CEO Jim Dickey said.
Indeed, Dickey said in a conference call, lower sales at 3 of his 10 flagship talk radio stations cost $5.5 million due to "extraordinary issues" that included "the boycott that we saw from some remarks in a talk radio show," which he didn't specifically identify as Limbaugh's.
Moreover, the Cumulus CEO anticipated the drag on business to continue for at least six months and as long as a year.
Since Limbaugh, 61, labeled Sandra Fluke, 30, a Georgetown University law student a "slut" and "prostitute" on his three-hour talk show that reaches an estimated 20 million daily listeners in early March, women's rights, liberal activists and critics such as Media Matters implemented a national campaign to urge advertisers to withdraw their commercials.
Staring with technology advertisers Carbonite Inc. (Nasdaq: CARB), software provider Citrix Systems Inc. (Nasdaq: CTXS) and AOL Inc. (NYSE: AOL), the boycott quickly was joined by the likes of Deere & Co. (NYSE: DE), Capital One Financial Corp. (NYSE: COF), Sears Holdings Corp. (NYSE: SHLD) and others.
Limbaugh's comments came after Fluke complained about prospective cuts in contraception services provided to women and students in health-care coverage under consideration in the U.S. Congress.
Virtually all of Limbaugh's technology advertisers have stopped sponsoring him except for private LifeLock Inc., of Tempe, Ariz., an identity monitoring service, whose directors include Tom Ridge, former Republican governor of Pennsylvania and U.S. Secretary of Homeland Security under President George W. Bush.
Cumulus Media, based in Atlanta, reported second-quarter net income soared to $8.1 million, or a penny a share, from $1.3 million, or 3 cents a share a year earlier in part due to acquisitions of Cumulus Media Partners and Citadel Broadcasting. On an operating basis, the loss rose to $1.8 million, or a nickel a share, from $800,000, or 2 cents a share.
Revenue rose to $281 million from $62.2 million a year earlier mainly due to acquisitions.
Lately, more advertisers including Sam's Club, part of No. 1 retailer Wal-Mart Stores Inc. (NYSE: WMT), said it will withdraw from Limbaugh's show, along with eBay (Nasdaq: EBAY) and local advertisers on some of his flagship stations such as WABC in New York.
Limbaugh's syndicator is Premiere Networks, now owned by Clear Channel Communications of San Antonio. Clear Channel was taken private in a $20.6 billion buyout in 2008 led by Bain Capital and Thomas H. Lee, two of the giants of the private equity sector. Republican presidential nominee Mitt Romney is the co-founder of Bain Capital and derives funds from the firm, although he has not participated in management in recent years.
After Romney picked Rep. Paul Ryan, R-Wisc., as his nominee for Vice President on Saturday, Limbaugh lauded the choice as "one of us."
Shares of Cumulus Media were unchanged Wednesday at $2.61, giving the company a market capitalization of $431.2 million.
© Copyright IBTimes 2023. All rights reserved.
FOLLOW MORE IBT NEWS ON THE BELOW CHANNELS