List Of Winning Words From Scripps National Spelling Bee Over The Last 5 Years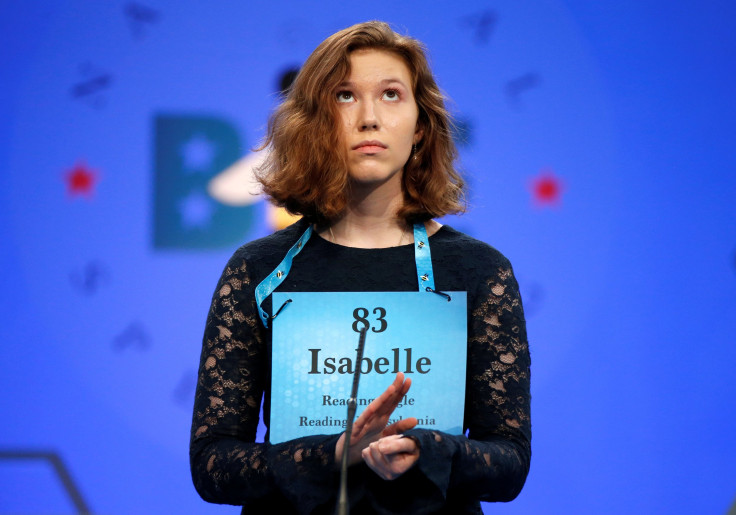 Scripps National Spelling Bee began its run this year at the Gaylord National Resort and Convention Center in Oxon Hill, Maryland on Wednesday with 291 contestants stepping up to the mic to win it all. As preliminaries came to a close last night, the 40 remaining spellers prepared to buckle down for finals on Thursday.
The top six winners will walk away with huge cash prizes, with the top speller receiving $40,000 and an additional $2,500 savings bond, according to TODAY.
Read: National Spelling Bee 2017 Live Stream: How To Watch Spellers Cracking The Scripps Contest
Kids between the ages 6 and 15 traveled from many North American regions to compete in the annual competition, including the United States, Guam, Puerto Rico and more. Likewise, 11 contestants ventured from countries like Japan and South Korea with the help of an international sponsorship to compete. One of this year's spellers included speller Edith Fuller, 6, who qualified for the competition in March at the age of 5. The Oklahoma speller was eliminated from the spelling bee Wednesday.
While some contestants stumbled on words like "kerfuffle" and "dietetic," others hit the ball right out of the park by nailing words like "fibula" and "fallacy."
Although Google released a list of top misspelled words nationwide, we're celebrating the triumphs of these young spelling machines with a look back at five years' worth of winning words.
2016: GESELLSCHAFT & FELDENKRAIS
At last year's competition, two winners conquered all. According to Romper, this was an ending the organization wanted to stay away from since "they changed the competition's rules" to avoid having this happen for the third year in a row.
Jairmam Hathwar, who was 13, won with the word "feldenkrais"— a type of exercise therapy. Although the New York native misspelled two words leading up to his winning moment, his competitor misspelled a word as well. Hathwar is also the younger brother to Sriram Hathwar, the 2014 co-champion.
Nihar Janga, Hathwar's fellow co-champion, holds the record for the youngest winner in spelling bee history according to ESPN. The Houston native won with the word "gesellschaft", meaning social relations based on impersonal ties.
Read: Scripps National Spelling Bee 2016 Winners: Jairam Hathwar And Nihar Janga Declared Co-Champions
2015: NUNATAK & SCHERENSCHNITTE
Vanya Shivashankar, 13, and Gokul Venkatachalam, 14, both won the spelling bee title in 2015.
"It's kind of finally settling in that I've won and that I'm not going to be studying spelling anymore," Shivashankar told The Kansas City Star.
Shivashankar winning moment came when she perfectly delivered the correct spelling of "scherenschnitte," meaning scissor cuts in German. Her fellow co-champion Venkatachalam won with the word "nunatak," meaning a type of rock formation.
2014: STICHOMYTHIA & FEUILLETON
No thanks to Sriram Hathwar and Ansun Sujoe, the three-year dual winning streak began. Both spellers brave their 11-letter word challenge and conquered it with ease.
"I was pretty happy when I made the finals, and now I'm even happier that I'm the co-champion," Sujoe said.
"Stichomythia" was tackled by New Yorker Hathwar, simply meaning dialogue when two characters speak alternating lines. His counterpart, Texan speller Sujoe, won with "feuilleton"— also known as a newspaper or magazine section for fiction, criticism, or literature.
2013: KNAIDEL
New York speller Arvind Mahankali was the sole winner of the 2013 bee.
During his shining moment, he won with the word "knaidel," meaning a type of dumpling. Mahankali, who was 13 at the time, was able to break his two-year losing streak over German-derived words. He placed third two years in a row.
"The German curse has turned into a German blessing," he said, according to Telegraph.
2012: GUETAPENS
In 2012, San Diego speller Snighda Nandipati took homethe winning title.
"I was just taking it one word at a time," she told CNN. "I just wanted to get each word right. I didn't really think about winning, really."
Nandipati, who was 14 when competing, won by correctly spelling the word "guetapens." "Guetapens" is a French-derived word that refers to an ambush or trap.
© Copyright IBTimes 2023. All rights reserved.