Lollapalooza 2012 Evacuated Due To Severe Storms; Music Festival To Resume Later Saturday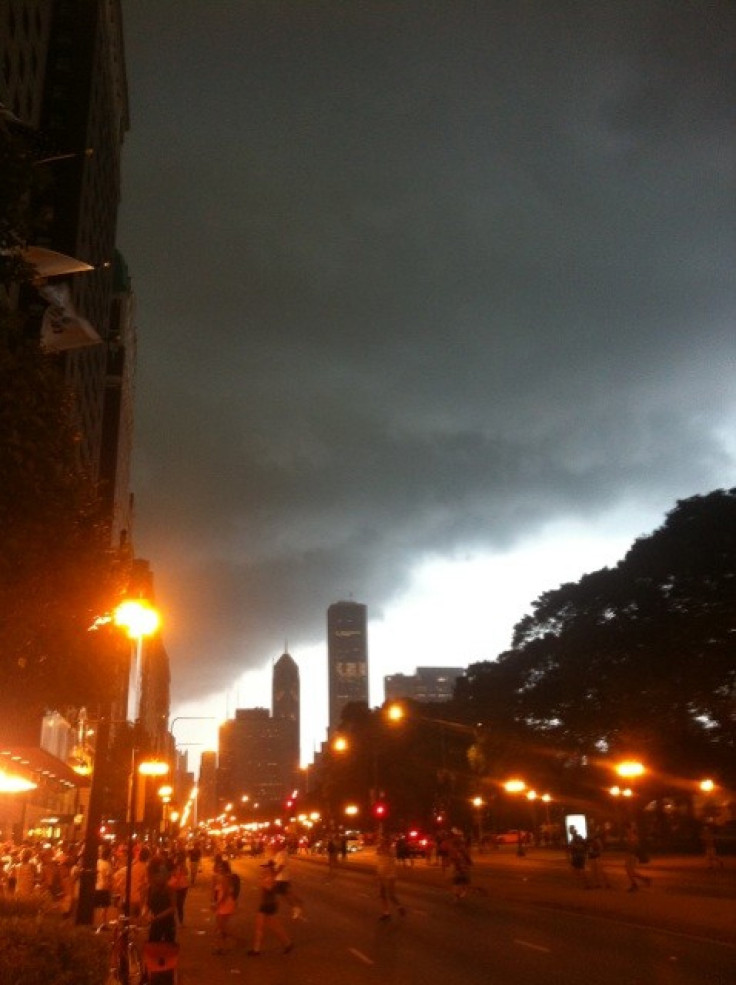 What happens when a large crowd of more than 100,000 people are evacuated from a small space all at once? Chicago is about to find out, as the Lollapalooza music festival is being shut down and Grant Park evacuated because of the looming threat of severe thunderstorms on Saturday.
The festival -- drawing more than 100,000 attendees to see bands such as the Red Hot Chili Peppers, At The Drive-In, The Black Keys, and others -- is right in the middle of a huge storm system approaching the Chicago area.
The much-hyped southern rockers Alabama Shakes were about to take the stage when festival officials decided to shut down the festival around 4:30 p.m. EDT. At that time, all bands left the stage and festival-goers were told to leave Grant Park immediately. Fans were also reportedly turned away at the gate.
The National Weather Service warned that the storms currently hitting the Chicago area may feature hail, flash floods, severe lightning, and winds as high as to 70 m.p.h. The nearby city of Aurora has reportedly already experienced winds of that speed.
Twitter reports indicated that while many Lollapalooza attendees have been taking shelter in their homes and hotels, just as many have been flocking to bars and keeping the day's party vibe going. Billboard magazine tweeted, "Crowd outside the hotel freaking in the rain, chanting 'Whoop! There it is!' Down to party no matter what."
There is still no word on when the festival will resume, but it appears that Lollapalooza will resume later Saturday after the inclement weather passes. Both the indie rock band Fun. and Flea of the Red Hot Chili Peppers have announced they will perform, but they are awaiting updated set times.
Chicago Reader reporter Leor Galil initially tweeted that "the park will be closed for two hours." However, the National Weather Service has issued a severe thunderstorm watch until at least 9 p.m. EDT for the Chicago area, and no official announcement has been made about when the festival will continue.
Sources in Chicago reported that the evacuation plan is spotty and unorganized. According to the Chicago Tribune, city officials could not be reached for information regarding the evacuation plan.
Lollapalooza representative Shelby Meade insisted that the festival will not proceed until the promoters have deemed that it is safe to continue.
"[Lollapalooza promoter] C3 has no financial incentive to, nor interest in, proceeding with a festival that would endanger fans," Meade said.
When Lollapalooza does resume performances, you can stream the bands live from the festival's YouTube channel. Currently, the channel is streaming performances and interviews from earlier in the festival, which was scheduled to run from Friday to Sunday.
© Copyright IBTimes 2023. All rights reserved.