London Fashion Week: Vivienne Westwood Says 'Buy Less, Choose Well'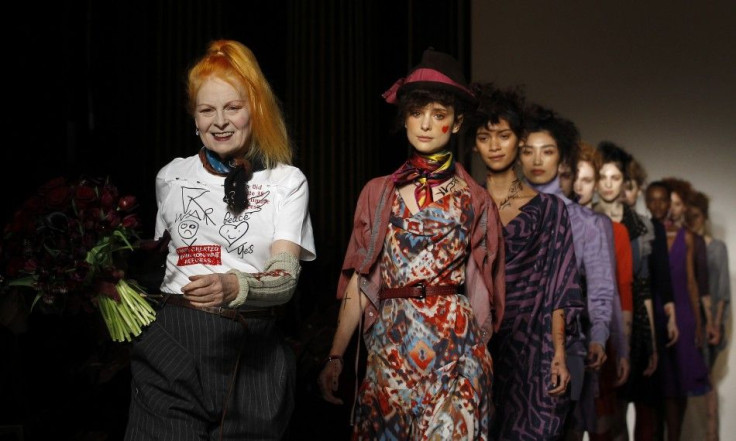 After showing off her Red Label brand at London Fashion Week, the ever outspoken Dame Vivienne Westwood reportedly said that conformist shoppers and cheap clothes have given society a generic look and has said that people should use their limited resources to by less clothing and choose well.
People have never looked so ugly as they do today. We just consume far too much ... I'm talking about all this disposable crap, Westwood said. What I'm saying is buy less - choose well. Don't just suck up stuff so everybody looks like clones.
Westwood was responding to questions about how austerity had influenced her work, according to Reuters.
Don't just eat McDonald's, get something a bit better, Westwood said. Eat a salad. That's what fashion is. It's something that is a bit better.
According to Yahoo Lifestyle, the dame of design blames increasingly cheap disposable clothes for cutting individuality.
Everybody looks like clones and the only people you notice are my age, Westwood said, according to Yahoo. I don't notice anybody unless they look great, and every now and again they do, and they are usually 70.
Westwood rose to fame during Britain's Punk revolution in the 1970s. She told the media that her clothes were inspired by Britons' use of imagination when dealing with harsh economic times.
Britishness is just a way of putting things together and a certain don't care attitude about clothes, Westwood said, as reported by Reuters. You don't care, you just do it and it looks great. What we do always looks British even if we're inspired by Africa or the North Pole or whatever.
© Copyright IBTimes 2022. All rights reserved.
FOLLOW MORE IBT NEWS ON THE BELOW CHANNELS