LOOK: Cavaliers All-Star Donovan Mitchell Reacts To Denying Teammate Evan Mobley A Double-Double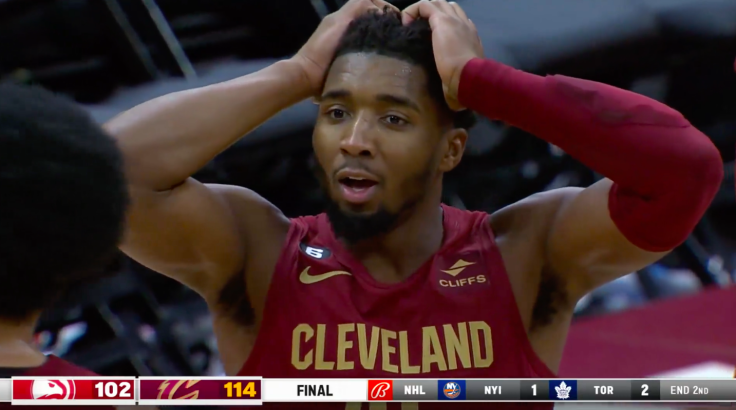 KEY POINTS
Donovan Mitchell accidentally denies Evan Mobley a double-double
Mitchell is averaging nearly 30 points per game for the Cavaliers
The Cavaliers are one of the top teams in the Eastern Conference
Without question, Cleveland Cavaliers have been one of the most impressive and surprising teams in the NBA this season.
The young Cavs missed out on the playoffs last season, so they went out and pulled off one of the biggest off-season moves, bringing in three-time NBA All-Star Donovan Mitchell from the Utah Jazz.
Mitchell has fit in perfectly with the Cavs' young core made up of Darius Garland, Evan Mobley, Jarrett Allen and Caris LeVert.
In 14 games with the Cavaliers, "Spida" Mitchell has put up 29.2 points--good for seventh in the league--4.5 assists, and 4.2 rebounds per game.
Mitchell's stellar production has helped the Cavs to an 11-3 record, good for third in the East.
On Monday, November 21 against the Atlanta Hawks, however, Mitchell caused one of his teammates to miss out on a crucial double-double.
Up by 12 points in the closing seconds of the game, Mitchell went up and grabbed a rebound, seemingly out of the hands of Evan Mobley.
It would have been the second-year center's 10th rebound, which would have given him a 10-point, 10-rebound double-double.
Mitchell soon realized what he had done and was in disbelief.
Check out the video of the sequence below:
In the video, Jarrett Allen can be seen playfully staring Mitchell down for "stealing" Mobley's rebound.
Afterwards, Mitchell was visibly apologetic for denying his teammate the double-double.
Mitchell also took to social media to react and apologize to Mobley for the blunder.
Mitchell finished the game with another impressive stat line, scoring 29 points, dishing out nine assists and pulling down four rebounds, including that final "stolen" board.
Now a lot may be asking, "What's the big deal with a double-double?"
Well, double-doubles may not be too big a deal for veterans, but these statistical milestones could be very important for players on rookie contracts that are hoping to cash in on their next deals.
This season, Mobley is averaging 15.2 points and 8.4 rebounds. In addition, he has recorded four double-doubles so far.
Fortunately for the 21-year-old, the season is still young and he still has a lot of time. That's unless someone else ends up stealing one of his rebounds again.
© Copyright IBTimes 2023. All rights reserved.