Los Angeles Lakers Host Golden State Warriors: Can L.A. Win their First Game after Mike Brown's Firing?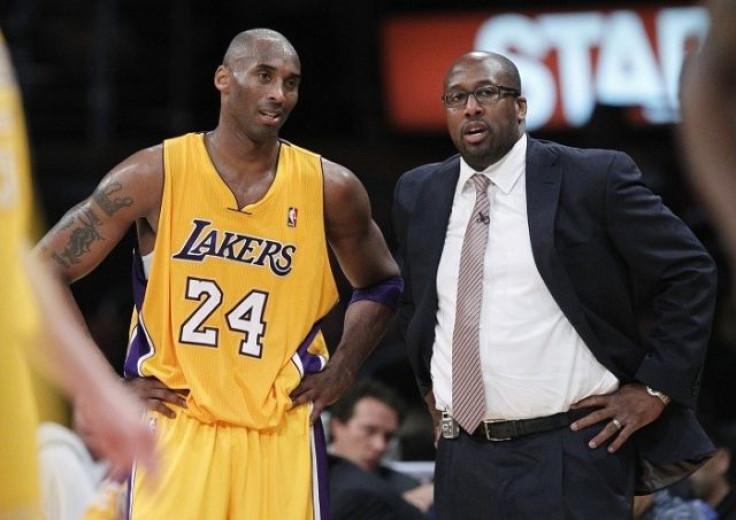 Things are beginning to unravel very quickly for the 2012-2013 Los Angeles Lakers.
A loss to the Utah Jazz on Wednesday night put them at 1-4 on the young season. The team that was considered the favorites in the West currently has the worst record in the entire conference.
It hasn't been just the Lakers play that seems to be the problem. Head coach Mike Brown has been highly criticized, and was let fired by the team on Friday, after just five games.
ESPN is reporting that assistant coach Bernie Bickerstaff will be the interim coach for the time being.
Kobe Bryant appeared to be very angry during the Lakers last loss, and was television cameras caught what appeared to be him giving Brown the "death stare." Bryant denied the reports, saying his anger wasn't direct toward his coach.
"I don't give a (expletive) how it was interpreted," said Bryant. "It doesn't really matter to me. I'm too old to deal with that stuff. I really am. I've been his biggest supporter. So, I'm really too old to be dealing with childish things."
With Brown on the bench, Bryant has been playing well this season. He's second in the league in points per game and has hit 56 percent of his shots.
Los Angeles is also dealing with injuries. Steve Nash suffered a fracture in his leg in the second game of the season, and could miss a few weeks. Nash struggled to find success in his short stint running Brown's Princeton offense. Having Nash on the bench for an extended period of time will only make it more difficult for this new collection of players to gel.
Now, the Lakers will look to get on track against the Golden State Warriors. L.A. will host the contest at 10:30 p.m. ET. You can watch a live stream online by purchasing NBA League Pass Broadband.
The Warriors are one of a few teams that are expected to compete for the eighth and final playoff spot in the West. They haven't made the postseason in six years, but have revamped their roster through trades and the draft.
Golden State has enough talent to compete in the West, but may be contending with injuries he whole season. Stephen Curry is their leading scorer, but has a history of ankle problems.
Curry has managed to play all five of the team's games, but the same can't be said for Andre Bogut. The Warriors starting center has been shut down for seven to 10 days with an ankle injury.
With Bogut on the bench, L.A. will have a big advantage in the frontcourt. Dwight Howard and Pau Gasol are averaging a combined 36 points per game. David Lee and Carl Landry will be given the tough task of stopping the two big men.
Las Vegas oddsmakers expect Los Angeles to win their second game of the season. The consensus betting line has them as seven-point favorites at home.
Prediction: The Lakers are still struggling with their new group of players, so this won't be an easy game. Steve Blake has played poorly in Nash's absence, and the Warriors backcourt could have a big game. L.A., however, should be able to take advantage of Bogut's absence. It's unknown how having a new head coach will affect Los Angeles, but look for Howard and Gasol to dominate up front and give the Lakers the victory in a high-scoring affair.
Predicted Score: Los Angeles 107, Golden State 103
© Copyright IBTimes 2023. All rights reserved.