Los Angeles Lakers Vs. Memphis Grizzlies: Where To Watch Live Stream Online, Prediction, Preview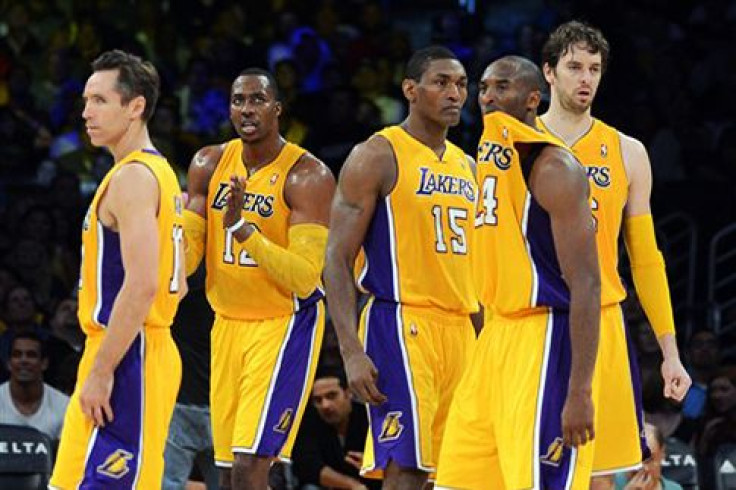 Halfway through the 2012-2013 season, the Los Angeles Lakers are in a world of trouble.
They are a season-low seven games under .500 at 17-24. L.A. is 14 games behind the Clippers for first place in the Pacific Division. They are in danger of missing the playoffs for the first time since 2005, sitting four games behind the Houston Rockets for the final playoff spot in the Western Conference.
The Lakers recent struggles have brought about a lot of frustrations in the locker room, with players like Kobe Bryant and Dwight Howard questioning the team's game plan.
"We're going to have to look at some things," said Bryant. "We're going to have to change something. Probably going to have to post the ball a lot more, slow the game down a lot more. That's just my intuition, but that's my gut right now."
Both Howard and Pau Gasol's names have been floated in trade rumors. There has been speculation that Howard is unhappy in L.A., and Gasol's numbers have dipped dramatically. The two big men have struggled while playing at the same time and Gasol has been relegated to a role off the bench, as a result.
On Wednesday night, Los Angeles looks to get a fresh start as they begin the second half of their season. The Lakers will visit the Memphis Grizzlies at 8 p.m. ET. Viewers can watch a live stream online by purchasing NBA League Pass Broadband.
It's the second time matchup between the two clubs this season. L.A. lost by eight points, despite a 30-point effort by Kobe Bryant. It took him 23 shots to lead the game in scoring.
Memphis has registered the fourth-best record in the West, in large part, because of their size in the frontcourt. With Howard, and Gasol standing at seven feet tall, L.A. should be able to match up well with the Grizzlies. However, the Memphis starting frontcourt combined to outscore the Los Angeles frontcourt by 33 points.
It could be a long night for the Lakers. L.A. has allowed 101.4 points per game, and would likely have to win a high-scoring affair, in order to pick up a victory. That could be difficult for the Lakers to do against the Grizzlies, who give up less than 90 points per game.
The Grizzlies often have trouble scoring, but might find success against the Lakers. Mike Conley and Rudy Gay could have an easy time scoring against and older and slower L.A. defense.
Los Angeles is just 5-16 away from their home arena. At home, where Memphis is 15-6, they are favored by four points at most Las Vegas sportsbooks.
Prediction: Memphis 100, Los Angeles 90
© Copyright IBTimes 2023. All rights reserved.