Macy's Fireworks' Return To East River Has NYC Excited For 4th Of July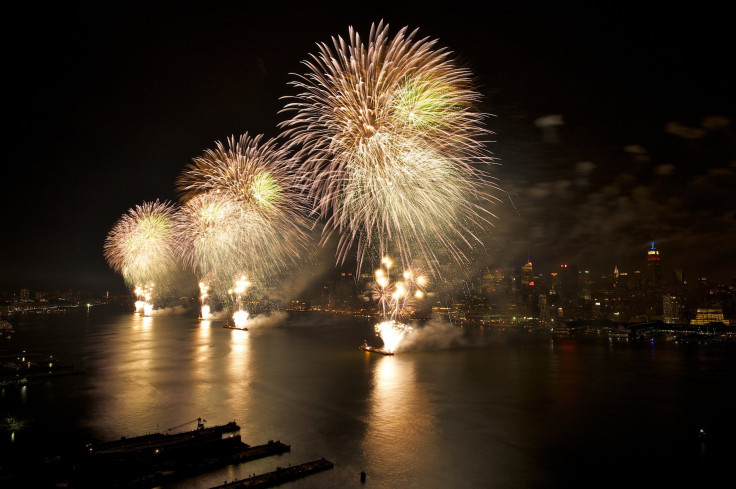 The Fourth of July in New York City: If you haven't already decamped to the Hamptons or Berkshires to escape the heat for the weekend, it's a great time to be in the five boroughs.
But for the past five years, the experience has been a bittersweet one for residents of Queens, Brooklyn and Manhattan's East Side. They were left in the dark as the annual Macy's Independence Day fireworks were launched from barges on the Hudson River, breaking with the long-standing practice of the East River hosting the extravaganza.
It all sounds like a lot of nitpicking among jealous New Yorkers, but the move affected hundreds of thousands of people: making the iconic fireworks easy to view for residents of New Jersey towns like Jersey City and Hoboken, while blocking them entirely from the sight-lines of New Yorkers living in the East River-fronting boroughs.
This year, the show is back to the narrow waterway between the East Side of Manhattan on one side and Queens and Brooklyn on the other -- and residents and leaders in those areas are excited about its return.
Alfredo Centola, president of the Malba Gardens Civic Association in Northeast Queens, grew up a stone's throw from the East River on Vernon Boulevard in the borough's Long Island City neighborhood. Being so close to the water, he spent the Independence Days of his youth watching the Macy's fireworks from near his home, and most years returned to L.I.C. to watch the show even after he moved out of the area. He plans to view Friday evening's display while attending a party in his old 'hood.
"When it was gone and you were no longer able to view it, that was very disappointing, especially since the Macy's flagship is New York City -- how was it that we were not able to watch the fireworks?" he asked. "So now that it's back, friends of mine in Queens and friends that left are coming back to Queens to view the fireworks again. They're back where they belong."
The move, which was announced in April, came shortly after Bill de Blasio replaced Michael Bloomberg as mayor of New York City. As a resident of Brooklyn, while he was the city's public advocate, de Blasio led a coalition of politicians who fought successfully for more than four years for the fireworks to be returned to the East River.
Don Capalbi, a Flushing, Queens, resident and president of the Queensborough Hill Civic Association, says "it's much better" that the fireworks display is back where it was from 1958 to 2008.
"We can't blame Macy's for past transgressions, after all we even had a mayor for 12 years who thought the city was one borough. But finally Macy's got it right," he said. "It's for New York City and we might as well catch three boroughs in this event instead of one. It's not a Weehawken event or a Hoboken event, its a New York City event. If they want to cross the bridge and come see it, they're welcome to."
Devon O'Connor, a Whitestone, Queens, resident who founded the Welcome to Whitestone Association of which he remains president, said he thinks the move will be "fantastic" for the city and its residents.
"I think it's great. NYC is like the capital of this country so it's great that one of the largest fireworks displays in the country is happening right here in our city again," he said. "I'm looking forward to finding a fantastic place to see them."
But not all Queens residents are as hyped about the change. Vincent D'Oria, an independent photographer who lives in Bayside, the Queens neighborhood where he grew up, said he usually skips the big Macy's extravaganza to watch the smaller, far less crowded fireworks display at Ft. Totten, a short drive from his home.
"I never really gave it any thought about them being in New Jersey," he said. "But I am excited that people in Queens can see the fireworks."
And Centola says that there may be some backlash after the last of the smoke from the fireworks dissipates.
"There's been some rumors going around about whether or not you'll be able to see them from some neighborhoods -- L.I.C. and Astoria and some other places," he said. "No one knows exactly where the best viewing is going to be, but afterward you're going to hear a lot more grumbling or a lot more people satisfied about how it turns out."
But he ended on a note of optimism about the weather, which forecasters have said for days could rain out the festivities, but may be clear after all.
"They're saying it's going to be be a perfect evening," Centola said. "The last weather report I heard is that it's going to be rainy all day and it's going to be be a nice night for the fireworks, so here's to hoping."
FOR FREE to continue reading
✔️ Unlock the full content of International Business Times UK for free
offer available for a limited time only
✔️ Easily manage your Newsletters subscriptions and save your favourite articles
✔️ No payment method required
Already have an account?
Log in
© Copyright IBTimes 2023. All rights reserved.