Marjorie Taylor Greene Called Capitol Police On Jimmy Kimmel Over Threatening Will Smith Joke
Controversial Rep. Marjorie Taylor Greene, R-Ga., says she filed a complaint with the Capitol Police on Wednesday against late-night host Jimmy Kimmel.
She filed the complaint about a joke he made on his show, "Jimmy Kimmel Live!," which she called a "threat of violence."
The joke that caused such offense revolved around Greene's opposition to Supreme Court nominee Ketanji Brown Jackson. On her only Twitter account, where she has 497,300 followers, she called the Republican senators who said they will vote for Brown Jackson's nomination "pro-pedophile," referring to a right-wing talking point that the judge has a lenient sentencing record in pedophilia cases.
"Marjorie Taylor Greene, this Klan mom, is especially upset with the three Republican Senators who said they'll vote 'yes' on Judge Kentanji Brown Jackson, who's nominated for the Supreme Court. She tweeted, 'Murkowski, Collins, and Romney are pro-pedophile. They just voted for #KBJ,'" Kimmel joked on his show, referencing Greene's previous statements and tweets.
The late-night host followed his initial joke with the punchline "Wow, where is Will Smith when you need him?" The joke references the Hollywood controversy surrounding Smith's slap of Chris Rock at the Oscars -- ironically, over a joke.
Where and when jokes cross the line is a highly debated topic, especially in light of the Oscars' controversy, but Kimmel asserted to his 11.8 million Twitter followers that his comments on his show Wednesday night were just that, a joke. Kimmel also called Greene and her colleague, Rep. Matt Gaetz, R-Fla., "scum and scummer."
Right now, the Capitol Police have given no indication as to whether or not they are pursuing an investigation, according to The Hill. The news did cause "Capitol Police," "Marjorie Taylor Greene," and "Jimmy Kimmel" to trend on Twitter Wednesday into Thursday.
"Last night, Jimmy Kimmel called for violence to be committed against Congresswoman Greene. It will not be tolerated," the representative's office wrote to Business Insider.
Back in September, the Capitol Police told the Associated Press that they received a historic number of threats of violence against members of Congress in 2021. Greene was among the right-wing Republicans who were cited for calls of violence against her fellow lawmakers.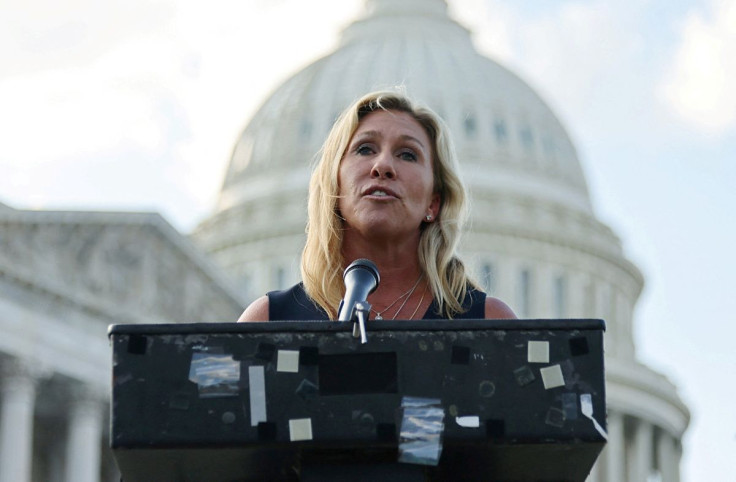 © Copyright IBTimes 2023. All rights reserved.