Marjorie Taylor Greene Compares Pro-Abortion Protests To Jan 6 Insurrection
Once the U.S. Supreme Court released the ruling overturning Roe v. Wade and with it federal protection for abortions nationwide, Rep. Marjorie Taylor Greene, (R-Ga.), took to Twitter to compare the eruption of pro-abortion protests to the Jan. 6 insurrection.
Greene included in her tweet a video of Rep. Alexandria Ocasio-Cortez, (D-N.Y.), standing with protesters. She accused AOC of starting an insurrection and said that the "violence and rioting" of pro-abortion protesters will be "a direct result of Democrat marching orders."
The Supreme Court's decision to overturn Roe v. Wade sparked protests in cities across the U.S. These cities included New York City, Los Angeles, Chicago, Austin, Houston, Nashville, Kansas City, Topeka, and Tallahassee. Protests also happened in Miami, Oklahoma, Boise, New Orleans, Detroit, and Phoenix. In Phoenix, law enforcement met the protesters with tear gas according to footage from the scene. Abroad, solidarity protests occurred in London and Berlin, according to The Guardian.
On her way out of Congress Friday, Greene faced heckling from some of these pro-abortion protesters.
According to The Hill, she responded to the Supreme Court's ruling with "I think we have to worry about the radical left . . . They're going to perform an insurrection here at the Supreme Court."
"Ruth Sent Us is a domestic terrorist group, and so is Jane's Revenge," she added. "Anyone who is supporting abortion is supporting them."
Ocasio-Cortez was quick to respond with a dig at Greene about her alleged attempt to seek a pardon from then-President Donald Trump for her alleged role in the Jan. 6 insurrection. The Jan. 6 committee is still investigating the role of many Representatives and Senators in the insurrection at the Capitol.
Ocasio-Cortez also pointed out how a protest is not comparable to an insurrection because it "is not obstruction of Congress nor an attempt to overturn democracy."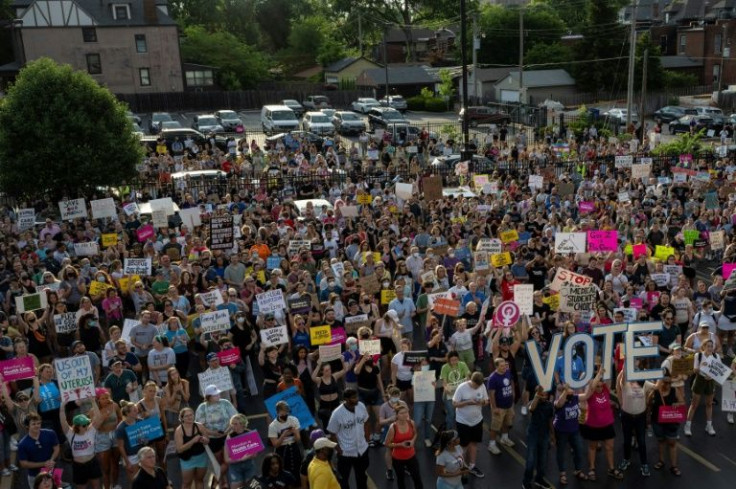 © Copyright IBTimes 2022. All rights reserved.
FOLLOW MORE IBT NEWS ON THE BELOW CHANNELS