'Married At First Sight' Season 1 Spoilers: 2 Couples Panic During Weddings In Episode 2 [RECAP]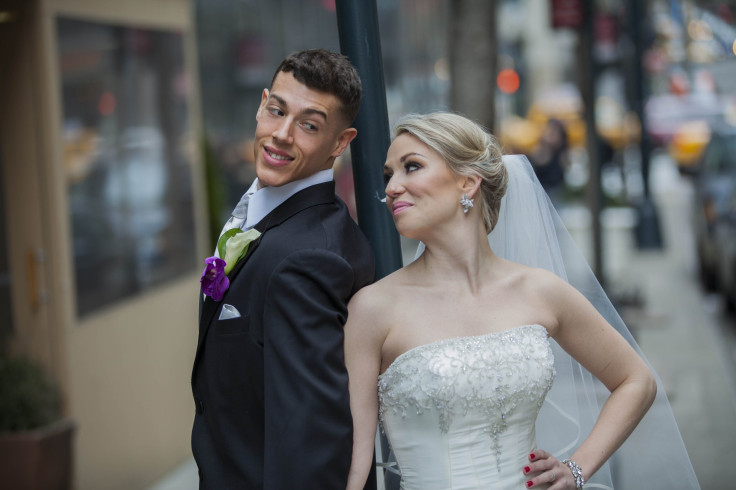 FYI's "Married at First Sight" left viewers hanging during the premiere when the credits rolled before an upset Jamie said "I do" to Doug. Episode 2 explores not just disappointment but also the awkwardness of marrying a stranger.
"I personally believe attraction grows," Dr. Pepper states. Here's hoping that is true for Jamie and Doug. "He's really, really nice, but I'm just not attracted to him at all. It's terrible," the former "Bachelor" contestant says. Jamie goes through with marrying Doug, though they only kiss on the cheeks.
Their photo session is the most awkward of the couples', with Jamie actually asking the photographer not to make them look too intimate. Doug keeps trying to crack jokes about their poses, but it just seems to make Jamie more uncomfortable. Jamie, overwhelmed and unhappy, finds a corner at her reception and cries. She says that she feels like the experts failed her (though she said that looks weren't important last week). Once the couple gets through their first dance (a song Jamie wrote), she seems much more comfortable. The two meet each other's families and seem to actually have a good time.
Jason and Cortney don't have an attraction problem. The two immediately have chemistry. "She's very gorgeous, but it's still a long road to see what's inside, which is very important to me," Jason says. They are immediately smitten. Jason and Cortney start getting to know each other before the reception. Cortney talks about her family not coming and Jason shares his mother's illness. The two chug back their champagne and party the night away. Their friends both talk about how they are great matches.
Vaughn and Monet aren't quite as extreme as the other two couples. They aren't immediately in love, but they're not upset either. Monet is shaking and having a panic attack through her wedding. Vaughn keeps his cool and tries to keep her calm. They kiss on the cheek at the ceremony. Afterwards, Monet is still having anxiety and has to take a little while to collect herself in the hallway. The photo shoot is a bit awkward. The two are invading each other's personal space, and they're clearly uncomfortable.
Monet says, "That's an intimate thing to do, to stare into a person's eyes."
The two kiss for the first time at their reception at the request of everyone tapping on their glasses. They only share a quick peck on the lips.
The episode ends with each couple heading off to their hotel rooms.
"Married At First Sight" airs Tuesdays at 9 p.m. on FYI. What did you think of this week's episode? Sound off in the comments below!
© Copyright IBTimes 2023. All rights reserved.