'Married At First Sight' Star Cortney Hendrix Talks Marriage, Meeting Jason's Mom And What Scenes FYI Cut [EXCLUSIVE Q&A]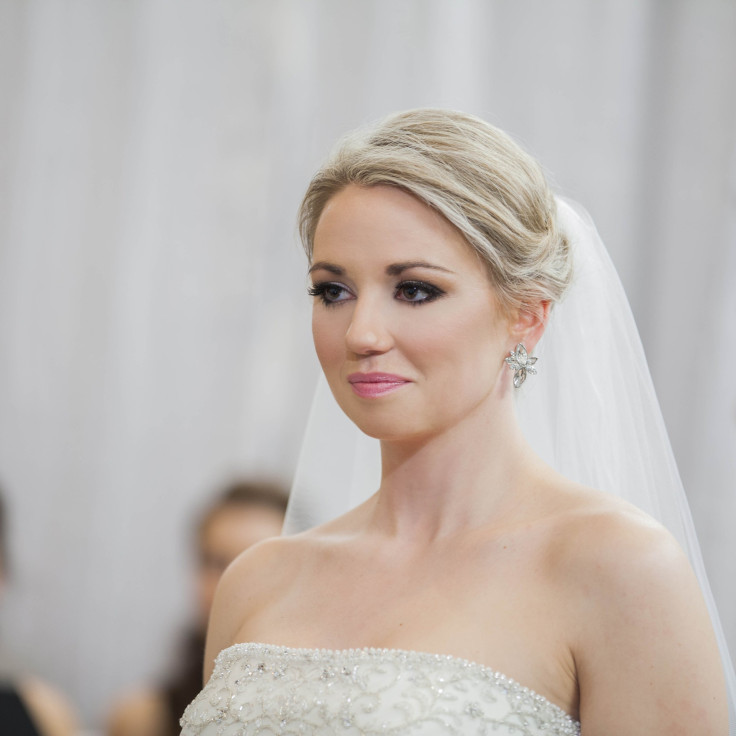 "Married At First Sight" cast member Cortney Hendrix took a few minutes out of her workday to talk to International Business Times about her experience on the hit FYI docu-series. Throughout the series, viewers watched as Cortney met Jason Carrion, got to know him, married him and navigated her first month of married life. She and her husband are one of the two couples that stayed married after the Season 1 finale. The North Carolina native talked to IBT about finally introducing her husband to her family, her bond with the other women on "Married At First Sight," and if she would recommend the show to others to be cast members.
International Business Times: Were you scared when it came to decision day?
Cortney Hendrix: Yes, I was scared. I was like 95 percent sure of what Jason was going to say -- but if you look at the footage, I'm like murdering him with my eyes because I got really squinty when I was looking at him. I had no idea what he was about to say, and he was like, "But I need to tell you something first." And I was like, "What is this guy doing to me on national television? He's about to dump me. I can't kill him because then they're going to have footage. This is being recorded. He is going to dump me."
I was terrified. But after he finally said, "I made my decision last night and I want to stay with you forever," I was overcome with happiness. I was holding my breath the entire time, not breathing, thinking, "Oh, my God, what is he saying?" It was a hard moment to watch, for sure, because all the emotion came back immediately, but it was a good thing.
IBTimes: Were you happy with the editing of the show? Did you feel like it accurately portrayed your relationship?
Hendrix: Yes, I was really happy. One of the good things about everything with me and Jason and our relationship is we were real the entire time. There were a lot of conversations that we had on camera for the first time ever, and there were a lot of times where we would say "real talk." Whenever we said "real talk" that was like our code to our production [team] that this was the first time we were ever having this conversation. So there are a lot of times where you can just see the raw emotion and the real stuff happening and I guess the genuine part of us coming out in our relationship.
I was really surprised that people were able to see how much we grew as individuals and grew as a couple because I didn't even realize it until people started saying back to me like, "Cortney, you're a different person. We can't believe how much you've grown up." I couldn't be happier about how we were portrayed.
IBT: Was there anything that you were surprised they cut from the final episodes?
Hendrix: We did a lot of stuff [that] I'm not sure they ever really released. Every single participant continued to work our normal day jobs throughout the process. Jason and I, we weren't allowed to film at work. So every single second that we weren't at our job from 9 to 5 -- or for Jason from 2 p.m. to 10 p.m. -- we were filming. So there were a lot of things we did. I crafted the entire time we were together. A lot of the artwork that you see up in the apartment we made together or I painted for him. There were a couple moments where I got him to craft and we put trash bags on and worked on this do-it-yourself crayon art project. It was like ridiculous. We were on the back porch with blow dryers, like melting these crayons. That got cut. That was funny.
We also had a party one night with a bunch of our friends. We went to [a rooftop bar] in New York, and that was fun. I think they showed a little bit of it in a preview, but that got cut. We sang to every song, so I think it was a copyright issue, but that was fun. I would've liked to see that.
IBT: Have you two met each other's families yet?
Hendrix: Yes, we have met each other's families. I took Jason home on July 4th weekend to North Carolina, and he met my mom and my dad and my brother, my sister, my brother-in-law, my niece and also my brother's girlfriend, who isn't quote-unquote "family" yet, but she basically is. And my family fell in love with Jason. Like he is part of our family, regardless of what happened. Like we said on the show, he is part of our family and my mom was calling him her son-in-law and she was like, "Cortney, don't you ruin this. I don't care what happens in the future. He is part of our family. Don't you ruin this for him! Don't you ruin this for us!"
I did also get to meet his mother before she passed, actually. She passed about a week and a half, two weeks after we stopped filming.
IBT: Were there any times you wish you weren't being filmed? Times where it would've been easier if it had been just you and Jason in the room?
Hendrix: Yes, definitely. The whole thing with the cameras, people always told me, "Oh, you'll get used to it. You'll get used to the cameras being there." Sometimes you forget about the camera, but sometimes you don't. Like there were definitely times where I felt like I was crying too much or I just really wanted to be by myself because I didn't know how to sort my feelings out. That's when things like journaling ... helped.
It was kind of nice too, having the break from filming when I did go to work [as a makeup artist and burlesque dancer] because I could think about something else. I think that helps our relationship in general because we needed that time apart and time to remember, "Okay, yeah, this is our life and we're filming this, but we also have all of these other things and responsibilities. Life goes on." Kind of like in the theater they say, "The show always goes on." Well it does. Just because we were doing this experiment and we were getting this part of our lives filmed, we still had all this other stuff that we had to continue to do because life was still going on and we couldn't pick and choose what we wanted to do.
IBT: "Married At First Sight" never shows you meeting any of the other participants. Did you meet the other couples before promoting the show? Are you still in touch with them or anyone from the show?
Hendrix: Yes. The wives stay in touch almost on a daily basis. I will be friends with [both of those girls] for the rest of my life because we are bonded in a way that no one else understands, and that really goes for all six of us. Coincidentally, Monet and Jamie and I were in the same [casting] workshop. I met Jamie in the bathroom and we exchanged numbers before we even signed up to say, "Okay, yeah, we're going to go through all this testing to see if maybe we get matched." And we were lucky that we had each other to text back and forth with. But I didn't see her or really speak to her again until after the show had wrapped. Then got to see each other for press and stuff and that was a good thing.
IBT: Would you recommend joining "Married At First Sight" to other people?
Hendrix: Yes, I would, 100 percent I would, but I think that people need to keep in mind that if you're going to do it, you have to be open-minded and you can't be scared. Well, you can be scared, but you can't be scared to let yourself be open and be vulnerable. A lot of people, Jason included and Jamie included, were very closed off and very like, "Okay, what's wrong? Let me look at the situation and pick out [everything I don't like]." They really didn't focus on the good.
I don't know how exactly I did it and made myself so open, but I feel like after going through the experience and going and talking to the experts and really getting picked apart, I feel like I had to know myself and really know why I wanted the things that I wanted in a relationship and in marriage and in my life or it wouldn't have worked.
People have asked me before, "How did you make it work?" I don't think I made it work. I think that I really just went into it like, "This is what I need to do. I need to be open," because that's what I wanted the other person to give to me. I don't think it's fair for me to expect something from someone else that I wasn't willing to give myself.
IBT: If they asked you to be involved in Season 2 in some way, whether it be filming your life again or as a mentor to the new couples, would you do it?
Hendrix: I would love to be a mentor for other females or other couples going forward whether it's Season 2 or however many seasons there is because no one is really going to understand it except the people who lived it. I was in a sorority when I was in college and there was a saying like, "From the outside looking in, you can't understand it. From the inside looking out, you can't explain it." But from the inside looking out, I feel like I could explain it, and I could be an advocate for people who really want something, but they're a little too scared and need a push.
IBT: Can you tease anything from the "Married At First Sight: Six Months Later" special that's airing next week?
Hendrix: Yes, we did film a reunion special and all six couples reunite, and it's the first time publicly where you will see all six couples together having a dialogue. Something really cool that I liked about how we filmed it: we got to comment on each couple's journey. So Jamie and Doug got to ask me and Jason questions. They got to ask Monet and Vaughn questions. Jason and I got to comment on things that happened in Jamie's relationship and with Vaughn and Monet.
All six of us, we have each other's backs and we've had each other's backs through this entire thing. There are definitely things that me and Jason did that other couples don't agree with and vice versa. But we really supported each other and I think that that is one of the most important things that people will take away from the reunion special.
IBT: Anything else you want to add or let your fans know?
Hendrix: Well, Jason and I are really happy and we are beyond ecstatic that we can tell everyone we're married now. We're just really looking forward to what's next to come. We want to travel. We're going to go to North Carolina soon. My family is throwing us a couple's shower. So all of my friends and family and extended family is going to get to meet Jason, and we're just beyond excited for what is going to happen in our next chapter.
"Married At First Sight: Six Months Later" will air Tuesday, Sept. 16 at 9 p.m. EDT on FYI.
© Copyright IBTimes 2023. All rights reserved.