'The Mask' Star Jim Carrey Gives Bizarre Interview At NYFW Event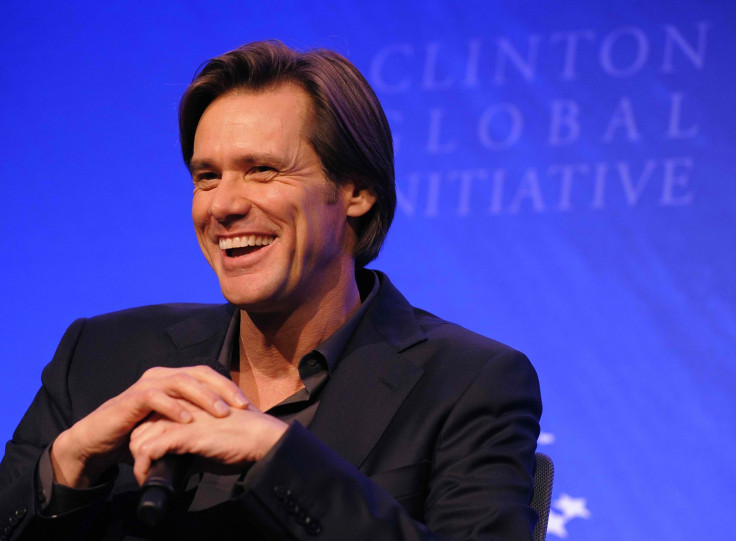 When Jim Carrey attended a New York Fashion Week event on Friday, he left more than one person at the event confused by his actions.
On Sept. 8, Carrey, 55, circled around E! News host Catt Sadler during the Harper's Bazaar's party celebrating Icons by Carine Roitfeld at the Plaza in New York City. However, things got a bit weird when the actor suddenly spoke his mind and began criticizing the event.
"There's no meaning to any of this," Carrey told Sadler. "So I wanted to find the most meaningless thing that I could come to and join and here I am. You got to admit, it's completely meaningless."
Sadler told "The Mask" star that the party was about celebrating the icons, which Carrey immediately shot down. "Celebrating icons? Boy, that's just the absolute lowest aiming possibility that we could come up with … I don't believe that you exist but there is a wonderful fragrance in the air," he said, before breaking into a James Brown impression.
Carrey continued his rambling monologue until Sadler decided to switch topics by complimenting his zany patterned suit. But his response once again surprised the host. "I didn't get dressed up," Carrey said. "There is no me. There's just things happening. It's not our world...we don't matter."
According to Us Weekly, Carrey also acted strange when he appeared on Michael Moore's Broadway show, "The Terms of My Surrender" on Sept. 7. One onlooker said that the "Dumb and Dumber" star at one point said, "human beings don't matter," after Moore asked him what he believes people can do to make a difference in the world.
The source added that Carrey said several bizarre things during the show, including talking about people drowning themselves in food and sex because they don't want to be drowned in the river of their own tears. "For a pretty simple question it got really weird and deep, at times not making much sense," the eyewitness said. "Even Michael Moore joked that it got awkward and ran long after Jim had left the stage."
In related news, Carrey took Kathy Griffin's side in the Donald Trump photo controversy. Griffin made headlines in May when she shared a photo of herself holding a fake and bloody decapitated head of Trump. While many were offended by the post, Carrey believed she was only doing her job as a comedian.
"I think it is the job of a comedian to cross the line at all times," Carrey said. "The comedians are the last voice of truth in this whole thing."
© Copyright IBTimes 2023. All rights reserved.