'Mass Effect 3' Ending: Patch Updates Hit Before DLC, 'Complete Re-Write Is The Only Acceptable Solution' [VIDEO]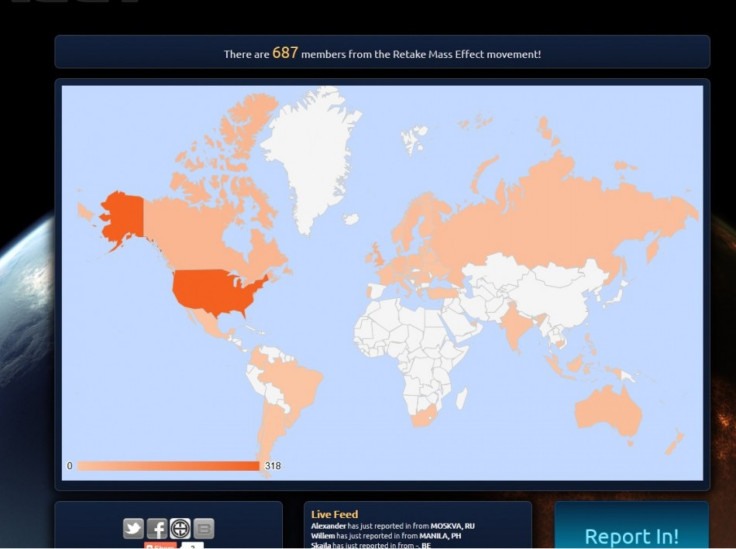 With a brand new DLC package, Mass Effect 3 fans will also be seeing a new patch update to fix the facial import bug. BioWare has announced that the game, which was sparked much controversy due to its ending, will receive the update on PCs today and consoles tomorrow.
The primary fix that this patch addresses involves a glitch that affects the way Commander Shepard's face is imported into Mass Effect 3 from the previous two games. This is particularly important, since much of the story and content in the third game is based on the decisions players make in the first two. The patch will also fix game-crashing bugs and issues with connectivity.
While these adjustments will improve certain aspects of gameplay, what fans really want is a revised ending rather than more material. BioWare has said that they are taking fans concerns into consideration, but it is unclear whether or not the upcoming Resurgence DLC and the Extended Cut addition will include exactly what they are looking for.
The general consensus is one of stiff skepticism; many fans are disappointed that a re-write has not been offered, but are still hopeful that the DLC will provide the closure they feel the current ending is lacking, Krista Hauser, the fan behind RetakeMassEffect.org said to Forbes. There is however a large portion of the community that is less optimistic and feels that a complete re-write is the only acceptable solution.
Mass Effect 3 has officially been released for a little over a month, and the Retake movement has quickly spread across the country. The organization's Facebook page has more than 61,000 Likes, and a real-time map courtesy of HoldTheLine.com shows where the movement's members are located. So far 682 players from around the world have tallied themselves in the map, with the number climbing each second.
To be honest-no matter what happens, Retake has made gaming history, Hauser said. We have changed the precedent of accountability within the gaming industry and things, at least to some degree, will never be the same.
The full list of patch notes for Mass Effect 3 is available below and on BioWare's official website. The video below the patch notes has compiled a bunch of fan testimonials with the intention of giving BioWare a chance to hear directly from some of their fans.
Fixed issues when in some cases Shepard's customized facial features from ME1/ME2 may not be properly imported to ME3
Fixed an issue when quickly and repeatedly selecting to Resume a Save could result in Player Level reset and a potential locking of powers.
Fixed an issue when selecting Multiplayer in the Main Menu while under a poor network connection could result in an unresponsive state.
Fixed a potential crash while accessing an in-game terminal from Eden Prime level.
Fixed an issue when attempting to login while Server is down. It would display a Server Down message and accepting the Server Shutdown message would shut down the game.
Fixed a potential memory crash while loading a Quick Save of a custom FemShep.
Fixed an issue when restarting missions and acquiring an above max amount of weapon mods results in displayed debug text on-screen.
Fixed an issue when an unresponsive game state could occur during transition after the Conduit level.
Fixed an issue when DLC game saves can be accessed from an account without DLC if another account on the same computer has access to the related DLC. (PC Only)
Fixed an issue when saves from different accounts on the same computer may become locked if one account has access to DLC which the other account does not. (PC Only)
Fixed an issue when potentially the game could enter unresponsive state when transitioning from the Holding Docks area to the Normandy Docks area of the Citadel. (PS3 Only)
© Copyright IBTimes 2023. All rights reserved.