The Masters 2015: What It's Like For Amateurs Playing At Augusta National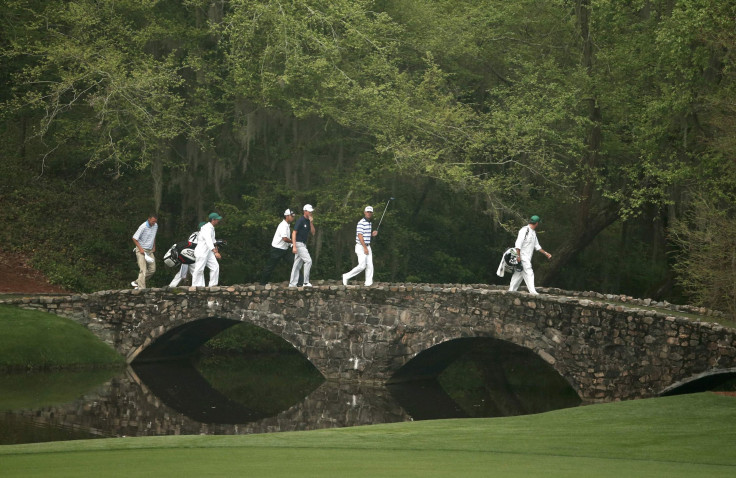 Jerry Courville Jr. striped his tee shot, a pure drive splitting the fairway of a dog-legged par-4. Courville, an amateur golfer, looped his next shot onto the green -- where he promptly hit a weak, slow-rolling putt, missing a chance at birdie.
Golf shots are fleeting, and the up-and-down performance sounds like that of any amateur, at any hole, on any weekend. Except Courville had just played Tea Olive, Augusta National's famous No. 1, his opening hole at the 1996 Masters. Thousands of fans looked on. Television cameras rolled. His playing partner was two-time Masters winner Bernhard Langer.
Every year Augusta invites qualifying amateurs to play the Masters, affording regular players the opportunity to tee up against Tiger Woods, Phil Mickelson, Rory McIlroy or other golf stars who make up the deep field. For some amateurs, it serves as a rare opportunity to achieve a seemingly impossible dream, for others it's a springboard to a prosperous career on the links. The pool of amateur players can range from collegiate up-and-comers to middle-aged men still competing in weekend tournaments.
Seven amateur golfers are competing at the 2015 Masters that started Thursday. While the rules and number of invitees have shifted over the years, players must now win these titles to qualify: the U.S. Amateur Champion and runner up; the champion from Britain, Asia-Pacific and Latin America; the U.S. Amateur Public Links Champion and the U.S. Mid-Amateur Champion. Some of the 2015 qualifiers to watch are Amateur Champion Byron Meth, 22; British champion Bradley Neil, 19; and "Mid-Am" champion Scott Harvey, 36.
Road To The Masters
Getting to Augusta isn't easy for any golfer, especially an amateur. But after qualifying for the Masters, there's not much to do but hurry up and wait -- perhaps as much as seven months -- before actually playing the tournament.
Courville, 56, made it to the Masters by winning the Mid-Am championship, a tournament that often sends older amateurs to Augusta. At the other end of the spectrum, winning the Amateur Championship -- a tournament often won by young stars -- usually signals you're one of the top up-and-coming golfers in the country. Past winners include legends Woods, Mickelson, Jack Nicklaus and Arnold Palmer.
Jordan Niebrugge, a 21-year-old junior at Oklahoma State, made it to 2014 Masters after a sparkling run to win the U.S. Public Links Championship. He remembers the excitement of getting a letter marked with Augusta National's logo in late December 2013. It was his invitation, or, "probably the best Christmas present you can ask for."
Steven Fox, 25, won the U.S. Amateur title to qualify for the 2013 Masters. "It never occurred to me, till maybe like two weeks beforehand," Fox said. "It was like, you know, in two weeks you're going to Augusta."
Once the weekend comes for the amateurs, however, there's no forgetting you're at the Masters. You're a special guest at the most hallowed golf grounds in the United States.
"Really from the moment your tires roll across Magnolia Lane, you know you're in for a very special day," said Mike McCoy, 52, who won the Mid-Am to qualify for the 2014 Masters.
Teeing Off
The weekend plays out in flashes, moments and whirlwinds. There's the amateur dinner that recognizes the players, hanging around a rented house with your family, a flood of texts, emails and well-wishes from friends and relatives, and practice rounds with superstars. The first tee shot, however, is a moment many amateurs don't forget.
Courville said his was pure. McCoy struck it down the center. Niebrugge cleared a bunker on the right. Fox's hooked left into trees. That might not have been Fox's fault, however.
"My dad was there with me inside the ropes," Fox recalled about the lead-up to teeing off at No. 1. "I was feeling good, feeling fine, nerves were down and wasn't emotional at all. And then me and my dad had a hug right before I went, and I was like 'That's not what I needed.' You know, like an emotional moment was not what I needed before I go play."
He hooked his first shot, but all was not lost. Fox got up and down from 75 yards out to save par.
For players like Fox and Niebrugge, young up-and-comers, playing the Masters is hopefully training for a long professional career. For Mid-Am champs like Courville and McCoy, it's a culmination of sorts. McCoy had played, by his count, 48 USGA championships in his lifetime. His first win took him to Augusta.
"It's kind of the crowning achievement you spend your whole life trying to do," McCoy said. "I've been trying since a kid to win a USGA championship. You dream of playing in a major, you dream of playing at Augusta. You watch it every year, you know the course so well because of all the years you've watched it on TV. It's a little bit of a surreal experience. It's as magnificent and special as everybody describes."
The crowd usually gets behind amateurs, perhaps because they're the most relatable players. The pros regularly spin wedge shots directly at the hole, navigating greens that are grease-pan slick. When an amateur hits a good shot, on the other hand, it's a bit more unexpected and worthy of support. Niebrugge, for instance, sunk a tough birdie putt on hole No. 6, causing the crowd to burst.
"When it went in, I got a little roar, an Augusta roar," he said. "I got chills when that went in."
Living The Dream
The raucous cheers and ambles around famous Augusta landmarks like Amen Corner and the Eisenhower Tree don't usually last long. Amateurs often don't make the cut and are out of the tournament after the first two rounds. Courville, Niebrugge, Fox and McCoy all missed the cut. For many, the hope is to earn the "low amateur" title, or shoot the best amateur score. But winning isn't really the point.
"I just [soaked] it all in," Courville said. "I was dumb enough to just go out and play."
The entire experience -- perhaps years in the making -- can be over after just two brief days and 36 holes. For the young guys like Niebrugge and Fox, that means the road back to Augusta begins. Fox is now playing in the pro Latin American tour, hoping to advance to the second-tier Web.com tour, then to the top-tier PGA Tour. Niebrugge is still in school, attempting to qualify for pro tournaments and "definitely [has] the itch to get back there."
For Mid-Am champs like Courville and McCoy, it's back to real life. In '96 Courville went home to a desk job. Now he's retired and running an indoor golf facility. McCoy left Augusta last year and returned to his insurance job in Des Moines, Iowa.
"The reality is you go back to your job, you go back to your normal life," he said. "I went down there with no illusions. The professionals are clearly the best players in the world and they're the ones earning a living doing it. I earn my living selling insurance."
© Copyright IBTimes 2023. All rights reserved.