Anger, Frustration As 9/11 Families 'Shocked And Deeply Offended' By PGA Tour-LIV Merger
KEY POINTS
9/11 Families United reminded PGA of the role Saudi operatives played during 9/11
Monahan said in March that a PGA-LIV merger was "not a possibility"
Player Geoff Ogilvy said there may be a lack of trust in tour leadership after the merger
The community of families who lost loved ones during the tragic 9/11 attacks has expressed anger over professional golf tour organizer PGA Tour's merger with Saudi-backed LIV Golf, saying the organizer has become "just more paid Saudi shills."
"9/11 Families United is shocked and deeply offended by the newly announced merger between the PGA Tour and the LIV Golf league that is bankrolled by billions of sportswashing money from the Kingdom of Saudi Arabia. Saudi operatives played a role in the 9/11 terrorist attacks, and now it is bankrolling all of professional golf," the community said in a statement Tuesday.
PGA Tour announced Tuesday that it struck a "landmark agreement to unify the game of golf, on a global basis." PGA Tour, DP World Tour and the Public Investment Fund (PIF) signed an agreement that merges PIF's golf-related businesses and rights, which includes LIV Golf, with the two golf tour organizers.
Some PGA Tour players took to social media shortly after news of the merger surfaced, saying they were not informed about the deal.
American player Michael Kim said he was "very curious how many people knew this deal was happening."
Canadian player Mackenzie Hughes said he found out about the merger on Twitter, adding that unifying with LIV Golf was something "we said we'd never do."
South Korean An Byeong-hun said that while it was a "win-win" situation for the two tours, it was a big loss for those "who defended the tour for last two years."
Dylan Wu called out PGA Commissioner Jay Monahan's "hypocrisy" for backtracking on his words regarding LIV Golf. "I guess money always wins," Wu said.
In March, Monahan said it was "not a possibility" for PGA Tour and LIV to merge, as per NBC Sports.
Terry Strada, 9/11 Families United chair, said "the PGA and Monahan appear to have become just more paid Saudi shills, taking billions of dollars to cleanse the Saudi reputation" so Americans and the rest of the world will forget how the Kingdom spent billions before the 9/11 attacks to fund terrorism and "spread vitriolic hatred of Americans, and finance al Qaeda and the murder of our loved ones."
During last year's Canadian Open, Monahan said his "heart goes out to them [9/11 victims' families] when asked about the possible consequences of PGA Tour players signing up for LIV Golf when the latter was launched last year.
At the time, 9/11 Families United wrote a letter to American golf players who joined LIV Golf, saying it was "a betrayal not only of us, but of all your countrymen."
Monahan, who acknowledged the scrutiny from the merger, explained that the decision was made after "looking at the big picture."
"I recognize that people are going to call me a hypocrite. Anytime I've said anything, I've said it with the information I've had at the moment, and I've said it as someone who was trying to compete for the PGA Tour and our players," he told reporters during a press briefing Tuesday, as per CBS Sports.
Meanwhile, PGA Tour players have had a meeting with Monahan about the merger that stunned the golf world, with questions lingering about how the tour will operate moving forward.
"It was a tough meeting for both sides," player Geoff Ogilvy told Sports Illustrated, adding that Monahan didn't provide specific details about the merger and "nobody really knows" how the deal will affect PGA Tour in the end.
Some players were "grumpy" during the meeting, according to Ogilvy. "Feel a little bit sort of ... not lied to, but that the Tour sort of changed its position kind of quickly. Maybe there's a feeling of a little bit of a lack of trust in the leadership," he said, as per the outlet.
Johnson Wagner, a Golf Channel analyst, who listened in during the contentious meeting, estimated that 90% of the meeting was negative, according to CBS First Cut Golf podcast host Rick Gehman.
There was a "standing ovation" when the attendees called for new leadership for the tour, Wagner said.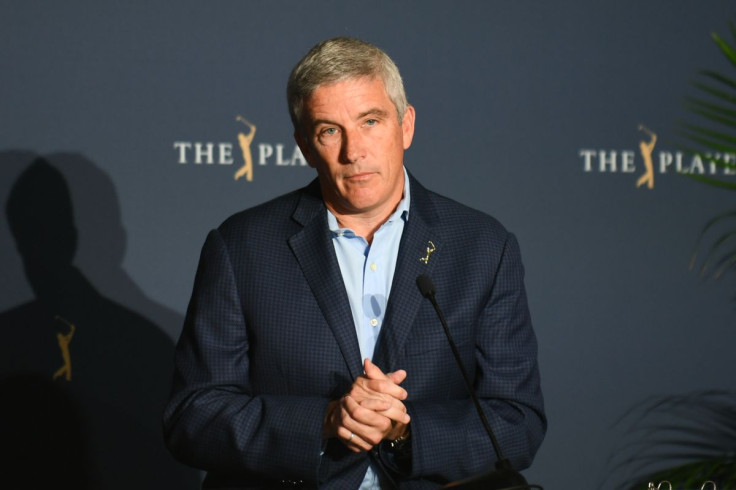 © Copyright IBTimes 2023. All rights reserved.