McDonald's Most Popular Menu Items Of All Time: Filet-O-Fish Sales To Skyrocket In March Because of Lent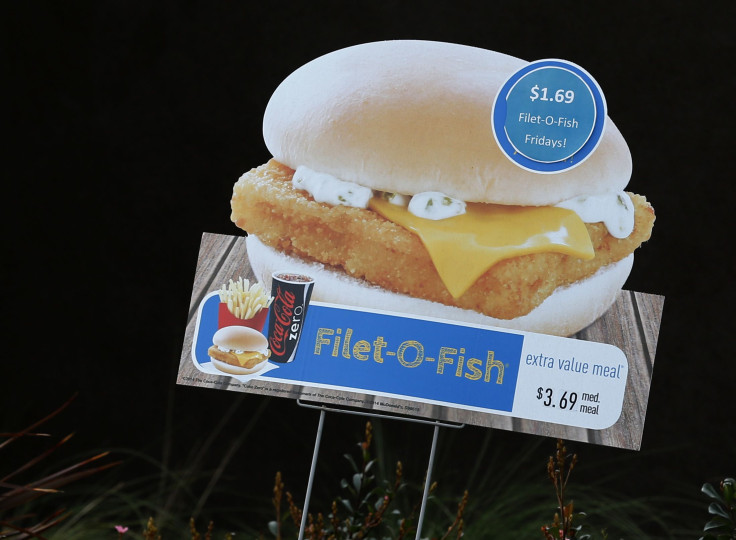 The Filet-O-Fish was the most popular item on the McDonald's menu each March because of the Christian holiday period of Lent, the company said Wednesday. Though the sandwich, which consists of a fried breaded fish filet topped with tarter sauce and cheese, can be ordered and enjoyed year-round, a McDonald's spokesman told Time Magazine the fast food company sells roughly a quarter of them during Lent, which calls on Christian worshippers to stop eating meat every Friday during the 40-day religious time period between Ash Wednesday and Easter Sunday.
Lent 2017 began Wednesday with the Christian holiday known as Ash Wednesday kicking off the religious festivities lasting from the first day of March until Easter Sunday on April 16. Due to the increase in demand for meatless alternatives among Christians in March, the company has dropped the price of its famed fish sandwich from usually being $3.79 to $0.99 in select markets across the country for the entire month.
McDonald's gave the 390 calorie Filet-O-Fish a big marketing push in 2013 when it announced that it would be using wild-caught Alaskan Pollock that was sustainably sourced for its sandwiches. Aside from substituting the type of fish and changing the recipe for its buns to be made with sugar instead of high fructose corn syrup in 2016, McDonald's hasn't many any adjustments to the Filet-O-Fish since it was added to the menu in 1965.
The Filet-O-Fish was the only permanent seafood item on the menu. It was created by Lou Green, a McDonald's franchise owner in Cincinnati, Ohio, in 1962, when he realized that he wasn't making nearly as much money in his predominately Catholic community on Fridays during Lent season by only serving burgers, McDonald's archivist Mike Bullington told USA Today.
Because the Filet-O-Fish is solely available internationally in Russia, Japan and India, it fell well short of being sold as much as the fast food chain's most popular items, which were the French fries and then the Big Macs. More than 200 million Filet-O-Fish sandwiches were sold in the U.S. in 2012, according to the New York Times. However, approximately 9 million pounds of fries have been sold in just one day worldwide and roughly 900 million Big Macs were sold across the globe annually.
© Copyright IBTimes 2022. All rights reserved.
FOLLOW MORE IBT NEWS ON THE BELOW CHANNELS