Meek Mill Claims Drake Got Peed On In 'Wanna Know'; Sources Say T.I.'s Friend Is Responsible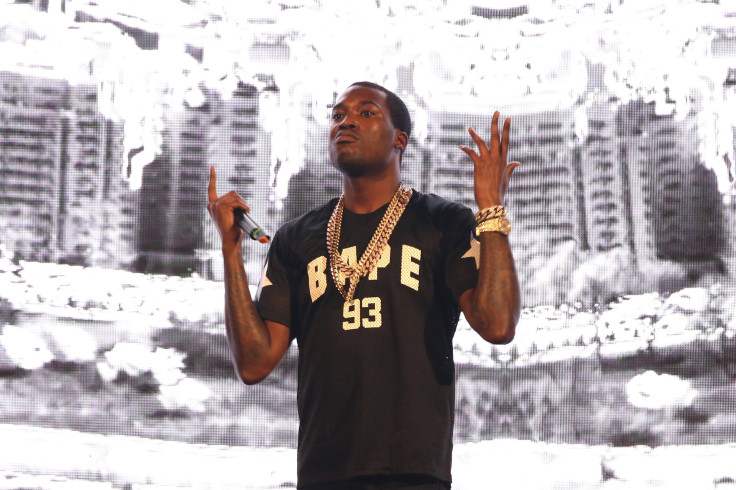 After several days of anticipation, Meek Mill finally responded to Drake's diss tracks, "Charged Up" and "Back To Back." On his new track, titled "Wanna Know," the Philadelphia native fires shots at Drake for reportedly using a ghostwriter and claims Drake once got peed on. Unfortunately for Mill, a majority of his listeners feel the rap beef was won by Drake by a longshot. Still, Mill's shady lyrics left many begging the question — who is the person allegedly responsible for peeing on the 6 God?
Complex reported that Mill released "Wanna Know" on Hot 97 late on Thursday, days after popular New York DJ Funkmaster Flex announced the track was on its way. The song featured snippets from a track produced by Quentin Miller, which Drake later used for his hit song, "Know Yourself." As you may recall, on July 22, Mill accused Drake of using Miller as a ghostwriter, which was the spark that ignited their beef. "Wanna Know" resulted in a wave of responses from Twitter users with a majority focused on a specific line in the song in which Meek raps, "you let Tip homie p--s on you in a movie theater," adding, "we ain't forget."
According to TMZ, the urination allegations stem from an incident that occurred in 2010. Drake was said to be attending a star-studded screening of "Takers," starring Matt Dillon, Paul Walker, Chris Brown and T.I. According to their sources, a close friend of T.I.'s, nicknamed Cap, had one too many drinks during the event and found himself in a dispute with Drake over who was sitting where. He then preceded to urinate in the aisle of the theater, getting urine on the "10 Bands" rapper. Drake reportedly ran out of the theater screaming and cursing, but the incident did not escalate further.
Tweets from Julia Beverly, founder of Ozone Magazine, supports these claims. She said she heard a similar story claiming that, at the time of the incident, Cap had just been released from jail. Beverly then shared a screen grab outlining Cap's lengthy rap sheet for further evidence.
Drake has not directly responded to Mill's diss or claims that T.I.'s friend peed on him. He did, however, share a photo on Instagram showing him laughing, which many believed was in reference to the latest diss.
© Copyright IBTimes 2023. All rights reserved.
FOLLOW MORE IBT NEWS ON THE BELOW CHANNELS