Meghan Markle Displayed Signs Of 'Anxiety' At Walkabout With William, Kate: Body Language Expert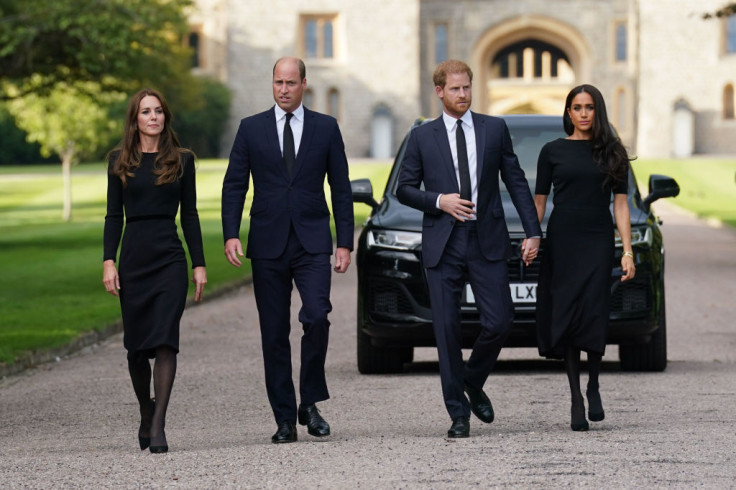 KEY POINTS
Judi James weighed in on Meghan Markle's body language while greeting mourners at a memorial for Queen Elizabeth II
The expert suggested that Markle's "frequent hair flicking" during the walkabout "suggested some inner anxiety"
Another body language expert suggested that Markle's behavior may be due to fear following the booing she received in June
Meghan Markle displayed body language that showed she was uncomfortable during a public appearance in the U.K. over the weekend, a TV body language expert has suggested.
Body language expert Judi James told Page Six that the Duchess of Sussex showed her "inner anxiety" while greeting mourners at a memorial for Queen Elizabeth II outside Windsor Castle Saturday.
Markle joined Prince Harry, Prince William and Kate Middleton in admiring floral tributes, reading cards and shaking hands with well-wishers paying their respects to the Queen, who died Thursday at the age of 96. It marked Markle and her husband's first public reunion with Prince William and Middleton since the Sussexes quit royal duties and moved to California in 2020.
The former "Suits" star's "frequent hair flicking" during the walkabout "suggested some inner anxiety," James claimed.
"Meghan looked like a woman waiting for her cues rather than pushing herself forward," the body language expert told the outlet.
Another body language expert, Dr. Lillian Glass, told Page Six that she believes the Duchess of Sussex's subdued behavior during the walkabout may have been due to fear. Markle and Prince Harry were booed the last time they made a public appearance in the U.K. during the Queen's Platinum Jubilee celebrations in June.
"Usually, we have seen Meghan with a smile plastered on her face, whether it is appropriate or not," Glass told Page Six. "But this time, she actually seemed more genuine and humbled. There is no question that she was in fear, as she hung on to Harry's hand for dear life as they walked together. She was serious and even stood back when Harry was speaking to someone. Usually, she is front and center, but the fact that she hung back was very telling of her fear."
Prince Harry and Markle supported each other during Saturday's outing through physical touching, James suggested.
The expert pointed out that the Duke of Sussex placed an arm around Markle and rubbed her back, and the duchess gave her husband "comforting touches" as Prince Harry looked at the floral tributes to his late grandmother.
"The couple used a hand clasp to add to the comfort signals, with Meghan stroking Harry's hand with her thumb within the clasp," James told Page Six.
Markle received a mixed reception while greeting mourners. One well-wisher, a 14-year-old girl, hugged the duchess to make her feel "welcome" in the U.K. amid the reported tension between the Sussexes and the royal family.
However, one woman in the crowd was caught on camera seemingly ignoring Markle's attempt to shake hands.
On Tuesday, Prince Harry and Markle stepped out with the Prince and Princess of Wales for the second time since the Queen's death.
They joined King Charles III, Queen Camilla, Prince William, Middleton and other members of the royal family to receive the late monarch's coffin as it arrived at Buckingham Palace in London Tuesday evening, People reported.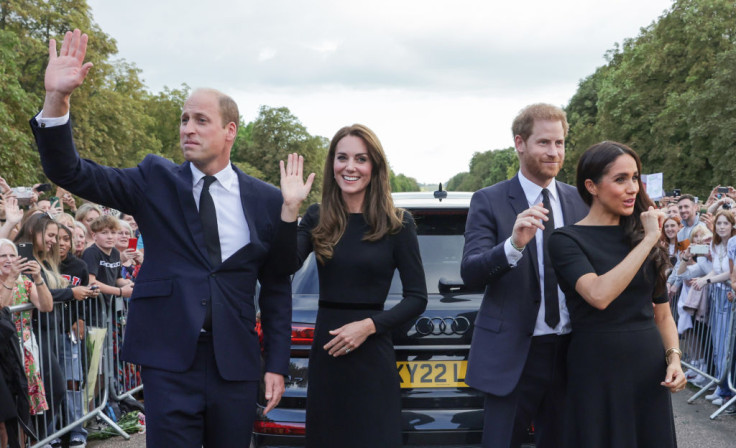 © Copyright IBTimes 2023. All rights reserved.