Meghan Markle, Prince Harry Have Track Record Of Claiming They Were Being Hounded: Royal Pundit
KEY POINTS
Lady Colin Campbell suggested that both Prince Harry and Meghan Markle have a track record of seeing intruders everywhere
Campbell noted that when Markle was in Canada, she constantly called the police for allegedly being hounded
The royal pundit added that burglar and fire alarms are "the easiest things to trip," so the intruder scare could be a false alarm
A royal pundit has weighed in on the reports that Meghan Markle and Prince Harry faced two intrusions in May.
Lady Colin Campbell, the author of several royal books, including "Meghan and Harry: The Real Story" and "Diana in Private," answered some questions from royal fans about the Duke and Duchess of Sussex having two intrusions in two weeks at their $14 million mansion in Montecito in a Q&A on her YouTube Channel. The royal biographer didn't seem convinced about the security scare.
"First of all, where has this bit of nonsense emanated from?" she asked. "Well, we know where it's emanated from. Don't we?" She then suggested that it could have come from Markle.
Campbell speculated that Markle wanted her PR company, Sunshine Saches, to work on her and Prince Harry making headlines three times a week. If the firm couldn't do its job, then the former actress could allegedly do the job on her own.
"Meghan has a long track record of seeing intruders and detecting intruders. Going back to when she was in Canada, the police were constantly called to Meghan, who was being hounded, the way, of course, Harry has been hounded by the paparazzi and hounded by everybody to such an extent that Cressida Bonas couldn't take the fact that Harry saw stalkers around every corner," she continued.
According to the "Queen's Marriage" author, Prince Harry saw paparazzi everywhere even in deserts, behind the tree and on every column, even when the column was on the sea. She concluded that "both Harry and Meghan have a track record" of seeing intruders everywhere.
The expert added that they have burglar and fire alarms, and "they are the easiest things to trip," suggesting that the intrusion could be a false alarm.
She added that one only needs to spray something in a place where you shouldn't or light a fire when you shouldn't, and it will trigger the alarm. The burglar alarm can also be tripped "so easily deliberately."
"Not, of course, that I would accuse Harry and Meghan of deliberately tripping their burglar alarms, so intruders are noted," she added.
Several Twitter users shared Campbell's sentiments on the microblogging site.
"Wasn't [Meghan] constantly calling the police when she lived in Toronto, complaining about nonexistent intruders? I recall reading that eventually, the police stopped checking on it because they knew she was making it up for attention," one user commented.
Another suggested that rather than intruders, Prince Harry and Markle may have had "false alarms set off by the wind, rain or open doors and gates."
Meanwhile, Prince Harry's biographer Angela Levin suggested that the Duke of Sussex "should concentrate more on the security in California rather than making complaints about his security in Britain." In a tweet, Levin added that Prince Harry wouldn't face the same security problems in the United Kingdom.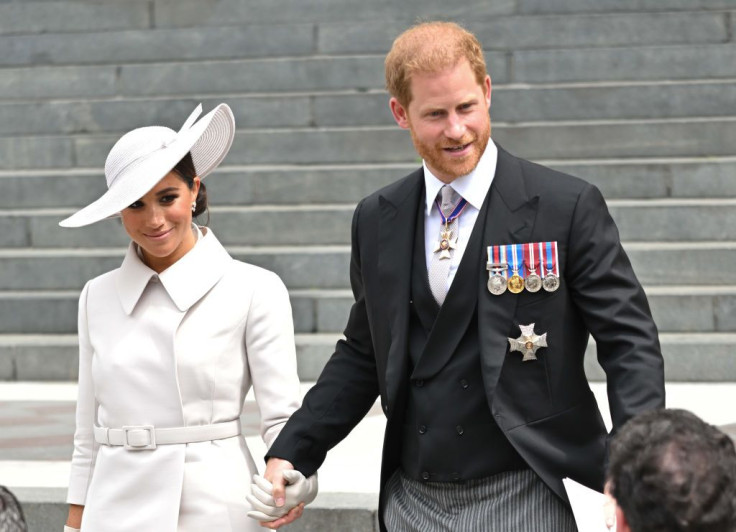 © Copyright IBTimes 2023. All rights reserved.