Meghan Markle 'Wasn't Meant To Be On Stage' In Awkward Appearance With Prince Harry During Polo Awards: Expert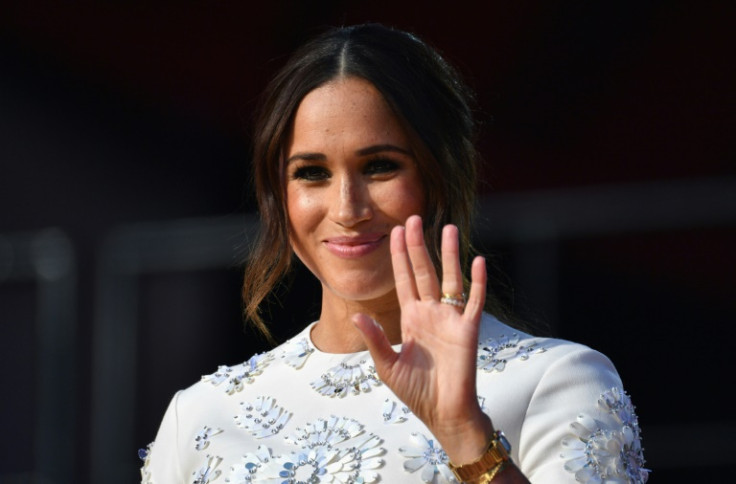 KEY POINTS
Footage of Meghan Markle's stage appearance during Prince Harry's polo match resurfaced
Rita Panahi noticed Markle appeared out of place while on stage with her husband
Kara Kennedy claimed that Markle may have seen the event as a PR opportunity
Meghan Markle looked out of place while on stage with Prince Harry and his polo teammates, according to royal commentators.
Royal commentator and Spectator writer Kara Kennedy joined Rita Panahi for Sky News Australia's "The Rita Panahi Show" and discussed Markle's awkward appearance on stage. Panahi wondered why Markle was there when Prince Harry and his polo team received their awards. According to Panahi, no one was acknowledging Markle based on the clip.
"What's going on here? What she's doing on stage?" Panahi asked.
The TV presenter also noted how Markle "tried to grab" a thing from one of Prince Harry's teammates, but the man didn't give it to her. "The whole thing is a catastrophe and very embarrassing" for the "image-conscious couple," Panahi added while asking Kennedy what happened there.
"This was after Harry won a trophy in an event in Santa Barbara polo club," Kennedy replied. "This is interesting because I think I've spoken a lot in the past two months about the kind of press crusade that Harry went on after his memoir 'Spare' and about how important it is that Meghan stayed 50-50 way, at all times."
She continued, "I think it is very telling because for a woman that usually tries to weave her way in or push [or] shove her way into the spotlight at any given time, which is very visible here. I mean, this had nothing to do with her. It's obviously very awkward. It's obvious that very clearly she wasn't meant to be on stage."
Kennedy noted that Prince Harry was surrounded by his teammates, and it wasn't a PR opportunity. However, Markle may have seen it as such. Kennedy also said it was "telling" that Markle was at the polo match but didn't join Prince Harry when he was promoting his book earlier this year.
"This is why I think the 'Spare' stuff is even more telling because Meghan knows that the full outcome from Harry's memoir is going to be embarrassing for her and going to be kind of bad image-wise, so she stayed away from that kind of PR crusade," Kennedy claimed. "Whereas stuff like this, where he is trying to get his own thing, he's trying to get into local sports with the local team filled with teenagers, she just can't help but kind of crowbar her way into the photo."
Entertainment Tonight shared a clip from the event. The outlet noted that Markle presented the trophy to her husband and his teammates and that was why she was on stage.
The outlet also noted that the Duke and Duchess of Sussex packed on the PDA. She kissed the other players on both cheeks and gave her husband a smack on the lips. Markle was later seen wiping lipstick from Prince Harry's face.
Markle looked stunning at the event wearing a long-sleeved black-and-white polka dot blouse, white Bermuda shorts and a black belt. She also accessorized with a black hat and matching black sunglasses and pumps.
The footage from a polo match in question happened in May last year. People also shared some photos of the royal couple from the event.
The Sussexes haven't been spotted following the "nearly catastrophic" car chase incident in New York City.
Also, Prince Harry and Markle's marriage has been rumored to be on the rocks after they failed to mark their fifth wedding anniversary last month.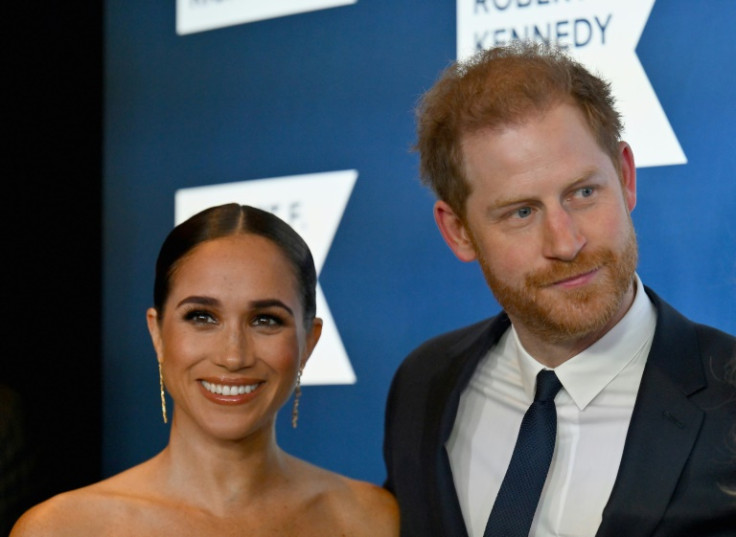 © Copyright IBTimes 2023. All rights reserved.