Meghan Markle's 'Unbecoming' Choice Involving Kate Middleton Revisited
Before saying "I do" to Britain's Prince Harry last spring, numerous rumors circulated around former U.S. actress Meghan Markle, who is now the Duchess of Sussex, and who she may select to be her maid of honor at the wedding.
Prior to the big day on May 19, one British etiquette expert sounded off on why it was unlikely Markle would pick her future sister-in-law, Duchess Kate Middleton, for the position.
According to the professional, William Hanson, Markle naming Middleton, the Duchess of Cambridge, the maid -- or matron -- of honor at her wedding would have been "unbecoming" because of royal protocol. The same protocol is believed to be the reason why Middleton could not serve as a sister Pippa Middleton's maid of honor at her 2017 nuptials.
READ: Why Kate Middleton Is Better Suited For 'Royal Life' Than Meghan Markle
"It's unbecoming for a member of the royal family to walk behind a commoner," Hanson explained, as reported by Express. "Which, as painful as that sounds and despite being directly related to Catherine, is what Pippa is."
A royal expert, Kelly Lynch of Daily Break, backed up Hanson's claims, saying, "As far as I know, Meghan will be considered a commoner even when she becomes HRH because she's not a peer of the realm."
While choosing her future sister-in-law for the bridal party position may have gone against royal protocol, it was never clear if Middleton was even in the running for the spot. Several days prior to their 2018 nuptials, the palace made it clear Markle wouldn't have a MOH. The announcement included the explanation that Markle "has a very close-knit circle of friends and she didn't want to choose one over another."
"All have been actively involved in helping her prepare for the day and will be there in the days beforehand," a palace spokesperson told People at the time when speaking about Markle's friends. "She's very happy to have their support."
Though Middleton ultimately didn't play a large role in the Markle-Prince Harry wedding, other members of her immediate family did. Her husband, Prince William, acted as Prince Harry's best man while two of their children, Prince George and Princess Charlotte, now 5 and 3, respectively, acted as a bridesmaid and page boy.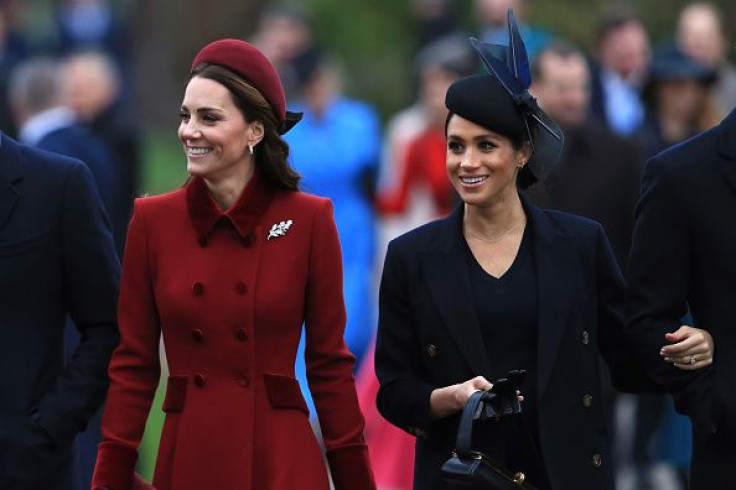 © Copyright IBTimes 2023. All rights reserved.