Melania Trump Called 'No Role Model', 'Laziest' FLOTUS In History After Hosting Children's Holiday Party
Melania Trump has been working very hard to deliver what is expected of her. In fact, the First Lady of the United States has been visible to several official occasions, public engagements and charity events since she assumed the role in 2017. Recently, Melania hosted a children's holiday party in the White House.
The wife of President Donald Trump shared about the event on her official Twitter account. "A fun afternoon at the @WhiteHouse making snow globes, coloring and doing puzzles at our annual children's holiday party. It is always wonderful sharing the joy of Christmas!" Melania wrote on Monday. She even shared photos of some kids drawing and creating Christmas crafts.
Melania's post, as per usual, was met with mixed reactions from netizens, with some of her followers praising her efforts. "What a memorable experience for these children. Bless you," Jennifer Beatty commented on her post. "You are a truly graceful First Lady and thank you for always showing compassion, strength and poise," Ali Michelle said.
"As a mother and First Lady I am sure you thoroughly enjoyed this event. Thank you," Lillian Nuckolls stated. "very grateful you protect and cherish our futured most valuable asset. great fun & learn with beautiful kids," Mukund Prasad wrote. "From the heart First lady keep up the great work awesome. The kids luv you to pieces," Captain Garry responded to Melania Trump's tweet.
Critics also took the chance to criticize Melania and her husband, President Trump. "All the coloring books and snow globes in the world won't alter the #impeachment process. #bebest, Melanie!" Liddle Jamie said. "Why anyone would let their kids even near you is a mystery to me. You are no role model," Floralilia Lives wrote. "As the migrant children are locked up in cages sleeping on cement floors. Where is their Christmas. Joy of Christmas for them. Not," Donna Kaiser stated.
One detractor even called Melania Trump as the "laziest" FLOTUS in history. "If you're not doing anything, you don't need assistants," another netizen supported the claim. However, Melania's supporters were quick to defend her.
"Melania had 5 assistants her first year, unlike Michelle who had 25 at taxpayers expense," Veronika Pinkert said. 'Her husband achieved the best economy, lowest unemployment, best opportunities for minorities, etc, but I know it does not matter to you. I am not voting for his sainthood, but as a president he does a fantastic job," she continued. Melania Trump has yet to comment on the harsh remark.
Meanwhile, Melania brought the "spirit of America" to the Marine Toys for Tots program on Monday at the Joint Base Anacostia-Bolling in Washington, D.C. Toys were given to the some selected children in need. Melania also urged everyone to think about ways to give back to the community this Christmas season.
"Whether it's a Christmas gift to a child in London, donating school supplies to children in Africa, assembling comfort kits for troops deployed overseas, or showing kindness to a stranger, your actions can forever change the lives of someone in need," Melania Trump stated during the event.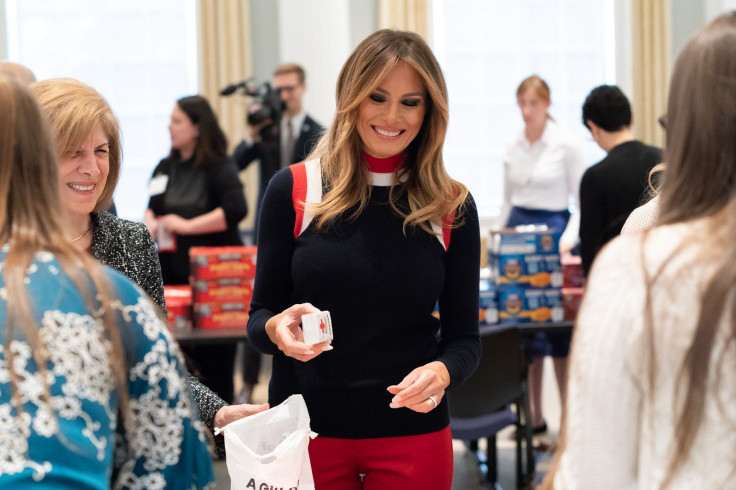 © Copyright IBTimes 2023. All rights reserved.