Melania Trump Humiliated: FLOTUS Lambasted On Twitter After Sharing Video During President Donald's Third SOTU
KEY POINTS
Melania Trump shared a video of herself posing for photos with some guests during President Donald Trump's third State of the Union
Netizens attacked the FLOTUS after sharing about the president's latest SOTU
President Donald Trump highlighted the so-called 'great American comeback' on his speech
Melania Trump was called a 'threat' to the well-being of the world
President Donald Trump's State of the Union had numerous controversial moments, including the POTUS's refusal to shake the hands of House Speaker Nancy Pelosi. Avid followers of Ivanka's father were, also, shocked when Pelosi tore up a part of Trump's speech and tossed it aside before the president exited the venue. Recently, Melania Trump was attacked on Twitter after sharing a clip of her and some guests during the SOTU address on Feb. 4.
"@POTUS and I were honored to have our guests join us to hear the annual #SOTU address last week," Melania wrote on the social media platform. "People everywhere can take inspiration from their optimism, strength, and courage," she went on. As per usual, Melania Trump's post was met with mixed reactions.
Critics of the FLOTUS mocked her and President Donald Trump in the comment section. "Yeah ... my favorite part was when one guest, Fred Guttenberg (whose daughter was shot to death), was ejected from the SOTU. That took such courage & strength. Filled me with optimism," one netizen stated. "When I see the porn model all I see is the botched 'kidney procedure' #BeBreast," another Twitter user said. "Your husband is sick," a third netizen shared.
"You and your husband are the biggest threat to the well-being of this world. Please leave the office immediately," Mark J. Reichel penned in the comment section. "Your husband @realDonaldTrump put in a good reality show. The only thing real were your guests. The speech was lie-riddled vitriol. And your awarding Rush Limbaugh with the Medal of Freedom forever tarnished the honor it was supposed to convey. Your family can start packing now!" another user added.
Devoted supporters of Melania Trump, on the other hand, gave nothing but love and praises to her and the current administration. "Thank you and your family for your service People forget POTUS is donating!!!! His time. Just amazing. The Trumps did not go to DC to get richer they went to clean out the corruption," Laurie Brown wrote. "Inspirational and motivational for sure. Thank you both!" Lorraine Bowers stated. "Congratulations to all of the SOTU guests of the President. How cool to be at the People's House for photos w/both POTUS/FLOTUS We your fellow citizens salute you one and all. God bless everyone of u," Chris Vassal said.
To recall, President Donald Trump boasted of the improving American economy during his third State of the Union. The husband of Melania Trump even described it as the "great American comeback." "The vision I will lay out this evening demonstrates how we are building the world's most prosperous and inclusive society, one where every citizen can join in America's unparalleled success, and where every community can take part in America's extraordinary rise," the POTUS stated.
Melania Trump and President Donald Trump have yet to comment on the netizens' harsh remarks.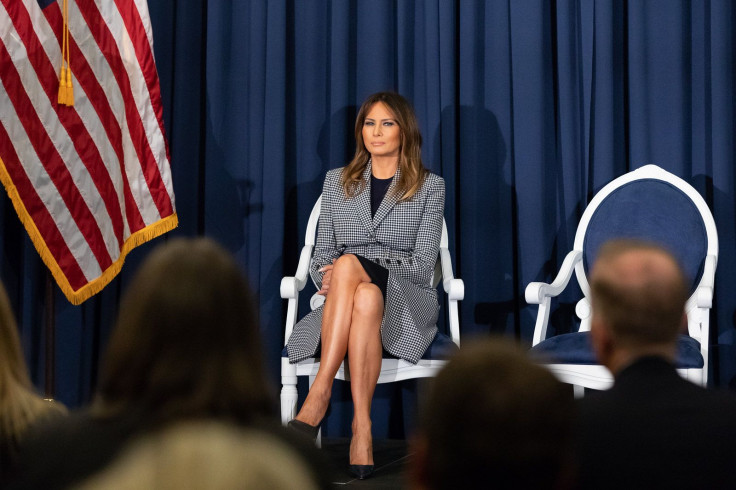 © Copyright IBTimes 2023. All rights reserved.