Melania Trump Lambasted For Oval Office Attendance; FLOTUS' Outfit Called Tablecloth, Pajamas
KEY POINTS
Melania Trump lambasted after being spotted in the Oval Office
Melania Trump criticized after threatening to sue those who call her an "ex-hooker"
Donald Trump Jr. explains backlash against Melania
Melania Trump was lambasted for joining Donald Trump in the Oval Office.
President Donald Trump held a meeting with Greek Prime Minister Kyriakos Mitsotakis at the White House. The two leaders discussed the escalating tension between the U.S. and Iran.
When the camera panned to show the Oval Office in full, viewers were surprised to see the first lady. Melania has not been involved in the U.S. foreign policy, thus many questioned her presence at the meeting, Express reported.
"What the hell is his handler Melania doing in this meeting?" one asked.
"Why on earth is Melania always sitting in the Oval Office next to Donald during media meetings?" another netizen wrote before adding that she didn't recall the former first ladies including Michelle Obama, Laura Bush, Hillary Clinton, Nancy Reagan, Betty Ford, Jackie Kennedy Onassis and Pat Nixon doing the same.
Aside from questioning the FLOTUS's presence, many also mocked her outfit. One even asked, "What the hell is Melania wearing?" Other netizens also compared her outfit to a tablecloth; others said she looked like she's still in her pajamas.
"Was she trying to hide under the tablecloth or something?" one commented.
"Honestly, Melania looked as if she was still in her pajamas!" another added.
"Melania sporting plaid pajamas during an Oval Office meeting," a different netizen opined.
The FLOTUS has been criticized by netizens for various issues. Just recently, several attacked Melania when a 2016 report resurfaced indicating that she issued a legal warning to those who called her an "ex-hooker."
Several Twitter users mocked Donald's wife saying that she still acts and behaves like one. Meanwhile, some took her move against her.
Several netizens claimed that Melania was furious because of the prefix "ex" because she is still doing it. One social media user even said that she's upset because calling her an "ex-hooker" would make her clients think she's already out of the business.
Donald Trump Jr. has spoken about the criticisms Melania has been receiving since his father took the highest office. According to Donald Jr., the FLOTUS is being attacked by many because Donald is unbreakable and they can't get to him, so they are focused on his wife to hurt him.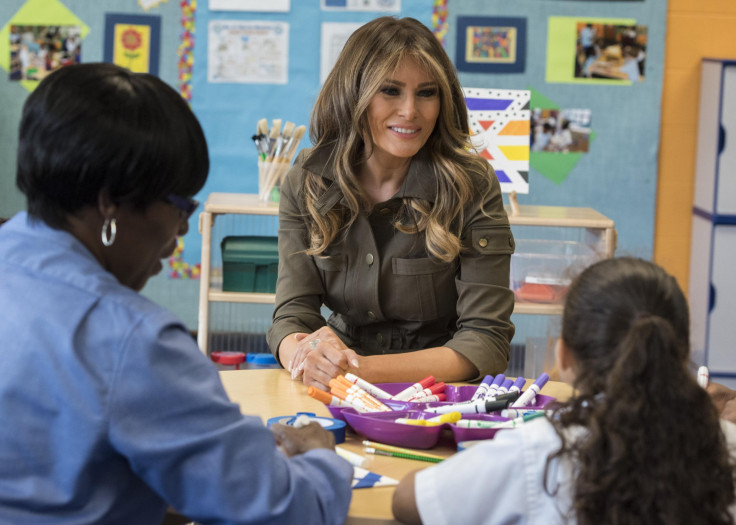 © Copyright IBTimes 2022. All rights reserved.
FOLLOW MORE IBT NEWS ON THE BELOW CHANNELS