Melania Trump's Son Barron's Height Sparks Paternity Speculations
KEY POINTS
Barron Trump's height spark rumors he is not Donald Trump's son
Barron Trump allegedly son of a Russian NBA player
Donald Trump left Barron and Melania alone on Tarmac
Barron Trump's towering height sparks rumors that he is not Melania Trump's son with Donald Trump.
Photos and videos of the first family walking side by side have been shared on Twitter. In one photo, the online user described the POTUS and FLOTUS' son "enormous." Apparently, Barron is already taller than his father.
However, many took this negatively with some speculating that he acquired his height from his father who is allegedly not Trump but a Russian NBA player. One implied that the POTUS is not Barron's dad by asking, "I wonder whose son he is?" Several others have the same comments.
"Cue the CNN stories about Barron's 'real' father being a Russian basketball player," one commented on Jesse Kelly's post when the host asked how Barron turned into an NBA power forward.
"Barron like 6'6 and he's 13 there is NO WAY that is his father," another commented.
"He doesn't really look like Trump, not like the others resemble him," a different netizen wrote.
Another user said that Barron looks like a Russian. However, some are convinced that Trump is Barron's real father. According to those online users, Trump is also "enormous" like his son, but the POTUS is obese.
"He is a big kid. Ironically, his father is, too," one wrote.
"No, he's tall. His father is enormous, morbidly obese actually," another added.
Just recently, Trump, Melania and Barron were spotted arriving in Florida to spend a weekend in Mar-a-Lago. However, the POTUS raised eyebrows because he just left his wife and son on the tarmac. He descended the stairs on his own and went on greeting the people and walking without looking back at Melania and Barron behind him.
According to etiquette expert Jacqueline Whitmore, the president's distance is a sign of disrespect. Life and style expert Elaine Swanna also feels that the POTUS gesture was incorrect. She encouraged Trump to nurture his relationship with Melania because he is a husband first before he became the president of the country.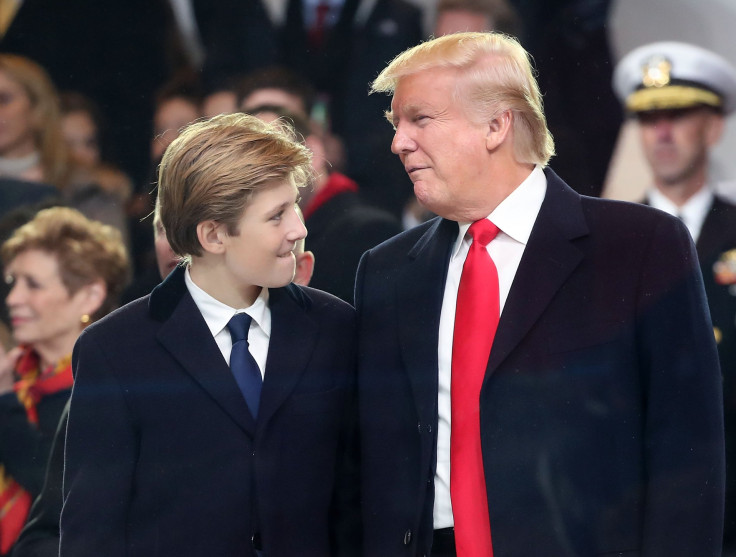 © Copyright IBTimes 2023. All rights reserved.