Melanie Griffith Returns To Theater, Says Daughters Helped Her Overcome Drug Abuse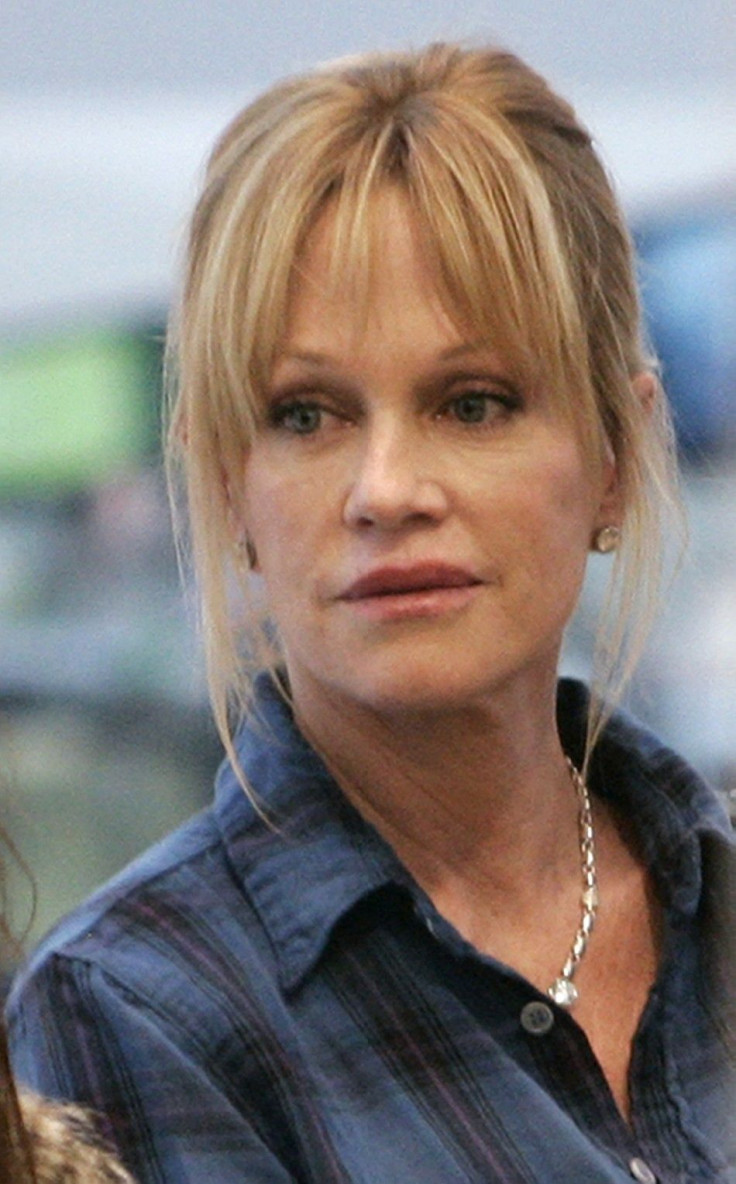 Battles with drugs and alcohol have long plagued Melanie Griffith, but the actress, who returned to the stage Sunday for a week-long stint in No Way Around But Through in Burbank, Calif., said it was her two daughters who helped her overcome her struggles.
Melanie Griffith, 54, who was nominated for an Academy Award for 1988's Working Girl, said her daughters Dakota and Stella sat down with her about three years ago. That's when she turned her life around and decided to head to rehab after having what she described as sort of an intervention.
My daughters really sat me down and said, look, Mom, this is what it is. Dakota and Stella, both. I don't want to say what really happened, but they were the ones who said, 'You really need to get help,' and I heard them and knew what they meant. And I saw it and I did it, Melanie Griffith told the Los Angeles Times. But I couldn't have done it without them. I really couldn't have. And I'm so grateful. I see now I just didn't get it before. It doesn't mean that I'm stupid. It's just that that's what the disease is.
Dakota, 22, is Griffith's daughter with ex-husband Don Johnson and Stella, 15, is the daughter of Melanie Griffith's current spouse, Antonio Banderas.
Drug and alcohol abuse can have such a strong pull on addicts that it's hard for them to accept their problems, Kristina Wandzilak, founder of the Full Circle Intervention treatment centers in San Francisco and Scottsdale, Ariz., told ABC News.
Often times it takes for an addict to hear from the people that love them most, exactly how they're being affected by the choices of the addiction. Wandzilak told the network.
Griffith returned to the stage Sunday for her role as a dysfunctional mother in No Way Around But Through, which is playing at the Falcon Theatre in Burbank until Sunday.
Known mostly as a film actress, Melanie Griffith's theater appearance marks the third time the actress is on stage. Her theater debut came in London in 1999, when she starred along with Cate Blanchett in The Vagina Monologues. Her Broadway debut came in 2003, when she starred as Roxie in the musical Chicago.
Griffith said she would enjoy taking more theater roles.
I would love to. I really love it. It's so much more challenging than film, she told the L.A. Times. And the way the film business is these days, it's pretty bad. And the things that are written now are not very good, not many. And the good ones go to the chosen few of the year or the decade. And there certainly aren't a lot of movies written for women who are in their 50s. I think that's always a shame; it should be done more.
© Copyright IBTimes 2023. All rights reserved.