In Memoriam 2011: Yahoo's Tribute to Those Who Died This Year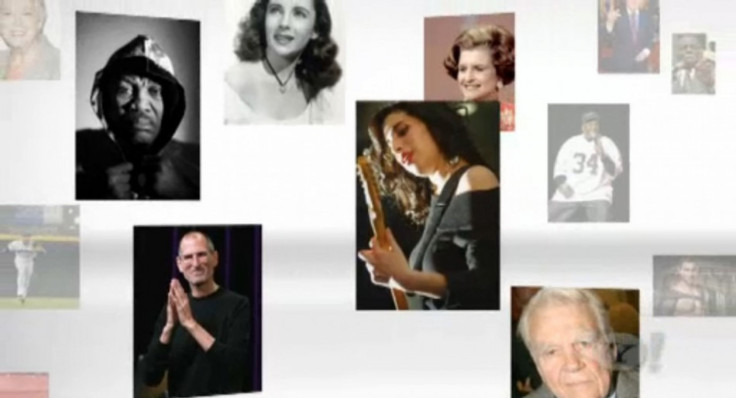 Steve Jobs. Amy Winehouse. Elizabeth Taylor.
These are some of the figures featured in Yahoo's video tribute to those who died in 2011. The video, released on Thursday on Yahoo's Year in Review blog, includes some poignant quotes, photos and commentary about those we lost -- the famous, the heroic, the tragic and the friend.
The video begins with a tribute to Jobs and ends with a clip of Andy Rooney talking about complaints.
There's a quote from Amy Winehouse (I don't ever want to do anything mediocre), who died at the age of 27 in July. Barbara Walters' voice plays over a montage of Elizabeth Taylor photos: She lived her life her way, and she didn't give a damn what anyone else thought about it.
There's a tribute to those the sports world lost, including the legendary Joe Frazier, Bubba Smith and hockey player Rick Rypien of the Vancouver Canucks.
The Yahoo video, accompanied by The Dreamer by The Tallest Man On Earth, serves as a reminder to also remember the lives of those not associated with Hollywood, headlines and the limelight.
Unlike the routine In Memoriam videos that play during award shows every year, Yahoo also honors the lives of activists, photographers, managers and virtually everyone in between, next to the big names we're all familiar with.
There is also a tribute to the 460 casualties of Operation Enduring Freedom, Operation Iraqi Freedom and Operation New Dawn.
The video then shines the spotlight on the not so famous - friends, family and loved ones - summed up with a quote courtesy of President Barack Obama, who first said the following words at the 2008 funeral for his grandmother Madelyn Dunham:
They're not famous, their names aren't in the newspapers, but each and every day they work hard. They look after their families. They sacrifice for their children and their grandchildren. They aren't seeking the limelight. All they try to do is just do the right thing.
The Year in Review blog, launched in late November, also lists the year's top searches, top news stories, heroic acts, bankruptcy highlights and other categories.
Click here to watch Yahoo's tribute to those who died in 2011.
© Copyright IBTimes 2023. All rights reserved.