MERS Outbreak 2015: South Korean Pop Stars Post 'Mask Selfies' As Public Health Crisis Worsens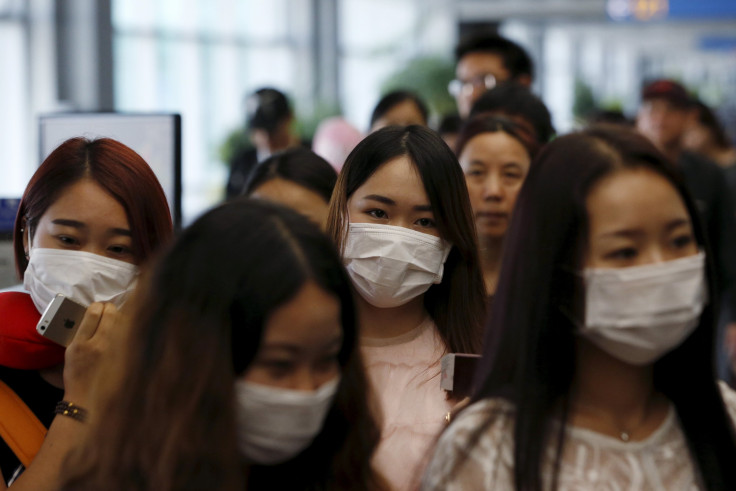 Some South Korean celebrities are taking to social media to promote public health by sharing photos of themselves wearing surgical masks, considered by health officials to be the first line of defense against the deadly MERS outbreak that struck the country in May. Such "mask selfies," referring to photos typically taken of oneself with a smartphone and shared on Instagram and Twitter, are considered a way for pop stars to encourage their fans to cover their faces to prevent the transmission of the Middle East Respiratory Syndrome, or MERS.
MERS is a viral respiratory illness spread through close contact with infected patients, usually through coughing or sneezing. Symptoms of MERS include fever, coughing, shortness of breath and, in severe cases, pneumonia and kidney failure, according to the U.S. Centers for Disease Control and Prevention. There is no vaccine for the illness, which has a death rate of 38 percent.
South Korea's worsening health crisis is the largest outbreak of MERS ever seen outside of the Middle East. At least 20,000 travelers from China, Hong Kong and Taiwan have canceled their trips to South Korea in light of the outbreak, which has killed six and affected at least 87 people. Nearly 2,000 schools across South Korea have shuttered classes, and 2,300 people possibly exposed to the virus have been quarantined, as the country struggles to contain the outbreak.
Health officials have traced the origin of the outbreak to a 68-year-old man who returned to South Korea after traveling through several Middle East countries.
Not everyone has taken up the "ask selfie" trend. One Korean pop star was recently questioned for not wearing a surgical mask Saturday while in Hong Kong for a performance. Singer Kim Jong-kook, 39, said he didn't want to wear the mask because it would keep his fans from seeing his face, according to K-Pop Herald. "Many of my fans here come out to get a glimpse of me," Kim told reporters. "If I wear the mask, these people won't be able to get a clear sight of me. I don't like it."
© Copyright IBTimes 2023. All rights reserved.