Mexico Soccer Team 2015: 6 Candidates To Replace Miguel Herrera As Coach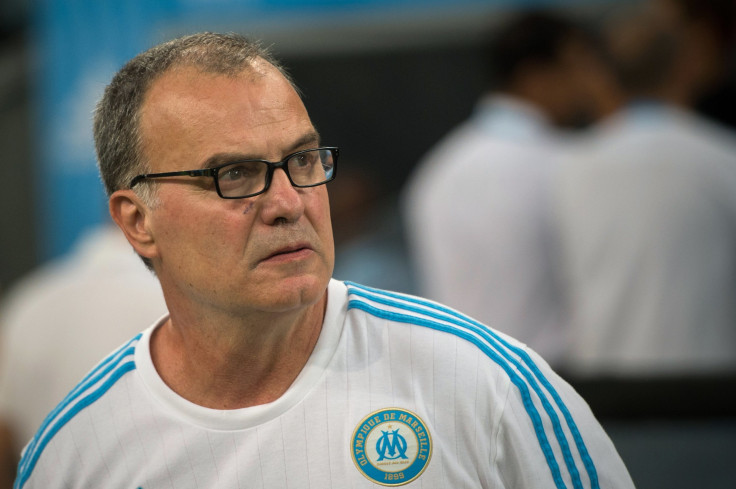 Next month's friendlies against Trinidad and Tobago and Argentina ahead of a vital Confederations Cup playoff against the U.S. are fast approaching, but the identity of Mexico's next coach is shrouded in as much mystery as ever. It's now more than two weeks since Miguel Herrera was dismissed after a physical altercation with a television commentator following the Gold Cup. In that time a number of potential candidates have emerged, however there are doubts over the prospects of each of them.
Here's a look at six of the leading candidates.
Marcelo Bielsa
The man nicknamed "El Loco" appeared to be in line to take the position, particularly after he surprisingly resigned from his post at Marseille after the first game of the French Ligue Un season on Saturday. On paper it appeared an exciting appointment. Bielsa has been one of the sport's great innovators in the modern era, taking the high intensity, vertical game that Herrera sought to implement with Mexico to an extraordinary level. He also achieved his arguably his greatest and certainly most influential success in the international arena with Chile. However, reports have suggested that the Argentinian has rejected an offer from the Mexican Football Federation (FMF).
Jorge Sampaoli
Intriguingly, the man who has taken on Bielsa's work with Chile has also been heavily linked with the Mexico post. Not quite as beholden to the high-pressing ideology as his mentor, Sampaoli has achieved great things in his three years in charge. After beating Spain and only exiting to hosts Brazil on penalties in last year's World Cup, the 55-year-old Argentinian led Chile to their first ever international title at the Copa America this summer. He has, though, suggested that he could be ready for a new challenge, although the Chilean Federation has insisted that they expect him to honor his contract until 2018. The FMF had confirmed their interest and are said to be willing to pay Sampaoli's hefty release clause, but it has been claimed that the coach has given assurances that he will continue with Chile, at least for the time being.
Victor Manuel Vucetich
Any appointment for Mexico will be complicated by the fact that the owners of all 18 Liga MX clubs have an input on the coaching role, often leading to claims of conflicting interests and ill-considered decisions. And Vucetich has been one of the FMF's most vocal critics. One of Mexico's most respected and successful coaches, the current Queretaro boss became the third manager turned to in qualifying for the 2014 World Cup but was dismissed after just two games before Herrera was brought in. Because of that, it is hard to see Vucetich going back.
José Antonio Camacho
A former coach of Real Madrid and Spain, Camacho is thought to have thrown his hat in the ring for the vacant Mexico post. But, while there have been reports of interest from the FMF, the man who led Spain to the quarterfinals of the 2002 World Cup appears a long shot for the role having not coached since a disappointing spell with the China national team ended in 2013.
Ricardo La Volpe
Now, aged 63, the current Chiapas coach has enjoyed a nomadic coaching career of mixed fortunes. It has already taken in one spell in charge of Mexico, which ended with a Round-of-16 exit at the 2006 World Cup. However, while he has made it clear that he would be a keen on a return to the post, La Volpe's last job in the international arena with Costa Rica lasted just a year and he has stated that there has yet to be any contact from the FMF.
Ricardo "Tuca" Ferretti
The Brazilian's reputation is currently riding high after his Tigres side became just the third Mexican club to reach the final of South America's prestigious Copa Libertadores, where they were beaten by River Plate. Ferretti has previously been dismissive of the prospect of taking over the Mexico team, although his tone has recently softened. In his latest comments, though, he stated that there had been no approach from the FMF.
© Copyright IBTimes 2023. All rights reserved.