Mexico Vs. Netherlands: Date, Kickoff Time And Early Prediction For World Cup 2014 Last-16 Match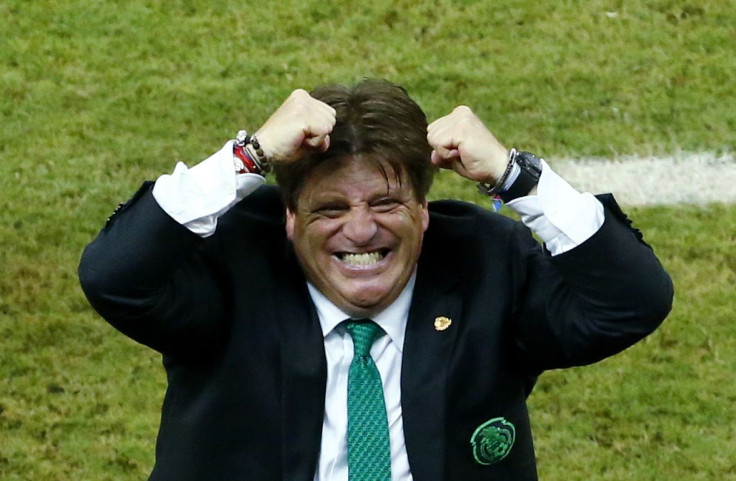 Mexico have already ensured that their desperately stuttering path to the World Cup will be confined to distant memory; now comes the task to reach heights never scaled away from home soil.
Miguel Herrera has breathed fresh life into a Mexico that was on its knees and in disarray when he took over last November. On Monday a team that required a sensational late overhead kick from Raul Jimenez against Panama and then an even later goal by United States midfielder Graham Zusi against the same opponents a few days later just to make it into a playoff with New Zealand secured its passage to the last 16. But Herrera has always had grander ambitions and the primary one for all Mexicans has long been to finally earn a path back to the quarterfinals.
Mexico's record of reaching the last 16 of five successive World Cups is a remarkably consistent one, but one that is also a source of huge frustration. They made the last eight when hosting the competition in 1986 and likewise in 1970, and are now desperate to get back there. In order to do so, Mexico will have to get past a Netherlands side responsible for knocking the holders Spain off their perch with an opening 5-1 win.
It would be foolish to write them off. What Herrera has done is to get the best out what was always a talented group of players. Success at various underage levels since the last World Cup, including claiming Olympic gold in London two years ago, fuelled high expectations heading toward Brazil. Predicting Mexico as a dark horse for the World Cup was not unrealistic; what was misleading was the team's abject performances in qualifying.
Herrera has turned around the negativity created by the coach who led Mexico fort the start of their qualifying campaign, Jose Manuel "Chepo" de la Torre, and the subsequent situation in which the team found itself. His 3-5-2 formation, with midfielders and wing-backs encouraged to get forward, bought immediate positivity on the field.
That has been shown again in Brazil. In their opening game, Mexico could easily have beaten Cameroon by considerably more than the one-goal margin they secured. Against Brazil they held got a hugely credible goalless draw with the hosts but did more than just frustrate. And finally, when needing just a point against Croatia, Herrera's tactics remained forward-thinking. A perfect example was when the scores were still tied and he bought off deep-lying forward Giovani dos Santos. Instead of brining on an extra defensive-minded player, on came poacher supreme Javier Hernandez. It was a substitution that played a major part in Mexico garnering a 3-1 win.
But Herrera's ability to play attacking soccer was known before this World Cup. What was in doubt was whether, against the quality of opposition at the World Cup, he could set up a team who could get the balance right between both attacking and defending. Just one goal conceded in three matches, and that when Mexico were already 3-0 up on Croatia, shows that he has done that to great effect so far.
Key to that success has been his selection in midfield. Hector Herrera has been the star man, almost balancing the team single-handedly. The Porto 24-year-old, one of the graduates of that Olympic team, can do a bit of everything; tough tackling, good distribution and with an eagerness to get forward. As he showed against Croatia, he also possesses a venomous shot. Alongside him Andres Guardado has adapted to his central role excellently and Jose Juan Vazquez has protected his three center-backs diligently. It is a major blow then that Vazquez will be suspended when Mexico takes on the Netherlands in Fortaleza.
Having also lost Juan Carlos Medina to injury before the World Cup, Mexico have no natural replacement in defensive midfield. Herrera could well move Guardado into a deeper role and bring in Carlos Pena or Marco Fabian, but Guardado looked ill at ease when playing in that position in a pre-tournament friendly.
Against a Dutch side who will likely press intensely in midfield, it could be a crucial absence. With Arjen Robben also in the form of his life and having the pace to terrorize the aging legs of Rafa Marquez and Francisco Rodriguez, Mexico will have to be at their best. But with the heat and humidity of Fortaleza and huge momentum in their favor, upsetting the odds and garnering a much-coveted place in the last eight is certainly not beyond them.
Prediction: Netherlands 2-1 Mexico
Date and Kickoff time: The 2014 World Cup round-of-16 match will kick off from the Estadio Castelao in Fortaleza on Sunday, June 29, at noon ET.
© Copyright IBTimes 2023. All rights reserved.