Is Mexico's Drug War Hurting Tourism?
ANALYSIS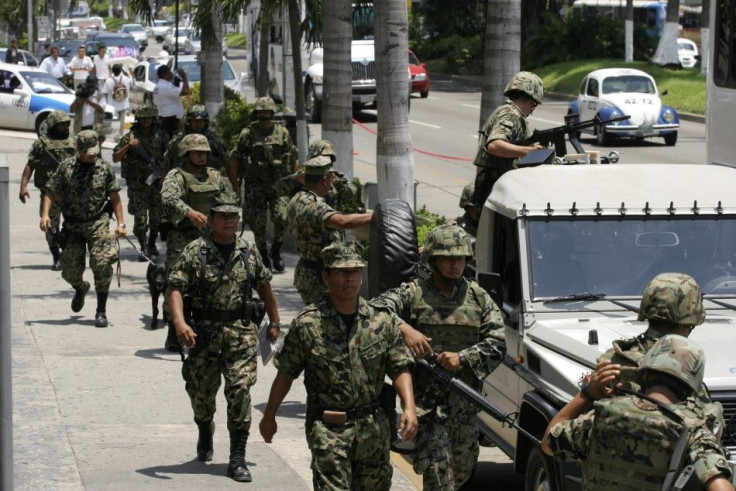 In the five years since Mexican president Felipe Calderon began to use the military to combat the country's powerful drug cartels, some 50,000 people have been killed. It has proved to be a controversial strategy that many say has caused damage, rather than alleviating crime.
With people being murdered in the country nearly every day, how is the violence affecting Mexico's tourism industry?
Tourism is the fourth biggest source of foreign revenue in the country and made up about eight percent of Mexico's GDP in 2010. But popular destinations such as Acapulco have become hotbeds of cartel activity.
While not the most violent city in the country -- that honor is held by Ciudad Juarez -- Acapulco has seen some of the most horrific instances of drug violence in the past few years. In August, police found two headless bodies, chopped into 20 pieces, in a parking lot of a Sam's Club. Later, scalps and facial skin were found inside a woman's purse.
Less than a year earlier, 20 Mexican men were kidnapped as soon as they entered the city. Their bodies were discovered in a mass grave a month later.
Guerrero and Acapulco in particular have for decades been part of Mexico's image, domestically and abroad, Calderon said during a speech in the city in October.
They've been a fundamental factor in opening up Mexico as a natural destination for international tourists. But today, we know it has been attacked by a terrible cancer, the cancer that organized crime represents.
The Mexican states along the U.S. border are by far the most dangerous because of their importance in drug trafficking, but regions like Sinaloa and Guerrero, which is home to Acapulco and also the Knights Templar and Independent Cartel of Acapulco gangs, are quickly catching up.
Travel Warning
The U.S. State Department issued a long-term travel warning on Mexico in April, recommending that Americans avoid or consider the risk of travel to that country. The warning puts Mexico on a list with counties like North Korea, Afghanistan, Yemen and The Democratic Republic of Congo.
Although civilians are generally at risk in some parts of the country, cartels rarely target tourists. About 100 U.S. citizens were murdered in Mexico in 2010, a significant number, but far less than the thousands of Mexicans who are killed annually.
Even though Americans and other tourists aren't targets, they are still at risk in cities where rival cartels openly battle for territory, or where police officers and gangs engage in shoot-outs.
Bystanders, including U.S. citizens, have been injured or killed in violent incidents in various parts of the country, especially, but not exclusively in the northern border region, demonstrating the heightened risk of violence throughout Mexico, the State Department warned.
TCOs (transnational criminal organizations), meanwhile, engage in a wide-range of criminal activities that can directly impact U.S. citizens, including kidnapping, armed car-jacking, and extortion.
But none of that has seemed to deter tourists from heading south. International visitors spent more money in Mexico in 2010 than they did in the prior year ($15 billion compared to $12 billion), and figures are said to have grown again in 2011.
Still, those on the other side of the tourism industry are worried about the economic effect that cartels are already having.
There aren't any other sources of employment here in Acapulco, waiter Javier Francisco Perez told NPR in October.
There aren't other businesses like in Mexico City -- like clothes or textiles. You don't have that here. We live off tourism. And if that doesn't come together, we are going down.
Calderon has remained defiant in both his strategy to combat cartels and his insistence that Mexico is safe for visitors. After the Texas Department of Public Safety told college students not to go to Mexico for school breaks last March, the president quickly retorted that he saw thousands, thousands of 'Spring Breakers' in Mexico having fun.
And from my understanding, the only shots they received were tequila shots -- a lot of them, Calderon said.
© Copyright IBTimes 2023. All rights reserved.