Michelle Obama Teases New Memoir 'Becoming,' To Be Released In 24 Languages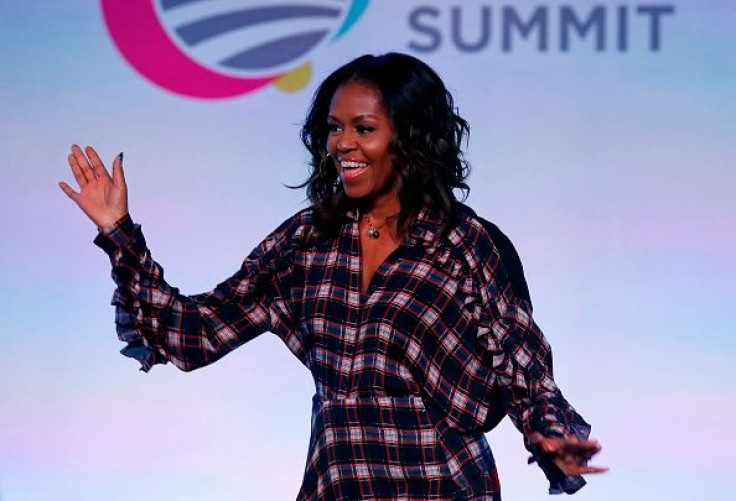 Michelle Obama recently teased her upcoming memoir, "Becoming," which will be released on Nov. 13 across the globe.
"Becoming" will be published in 24 different languages, and Obama said that writing the book was very personal experience. "It has allowed me, for the very first time, the space to honestly reflect on the unexpected trajectory of my life… how a little from the South Side of Chicago found her voice and developed the strength to use it to empower others," she told People.
During an interview in November, Obama hinted on what stories from her past she included in her memoir. She told Hartford Courant, "My parents weren't wealthy. They weren't fancy folks. But we had a good childhood, living in a little, bitty apartment. What girls and young people need… is consistent love and support an the belief of somebody out there that they're worthy. I had that."
Markus Dohle, CEO of Penguin Random House, also opened up about Obama's book and said that it will be different from the usual first-lady memoirs that have been written in the past.
"'Becoming' is an unusually intimate reckoning from a woman of soul and substance who has steadily defied expectations – and whose story inspires us to do the same," he said.
Meanwhile, Obama's husband, Barack Obama, is currently writing his presidential memoir, which is scheduled to be released next year. Prior to the memoir's release, he and his wife will first promote "Becoming" in the country, as well as on an international book tour. One million copies of "Becoming" will also be donated in her name to the non-profit organization called First Book.
In other news, Obama also made headlines last week after she shared the Spotify playlist she created for the former president on Valentine's Day. Some of the songs included in her playlist are "Forever Mine" by Andra Day, "Stand By Me" by Ben E. King, "I Found You" by Alabama Shakes, "Coming Home" by Leon Bridges, "Endless Love" by Diana Ross, "Always and Forever" by Heatwave and more.
© Copyright IBTimes 2023. All rights reserved.